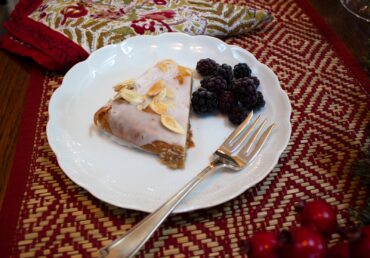 The official pastry of Wisconsin, the Danish kringle, is found in nearly every bakery in the Midwest. It's baked, packaged and sold across the country during the holidays, from Thanksgiving through New Year. Even Trader Joe's has started carrying its brand nearly year round.
Kringle has origins hundreds of years old, probably brought to Denmark by Roman monks. The name derives from kringla, meaning pretzel, but has since evolved into usage for the pastry, which is actually usually presented in an oval shape. The name kringle bears no relationship to Kris Kringle, one name for the Western Santa Claus.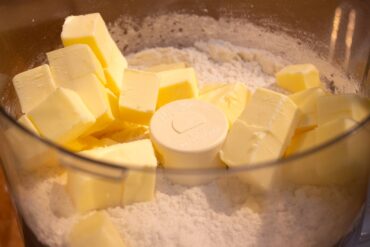 Today, many Danish bakers use the pretzel shape as a signature on their logo, and various pastries, cookies and even savory breads are formed into the pretzel twist. The reason the filled kringle pastry is formed into an oval is to promote more even baking of the dough.
Nearly all Scandinavian bakers have their own recipes for kringle. Traditionally filled with ground pecans or walnuts mixed with brown sugar and butter, the pastry makes a sweet, festive dessert or a delicious breakfast slice. Over the years, and as kringle has grown in popularity, many other fillings have gained traction. Fruits such as apples and apricots, all sorts of berries, peach, prune and cherry jam are favorites, as well as soft-cream-cheese filling.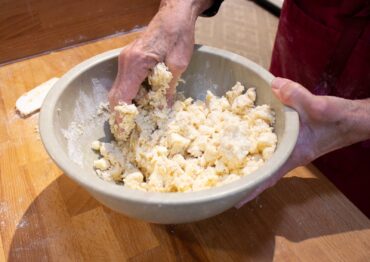 The recipe included here uses an almond filling and almond-flavored icing, which lends itself well to this buttery, crusty pastry concoction.
Danish pastry is a laminated dough, requiring rolling, folding and turning nine times to make multiple layers of light, flaky dough. Some recipes, such as the one included here, use yeast to help with the lifting of the layers and with the structure of the pastry. Home bakers who have no experience with laminated dough will find this recipe easier to handle than the more complex doughs made in bakeries.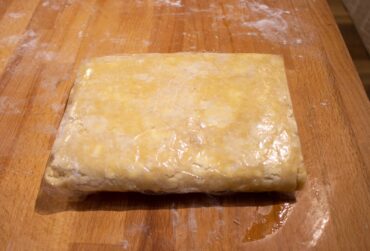 The secret to success is to mix as little as possible and handle as lightly and as cold as possible, so as to not toughen the dough by developing too much gluten. Gluten development comes from heavy kneading and will toughen the dough and restrict the development of the 18 layers.
Resting the dough in the refrigerator in between each rolling and folding session is an imperative step. Refrigerating the dough for two to three days after the final rolling and folding session allows flavor to develop in the dough and helps with the structure as well.
---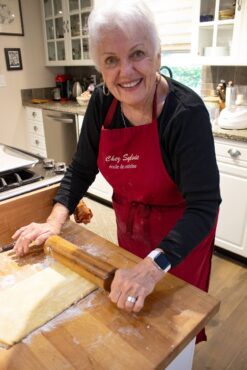 Barb's Christmas Kringle
Ingredients:
Pastry:
2 cups all-purpose flour
1/4 cup granulated sugar
1 packet active dry yeast (2 1/2) teaspoons
1 teaspoon fine sea salt
1 cup unsalted butter, cold, cut into 1/2 inch pieces
1/3 cup whole milk, cold
1 large egg, cold
1 egg white, loosened with 1 teaspoon water
Filling:
1 cup slivered blanched almonds, lightly toasted
1/2 cup butter, softened
1 cup brown sugar
Frosting:
1 cup powdered sugar
1/2 teaspoon almond extract
4 to 6 teaspoons warm water
Pinch of fine sea salt
1/2 cup sliced almonds, lightly toasted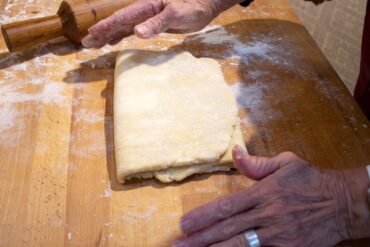 Instructions:
Prepare pastry. In the bowl of a food processor, combine flour, sugar, yeast and salt. Pulse a few times to blend. Add butter and pulse 10 times, just until butter chunks are about 1/4-inch in size.
In another bowl, whisk together milk and egg. Scrape flour mixture into the bowl and gently mix together until nearly all the flour is moistened. Place dough on a lightly floured work surface, press and knead gently with your hands just until it all comes together, pat into a rectangle, and wrap with plastic wrap. Refrigerate overnight and up to three days.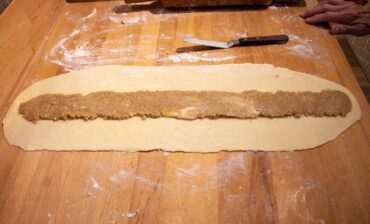 Remove plastic wrap and on a lightly floured surface, roll chilled dough into an 8-by-16-inch rectangle. Fold the bottom short side toward the center and bring the top down over the bottom, folding the rectangle into thirds, like a letter. Rotate dough 90 degrees to the right, then roll out again into an 8-by-16-inch rectangle and fold into thirds again. Wrap dough in plastic wrap and chill for at least 20 minutes.
Repeat this rolling, folding into thirds and turning (always being careful to turn in the same direction) and rolling again, and refrigerating two more times. The pastry dough is now ready to be used, kept tightly wrapped in the refrigerator overnight or up to three days, or frozen up to two months. Defrost dough but make sure it is still cold before proceeding.
For filling: While the dough is resting between rolling, make the filling. Spread almonds on a baking sheet and lightly toast at 250 degrees for 10-15 minutes.
Place almonds in bowl of food processor and pulse to a finely chopped consistency. Add brown sugar and butter and process just until ingredients are well mixed.
To shape and bake: Line two large-rimmed sheet pans with parchment paper. Remove the dough from the refrigerator, unwrap and cut it in half.
On a lightly floured work surface, roll each half into a 6-by-24-inch rectangle. Spread half cup of filling on each in an even strip down the center (about 2 1/2 inches wide). Whisk the teaspoon of water into the egg white to loosen.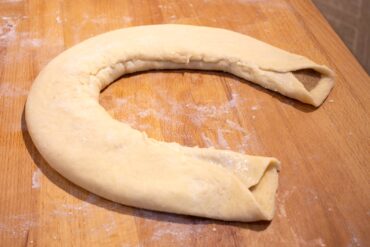 Fold one long side over the filling, leaving the remaining third of the dough exposed. Use a pastry brush to spread the open border of dough with reserved egg whites on both the long side and two short ends. Fold the second long side over the first; pinch and press the seam tightly along the length and at both short ends, sinking your fingertips into the pastry to create a tight seal.
Remeasure dough to make sure it's at least 24 inches long; if necessary, stretch it back out. Form into an oval, then tuck one end into the other. Pinch and press the seam together, then transfer oval to prepared sheet pan and flip over so it's seam-side down. Repeat with the remaining dough and filling. Cover loosely with plastic wrap and let rise in a warm spot for 30 to 45 minutes or until slightly puffy.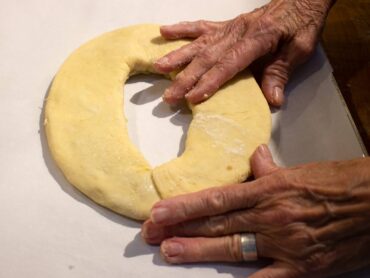 When ready to bake, heat oven to 375 degrees. Brush pastry with more egg white and bake until golden, about 25 minutes, rotating sheet pans from front to back and top to bottom halfway through.
As soon as the pastries come out of the oven and are piping hot, compress each pastry slightly by using the sheet pan with the other pastry on it, setting the sheet pan on top of the pastry and pressing gently to eliminate the air pocket between the pastry and filling. Transfer the sheet pans to wire racks and allow pastries to cool completely.
To make icing: In a small bowl, whisk together powdered sugar, vanilla, fine sea salt and 4 teaspoons water. Spread icing over the tops of the kringles. Sprinkle toasted almond slices over kringles and let icing dry.
Pastry will keep about three days covered at room temperature or frozen up to three months.