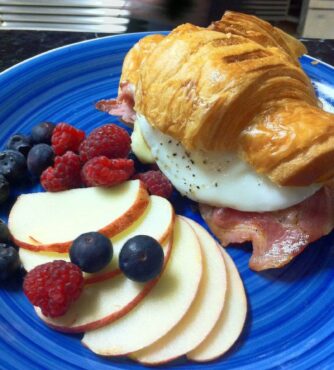 Stroll or drive by Devoted Kiss Cafe on Harborview Drive in Gig Harbor any morning or at lunch time, and there is sure to be a throng waiting for a table. Known for its delicious breakfast and lunch offerings, house-made cinnamon rolls and coffee concoctions, Devoted Kiss has been pleasing Gig Harborites and visitors since 2011.
Devon Dengler has worked in the restaurant industry in Gig Harbor's Finholm District since he was 16 years old. Many years ago, during a stint at Anthony's Homeport as a sous chef, he met Christina, who was part of the managerial staff at that iconic restaurant. The two married and soon decided to launch their own enterprise, which began as a catering company.
The catering business went so well, they began to look for a spot that would accommodate a small café. When the present location on Harborview became available, they opened for breakfast and lunch table service and continued the catering side of the business. Eventually, it all just became too much to handle.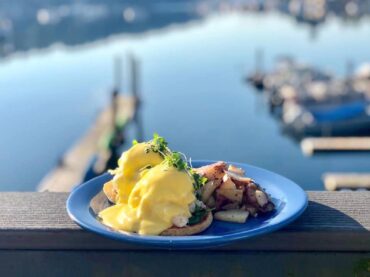 "Because the café is so busy, we want to keep that our focus," Christina Dengler said. "But we still do party platters for banquets, which are pickup only."
The Denglers' previous restaurant service and longtime association with the Gig Harbor community gave them personal insights as to what type of establishment was really needed in the area. Their love of people and their experience in providing a convivial eating environment, along with their abilities in business management and running a kitchen, set them onto a successful path in owning their own business.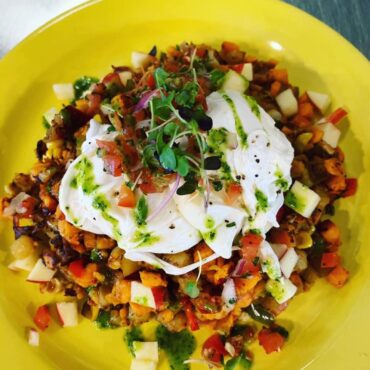 "When we look back on that first business plan, the low numbers we projected are laughable compared to the amazing success we are experiencing today," Dengler said. "Gig Harbor has been very good to us and we have come from the place where we wondered if we could keep the lights on, to now serving 300-500 people a day."
From the beginning, Devoted Kiss has been strictly a breakfast-to-lunch facility. "In addition to ourselves, many of our staff members have families and it works well for them to be home in the afternoon and evenings," Dengler said. The couple know the breakfast and lunch trade very well and feel that schedule meets their niche target clientele.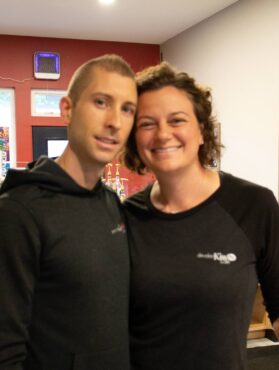 The restaurant offers table service both inside and outside, as well as takeout. During good weather, diners may choose to sit outside on the back deck overlooking the harbor, or at one of several umbrella tables out front facing the street.
Well-tended planters with colorful perennial flowers provide an enclosure, separating the restaurant from the sidewalk. Inside, the cozy dining room has large windows that offer expansive views of the sparkling harbor and beyond. Service is on a first come, first served basis.
During peak times, particularly on the weekends, wait times can range from 20 minutes to an hour for a table. If there is an unusually long wait time, staff will accept a cell phone number and call when a table is ready. There are plenty of nearby attractions that patrons can explore, should there be an extended wait time. Among those attractions, across the street, is a large mural by local artist Lita Dawn depicting Gig Harbor's earlier days.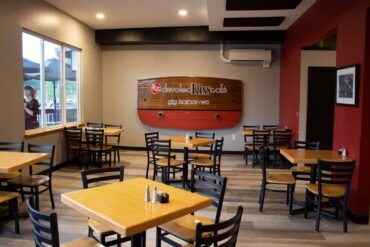 The café menu changes seasonally and according to availability of staffing. Breakfast is served all day. There's an espresso bar at the entrance, convenient for walkers who just want to stop in for a cup to go. Locally owned and roasted Cutter Point coffee is served and prepared in many specialty drinks.
Bar service for inside dining includes a spicy, made-from-scratch bloody mary with garnishes such as crispy bacon and pepperoncini, as well as selections made with local Heritage Brewing Brown Sugar Bourbon (BSB). A salted caramel hot chocolate laced with BSB is a wintertime favorite, along with a BSB hot apple cider. Refreshing summertime cocktails include mimosas, mojitos and vodka lemonade. Wine and beer are also available for order with a meal.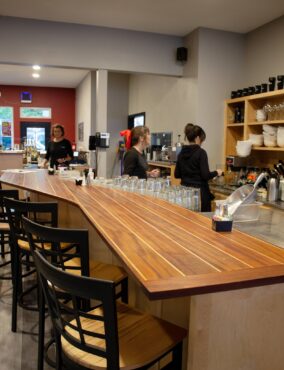 All menu items are available to go. Morning coffee accompaniment snacks are house-made cinnamon rolls and banana bread. Breakfast items most in demand are the café's famed breakfast burrito, which features pepper jack cheese, chipotle mayo, tapatio, peppers, and avocado and egg "folded into a warm sun-dried tomato tortilla and grilled." It also includes a choice of sausage, pulled pork, ham or roasted vegetables. Another popular item, the classic eggs benedict, is served "your way," with an English muffin topped with two poached eggs, fresh-made hollandaise sauce and choice of Boar's Head ham, spinach and tomato, smoked salmon or pulled pork with fresh salsa.
Devoted Kiss roasts its own meats, which allows the kitchen to totally control the quality of the corned beef and prime rib. Lunch favorites are the prime rib sandwich, which is a French dip-style topped with caramelized onions and havarti cheese, served with rosemary au jus; and the reuben sandwich, made from house-braised corned beef, sauerkraut, Swiss cheese and home-made Thousand Island dressing toasted on rye. The corned beef is also a popular breakfast choice, served in the corned beef hash selection. All menu items are available all day from 7 a.m. until 3 p.m.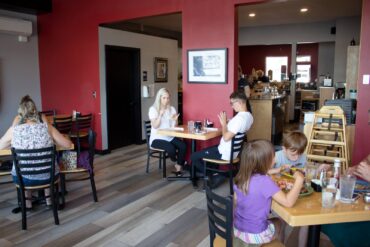 Devon and Christina Dengler credit their hard-working staff and the ongoing support of the Gig Harbor community for their business success. During the COVID-19 pandemic, they stayed extremely busy with takeout orders, and with the restrictions lifted, they're working at full capacity.
The couple gives back to their community through their involvement in, and support of, several organizations. They fully support Empty Bowls, the scholarship program at Peninsula High School, Girls Night Out and the Lions Club's Giving Tree at Christmastime, and are members of the Gig Harbor Chamber of Commerce. Christina Dengler also serves on the promotion committee of the Gig Harbor Downtown Waterfront Alliance. They have been voted "Best of the South Sound" the past three years by South Sound Magazine.
When you're thirsty for coffee or hungry for breakfast, lunch or snack, Devoted Kiss is sure to have something on the menu to please every palate.