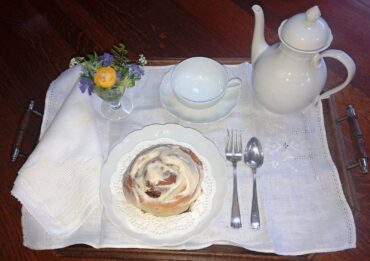 Serve Mom breakfast in bed with these easy-to-make, delicious and warm-from-the-oven cinnamon rolls. You mix up and form the dough in the evening, refrigerate it overnight, then bake the next morning. Served fresh from the oven along with her favorite beverage, the cinnamon rolls will help Mom start her day feeling like the special lady she is.
Cinnamon rolls as Americans enjoy them today were probably developed and popularized by the Swedish as a baked accompaniment to coffee for their ritual "fika" or coffee klatch. The Swedes are so fond of cinnamon rolls (or "buns," as they call them), they have devoted a national day, Oct. 4, to celebrate them every year.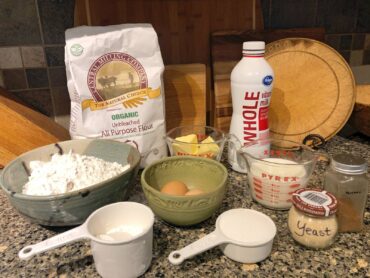 According to one source, each Swede eats about 316 cinnamon rolls a year. In Sweden, the rolls are topped with pearl sugar, instead of the creamy, thick, white icing Americans seem to prefer. For an authentic Swedish "Kanelbulier" or cinnamon bun, refer to the book "Fika: The Art of the Swedish Coffee Break" by local author Anna Brones and Johanna Kindvall.
Humans have enjoyed cinnamon since about 2000 B.C., when they used it during the embalming process as a perfumery agent. Cinnamon, the bark of the genus Cinnamomum, grows in Indonesia and China. A closely related species known as "true cinnamon" comes from Ceylon. There is some evidence cinnamon has a minor effect on blood sugar levels, but its main use is as a highly aromatic flavoring for food, particularly baked goods.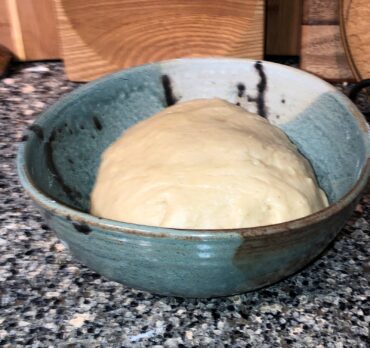 Baking a batch of cinnamon rolls offers a good first step into the world of yeast bread baking. You can make the dough in a stand mixer or bread machine, proof for an hour or so, make into rolls and store in the refrigerator overnight. The result is a satisfying, fragrant and flavorful breakfast dish Mom (and the kiddos) will love. Older children who can read and follow directions and safely manage an oven can make these rolls on their own with a little adult supervision. See sidebar for a version that younger children can help with, using ready-made refrigerated dough.
Tip: It's a good idea to measure out and assemble all ingredients for each part of the recipe before beginning. Doing this saves time and makes sure you have everything you need before you begin. The French call this "mise en place."
---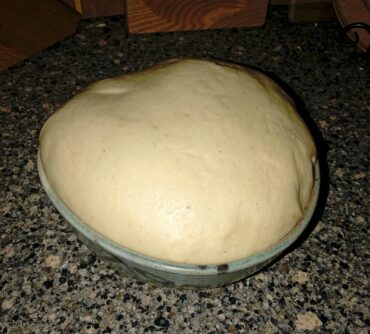 Barb's Overnight Extraordinary Cinnamon Rolls
Roll ingredients:
1 packet active dry or instant rise yeast (2 1/4 teaspoon)
1 cup warm milk
1/2 cup granulated sugar
1/2 cup butter, melted
2 eggs, lightly beaten
4 1/2 – 4 3/4 cups all-purpose flour
1/2 teaspoon nutmeg
1/2 teaspoon salt
Filling ingredients:
1/2 cup butter very soft
1 1/4 cup brown sugar
2 1/2 tablespoons cinnamon
1 tablespoon corn starch
Optional: 1/4 cup raisins or chopped nuts
Icing ingredients:
4 ounces cream cheese, softened
1/4 cup butter, room temperature
1 cup confectioners' sugar
2 teaspoon vanilla extract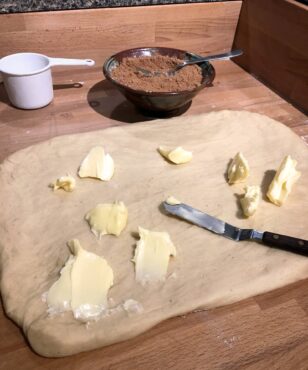 Instructions:
Warm milk in the microwave for about 30 seconds to about 110 degrees.
Place yeast in the bowl of a stand mixer* fitted with the paddle attachment and pour warm milk over it. Sprinkle about 1 tablespoon of the measured sugar over the yeast and mix about 1 minute on medium speed. Let stand until mixture is very foamy (about 5 minutes).
Melt butter and cool until slightly warm. Whisk eggs into butter and add to the yeast mixture. Mix well with the paddle attachment.
Change to the dough hook attachment and add the salt, nutmeg, remaining sugar and 4 cups of flour. Mix on medium speed until the dough comes together.
If dough is very stringy and sticky, slowly add remaining flour, 1 tablespoon at a time, until the dough starts cleaning the sides of the bowl and becomes a satiny, cohesive ball around the dough hook (5-7 minutes).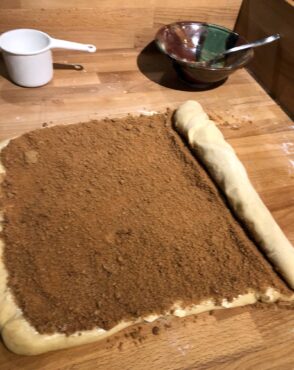 Butter a bowl about twice the size of the ball of dough and turn dough into it. (At this point, the dough will be soft, satiny and a little sticky, but don't worry, and don't add more flour.)
Allow dough to rise in a warm (66-75 degrees) spot until double.
Carefully turn dough out onto a floured board and pat into a rectangle about 12 by 18 inches.
Mix sugar, cinnamon and cornstarch together in a small bowl until thoroughly combined.
Spread softened butter over dough, leaving about half an inch along one short side without butter. Sprinkle the sugar mixture evenly over dough, leaving about half inch along the short side clear of filling.
Optional: Sprinkle a few raisins or nuts over filling if desired.
Beginning at the short edge that is covered with filling, roll up tightly and seal the short edge without filling to the roll by pinching a little to make it stick.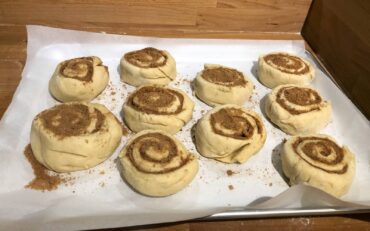 Using a piece of string or dental floss, cut the roll into about 1 1/2-inch slices by placing the string under the roll and crossing it over itself on the top (should get 8-10 rolls).
Place the rolls, cut side down, on a parchment- or silicone-lined baking sheet, about 2 inches apart. Cover with plastic wrap and refrigerate overnight. If rolls are to be baked after forming, cover with plastic wrap and allow to rise until puffy.
About one hour before baking, set rolls out to warm to room temperature and start their second rise.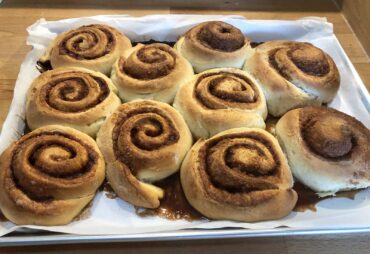 Preheat oven to 350 degrees and place rolls on a rack in the middle or top 1/3 of the oven.
Bake 30-35 minutes until rolls reach 175 degrees with an instant-read thermometer. They should be just golden brown. If the rolls seem to be browning too fast, lightly cover with aluminum foil.
Remove rolls from oven and allow to cool for about 15-20 minutes or until just warm to the touch. (For a beautiful presentation, separate rolls before icing to allow icing to cover sides of rolls as well as the top.)
While rolls are cooling, mix icing by thoroughly creaming butter and cream cheese, and adding powdered sugar a little at a time to make a smooth, creamy mixture. Add vanilla and blend thoroughly.
Spread icing on top of rolls and allow to cool another 20 minutes or so before serving.
These rolls will keep three to four days in a closed container at room temperature. To freshen for a "just baked" consistency, stored rolls may be reheated in the microwave for 20 seconds.
* To use a bread machine for the initial mixing and kneading process, add ingredients in the order given by the manufacturer's instructions. Turn kneaded dough into a buttered bowl and proceed with instructions given above.