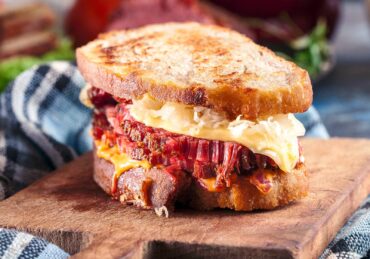 Fragrant, wholesome and wonderfully delicious, rye bread is as varied as the many cultures that enjoy it. From deep, dark, chewy pumpernickel to light rye with caraway seeds, rye breads are staples in many countries, while only featured occasionally in others.
Probably the most prevalent uses of rye breads in the United States are the small, round or square, thinly sliced "party rye" loaves found on New Year's Eve buffet tables, and as sliced sandwich breads needed for fat, messy, mouthwatering Reuben sandwiches in restaurants and delis.
The first rye grain shows up as widely cultivated during the Middle Ages, mainly in what is now Eastern Europe. In colder climates and those areas with poor soils north of Hungary, it serves as today's main bread cereal. The majority of rye in Europe is cultivated from northern Germany through the Baltics into Russia. Some varieties are also grown in the United States and Canada, although comparatively, consumption is very low in the Americas.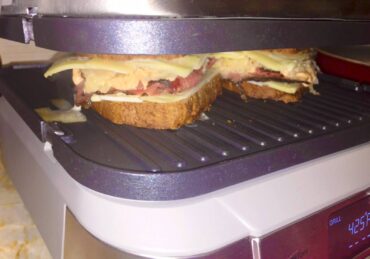 Most breads in Eastern Europe, Germany and Scandinavia contain a large percentage of rye flour. These breads tend to be on the heavy, moist side, and often are fermented for a couple of days to improve flavor and elasticity.
Rye contains less gluten than wheat, which produces a denser loaf but increases its ability to be stored for prolonged periods without spoiling.
Rye flours are available in light, medium or dark varieties. The lighter the flour, the less bran, and therefore easier to get a loftier loaf. Rye has a distinctive nutty flavor and adds a full bodied taste to breads when included in the dough.
Most very dark rye bread either contains molasses or a little cocoa to deepen the color. This is not true of authentic pumpernickel, which gets its color from a very long baking process.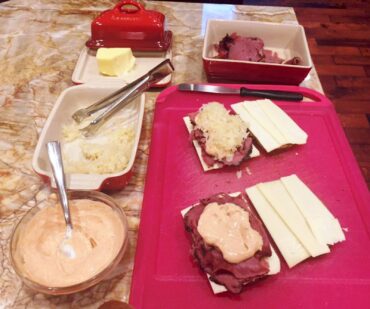 Each country or culture bakes its own version of rye bread. Some are a little sour and salty while others are sweet and can contain spices and dried fruits such as raisins. Next to yeast breads, there is a plethora of other ways rye is used for the daily table in flat breads and crisp-breads, breakfast cereal and beer.
Jewish rye bread, as it's known in the United States, is made with light or medium rye flour and the addition of caraway seeds. Most commercially available rye breads, with the exception of pumpernickel, are made with about two-third wheat flour and one-third rye.
Making rye bread at home without the addition of wheat flour is possible. It just requires more time and the addition of a little sweetener to feed the yeast. It will result in a heavier loaf, however.
With an enduring love for Reuben sandwiches, home baker Jeff Stelmach began experimenting with rye bread recipes soon after he discovered his passion for baking his own bread during the COVID-19 pandemic. Although yeast and sometimes flour was scarce in the marketplace, he persevered and eventually found sources for his necessary ingredients.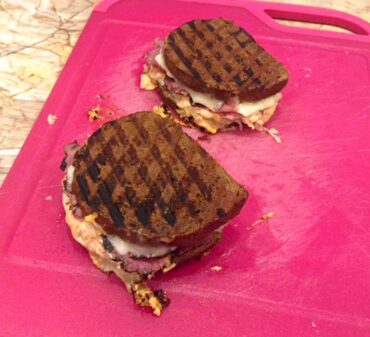 Once rye flour was in hand, Stelmach began his venture into experimenting with recipes.
Stelmach had developed a reputation for offering mini Reuben sandwiches at holiday parties, always using the dark party rye he was able to get at the grocery store. When there were no parties on the horizon, he still had a yearning for Reubens and set on a quest to find a recipe for a truly dark rye bread.
He found dark rye flour from Bob's Red Mill, but it did not produce the dark bread he yearned for. After researching dozens of recipes, he discovered the dark color comes with the addition of cocoa powder to the flour. Cocoa enhances but does not overpower the taste of the rye, and adds the dark color he desired.
In the tradition of a true cook, Stelmach takes his bread baking to the next level by preparing recipes that enhance his bread-baking efforts. Preparing corned beef from scratch and making his own Russian dressing, he is able to produce an authentic Reuben sandwich rivaling those found in the best delicatessens.
Two recipes for rye bread are included here. One for a traditional seeded rye, which can be baked in a full-sized bread pan or a mini pan for party sandwiches. The second recipe produces an "artisan style" rye bread reminiscent of those loaves found in European bakeries. It has a rougher, more chewy texture, but still makes great sandwiches when thinly sliced.
---
Jeff Stelmach's Traditional Dark Rye Bread
Ingredients:
2 packages (1/4 ounce each) active dry yeast
1-1/2 cups warm water (110-115 degrees)
1/2 cup molasses
2 tablespoons unsalted butter, softened
2 cups rye flour (light rye flour will result in a finer textured loaf, dark rye in a coarser texture)
1/4 cup unsweetened cocoa powder
2 tablespoons caraway seeds
2 teaspoons kosher salt*
3-1/2 to 4 cups unbleached all-purpose flour
Cornmeal
* If using salted butter, reduce salt by 1/2 teaspoon
Instructions:
Dissolve yeast in warm water in bowl of a stand mixer.
When yeast is foamy, beat in the molasses, butter, rye flour, cocoa, caraway seeds, salt and 2 cups all-purpose flour until smooth.
Switch to the dough hook and slowly mix in enough remaining all-purpose flour to form a stiff dough. Knead on medium speed 3-5 minutes just until dough is smooth and elastic.*
Place ball of dough in a clean, buttered bowl, turning once to grease top. Cover and let rise in a warm place until doubled, about 1-1/2 hours.
Deflate dough by gently punching it down and turn it onto a lightly floured surface. Divide in half and shape each piece into a loaf about 10 inches long. Place parchment paper on two baking sheets and sprinkle lightly with cornmeal. Place loaves on prepared pans. Cover and let rise until doubled, about 1 hour.
Preheat oven to 350 degrees and bake for 35-40 minutes or until bread sounds hollow when tapped. (Bread should register 195-200 degrees on an instant-read thermometer)
Remove from pans to wire racks to cool. Wait a minimum of 1 hour to cut and serve. Bread should be cool to the touch before slicing.
*If preferred, turn dough onto a floured surface; knead by hand until smooth and elastic, 6-8 minutes.
---
Jeff Stelmach's Russian Dressing for Reuben Sandwiches
Ingredients:
1/4 cup sour cream
3 tablespoons ketchup
1 teaspoon horseradish
2 cloves baked garlic, crushed
1/2 teaspoon paprika
Instructions:
Whisk all ingredients together in a small bowl. Allow flavors to mingle and improve by setting in refrigerator for about 15 minutes before using.
Dressing will keep in a sealed container in the refrigerator for up to 1 week.
---
Barb's Artisan European-Style Rye Bread
Ingredients and Method:
Place 300 grams (2-1/4 cups) organic bread flour and 100 grams (3/4 cup) rye flour in a medium-sized mixing bowl. Add 2 grams (1/2 teaspoon) dry yeast on one side of the flour, and 8 grams (1-1/4 teaspoon salt) on the other.
Pour 300 grams (1-1/3 cups) cool water around the edges of the bowl. With a dough mixer or preferably your hands, mix the water into the flour, salt and yeast into a rough, craggy mass. Cover bowl with plastic and let sit 12-18 hours until doubled in size.
Flour a wooden working surface and using a bowl scraper or spatula, turn dough out onto floured board. Pat dough into a round, then gently tuck in the edges while turning to form a smooth round ball.
Gently place ball on floured linen cloth and cover. Let rise in a warm, draft-free spot until about doubled in size.
Heat a cast iron pot with lid in a 475-degree oven. Carefully remove pot from oven and flip dough from towel upside down into pot. Quickly replace lid and put pot in oven.
Bake 30 minutes, remove lid and allow to bake another 15 minutes or so to a rich golden-brown color. Insert instant-read thermometer and check to see if bread has reached 200 degrees.
Remove from oven and place bread on wire rack to cool at least 2 hours before slicing.
---
Make a Perfect Reuben Sandwich
Butter the outsides of two slices of bread and lay, butter side down, on a cutting board.
Place slices of Swiss or similar cheese. Add corned beef slices (best if it has been "steamed" in a covered dish with a little water in a very low- temperature oven).
Slather 2 tablespoons of Russian dressing over corned beef. Add well drained sauerkraut to cover dressing.
Top with slices of Swiss cheese to cover sauerkraut. And, finally, cover this with the other slice of bread.
Place sandwich on hot griddle or in a panini press and grill until cheese melts.