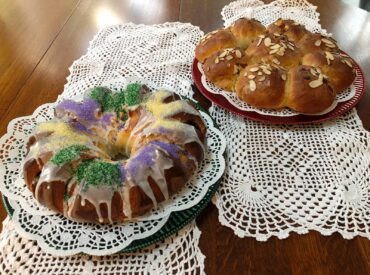 Nearly every culture throughout the Christian world enjoys a version of Kings Bread. A rich, brioche-style dough laden with butter, milk and eggs forms the basis for this "viennoiserie" — a bread leavened with yeast but enriched to make it almost a pastry or light cake.
This dough is often used for sweet rolls and pastry in bakeries. A versatile dough, brioche can be used for sandwich buns or dinner rolls as well as sweet pastries.
It is thought Kings Bread originated in France to celebrate the Three Kings Day, or Twelfth Night. The first day of Christmas begins on Christmas Eve, and 12 days later on Jan. 6, the arrival of the three kings bearing gifts to the infant Jesus is celebrated as the Feast of the Epiphany.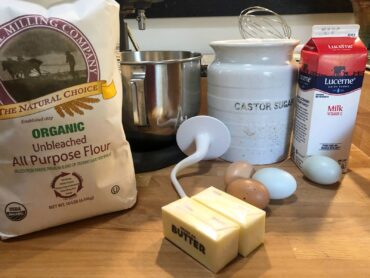 Originally, this rich, cake-like bread contained a dried bean, or "feve," embedded in the dough, which was intended to represent the baby Jesus. The person receiving the portion with the bean inside was bestowed special privileges for the day.
Eventually, the bean was replaced by a trinket such as a small, porcelain baby Jesus, and later on, all sorts of shapes and colors of tokens such as flowers, animals, coins or other familiar objects became popular.
As the tradition of Kings Bread or Kings Cake travelled around the world, the dough was changed slightly and customs varied. In Switzerland, the bread is served for breakfast on Jan. 6 or Epiphany, and those receiving the token in their slice wear a gold paper crown for the day. Most bakeries in Europe include a raw almond or hazelnut for the symbolic token baked in the dough. Multiple websites that sell Mardi Gras supplies in the United States stock plastic infants, which are inserted through the bottom of the cake after baking.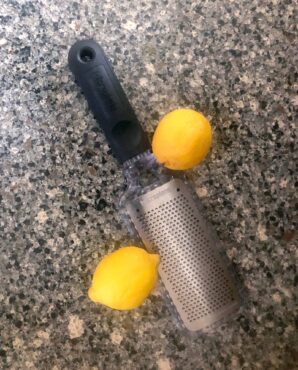 In some countries, the bread is served from Christmas through Epiphany, and in others, from Epiphany through Mardi Gras, which is the day before Ash Wednesday. In 2021, in New Orleans the merrymaking will begin early in January with the first parades, celebrations continuing at a frenzied pace and culminating on Mardi Gras, on Feb. 17.
The Kings Cake is available in grocery stores and bakeries for the entire season, and many home bakers pride themselves with their variation of the recipe. A favorite Creole Mardi Gras menu in New Orleans would be a spicy dish of seafood gumbo or a jambalaya stew and, of course, a slice of Kings Cake. Those who receive the symbolic baby Jesus in their slice are responsible for throwing the next party, or, at the least, offering the next cake.
Preparing a traditional brioche dough at home is a complex and time-consuming process. The recipe here is a modified, simpler version that works well for both the European-style Epiphany Kings Bread and the American Kings Cake served during Mardi Gras celebrations.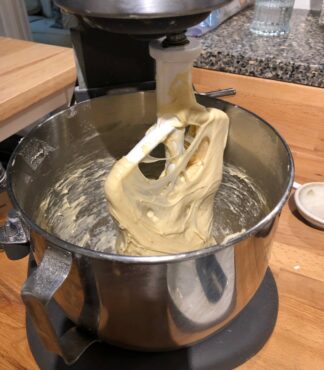 Although most bread recipes work well kneaded by hand, this one really requires a stand mixer or bread machine due to the high egg and butter content. If possible, measure ingredients on a gram scale rather than relying on cup and spoon measurement. Weight is far more accurate than volume, especially with dry ingredients.
It's best to measure and set out all ingredients before beginning the recipe. If using a bread machine, follow the machine directions through the kneading process.
---
Epiphany Kings Bread and Mardi Gras Kings Cake
Ingredients for basic dough:
1/2 cup (100 grams) warm whole milk (110-115 degrees F)
3 teaspoons (10 grams) active dry yeast (an envelope of yeast holds about 2 1/4 tsp)
2 3/4 cups (324 grams) all-purpose flour
1 1/2 teaspoon kosher salt (1 tsp if using salted butter)
3 large eggs, room temperature
3 tablespoons (35 grams) granulated sugar
12 tablespoons (1 1/2 sticks or 170 grams ) unsalted butter, room temperature
1 large egg beaten to blend with 1 teaspoon water (for baking glaze)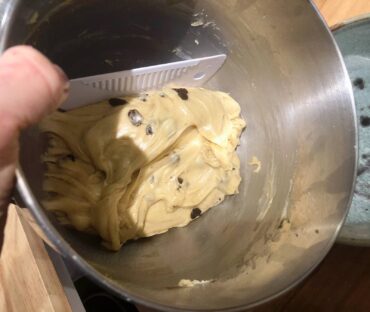 For Epiphany Kings Bread:
Add 1 1/2 teaspoons grated lemon rind and 1/2 teaspoon nutmeg to flour mixture.
Add 1/2 cup raisins to dough just as it finishes kneading.
After brushing with egg wash, sprinkle with 1/2 cup sliced almonds and 1-2 tablespoons coarse white sugar before baking.
For Mardi Gras Kings Cake:
Filling:
1 cup brown sugar
1/2 cup all-purpose flour
4 tablespoons melted butter
Icing:
1 cup powdered sugar
1 to 1 1/2 tablespoons milk
3 colored sugars: green, purple, yellow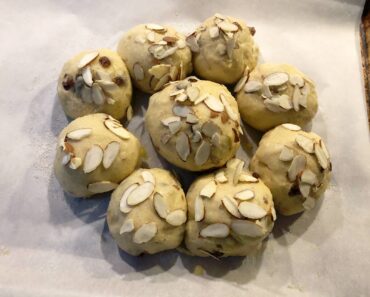 Instructions:
These instructions are for a stand mixer. If using a bread machine, follow manufacturer's instructions. Remove dough from machine when kneading is complete.
Heat milk to 115 degrees and place in bowl of heavy-duty mixer fitted with paddle attachment. Sprinkle yeast over and stir to moisten evenly. Let sit until yeast dissolves, stirring occasionally, about 8 minutes.
Whisk flour and salt together (if making Epiphany Kings Bread, add lemon rind and nutmeg here) and add to yeast mixture. Set mixer at medium-low speed and mix until shaggy lumps form, scraping down sides of bowl occasionally. Add eggs, one at a time, beating until blended after each addition. Beat in sugar. Increase mixer speed to medium; beat until dough is smooth, about 3 minutes.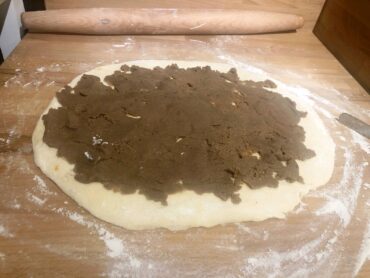 Reduce speed to low and add butter, 1 tablespoon at a time, beating until blended after each addition. This can take about 5 minutes (dough will become very soft and silky).
Increase speed to medium-high and beat until dough pulls away from sides of bowl and climbs paddle, 8-10 minutes. (If making Epiphany Kings Bread, stir in raisins here.)
Scrape dough into a large, buttered bowl and cover with plastic wrap. Let dough rise in a warm, draft-free area until almost doubled in volume, about 1 hour 15 minutes to 1 hour 30 minutes.
Gently deflate dough by lifting around edges, then letting dough fall back into bowl, turning bowl and repeating as needed. Cover bowl tightly with plastic wrap and chill, deflating dough in same way every 30 minutes until dough stops rising, about 2 hours. Chill overnight, or about 6-8 hours.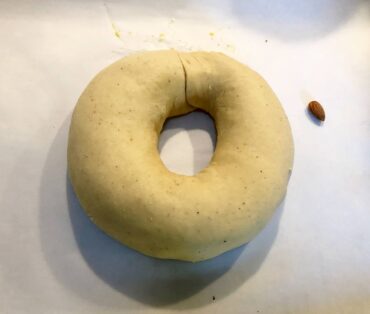 Remove from refrigerator, scrape dough out onto a lightly floured surface and gently deflate by kneading a time or two. Dough will now be formed into rolls for Epiphany Kings Bread, or rolled into a 12-by-16-inch rectangle for Kings Cake. See notes below for detailed instructions.
Position rack in center of oven and preheat to 400 degrees F. Gently brush egg glaze over risen dough
Bake until golden brown, covering with foil if browning too quickly, about 20-30 minutes. An instant read thermometer inserted into the middle of the bread should register 195-200 when bread is properly baked.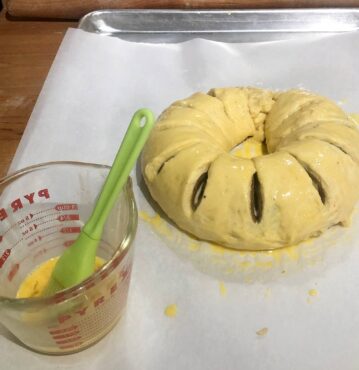 Epiphany Kings Bread Notes:
Divide dough into 10 equal portions and form 8 pieces into a smooth round ball.
Combine 2 pieces into a larger smooth round ball.
Place small balls in a circle on a baking sheet lined with parchment paper or a silicone pad, placing the large ball in the middle. Leave a little space between the balls for the dough to rise.
Cover lightly with plastic wrap and allow to rise until nearly double.
Gently brush rolls with egg/water mixture and sprinkle with sliced almonds and coarse sugar.
Bake as above.
Mardi Gras Kings Cake Notes:
Prepare filling ingredients by mixing into a smooth paste. Add nuts and raisins if using.
Roll chilled dough into a 12-by-16-inch rectangle.
Spread filling evenly over dough.
Starting on the long edge, roll dough tightly like a jelly roll, tucking the ends into each other to make a smooth ring.
Place ring of dough on a baking sheet lined with parchment paper or a silicone pad.
Cut slashes into the dough about 1/3 deep with scissors.
Cover lightly with plastic wrap and allow to rise until nearly double.
Gently brush ring with egg/water mixture, and bake as above.
Cool cake to room temperature before mixing icing.
Slowly drizzle thick icing along the top ridge of the cake, allowing it to drip down along the sides.
Sprinkle colored sugars on top, alternating between green, gold and purple.
Next issue: Baking Rye Bread