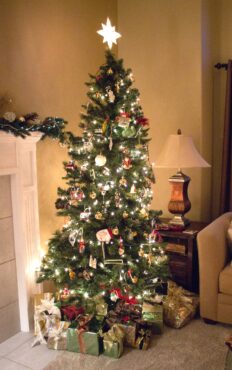 Don and Nancy Davenport have always hung Christmas lights on the front of their house, which is situated at the end of a long driveway on a cul-de-sac in Gig Harbor.
"Because our house sits back so far from the street, hardly anyone can enjoy the lights," Don lamented.
And the homeowners couldn't see the lights from inside the house either. Avid gardeners, the Davenports have hosted lots of summertime garden parties and frequently celebrate the winter holidays by visiting illuminated gardens opened to the public.
Nancy has always enjoyed baking Christmas cookies. She used to make dozens of different types for cookie exchanges and to share with friends and office workers.
"I haven't baked many recently because two people can't eat very many cookies at once, so my baking efforts were diminished over the years," she said.
But all of that changed a couple of years ago when the Davenports got an idea.
"Why not light our own backyard garden with hundreds of tiny lights, bake dozens and dozens of Christmas cookies, and invite everyone we know to come and celebrate with us," Nancy Davenport said.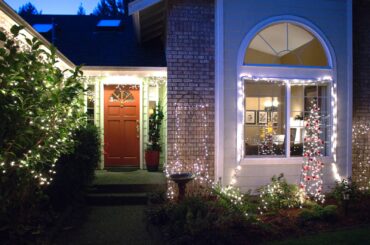 For a long time, she has wanted to bake and decorate a huge number of cookies, and the couple have wanted to do an "over-the-top" light display. Their "Christmas Lights and Cookie Delights" party has served to fill both of those yearnings.
A New Tradition
Two years ago, the Davenports began a tradition they would like to continue many years into the future, although unsure of this year's celebration due to the pandemic.
"An unexpected pleasure of decorating with holiday lights is that I can now see our lights from my sewing room," Nancy said. "And a neighbor on the next street over who shares a property line said she enjoys them also."
Don Davenport's illumination project takes about a month. He begins by checking light strings and figuring out the logistics of the project. He strings between 5,000 and 7,500 tiny, colorful lights throughout the back garden.
Strings of lights are wrapped around tree trunks, festooned over shrubbery and dangled from branches. A sparkling pair of lighted reindeer graze on the lawn while a tree covered with red lights provides a festive backdrop.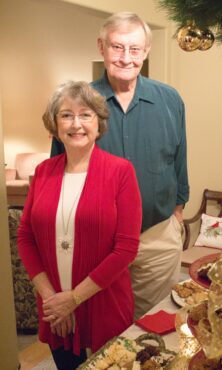 Adding a few lights each year, the project will continue to grow. To get the most benefit out of this energetic undertaking, the couple leaves the backyard garden lights up until March, to chase away the darkness of the long winter nights and give their garden some sparkle.
Cookies Galore
Meanwhile, Nancy Davenport is busy reviewing and selecting cookie recipes. The first year, she thinks she baked about 25 different kinds. Good friend Barbara Rogers, a cookie maven in her own right, came to Davenport's kitchen and gave her a lesson in decorating fancy sugar cookies.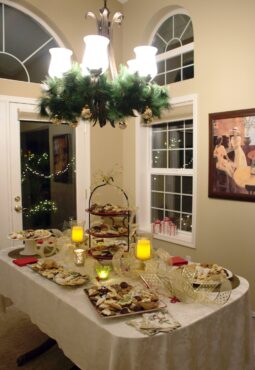 As each batch of cookies makes between two and four dozen each, the freezer soon was filled to the brim with hundreds of cookies. Davenport's repertoire ranges from flavorful drop cookies, to molded cookies, to pressed cookies, to rolled and decorated cookies.
She has some favorite, tried-and-true recipes that she has used for years, and adds new ones that pique her interest. In 2019, Davenport scaled back to just 15 different recipes — and made over 300 cookies.
Old-fashioned, sugared ginger cookies are always well received, and spritz butter cookies look beautiful on the plate, along with cookies that have interesting shapes.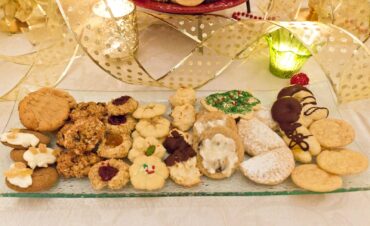 "The fancy decorated cookies seem to be the least favorite," Davenport says.
The cookies that disappear the most quickly? Coconut macaroons dipped in chocolate (see side bar).
Last year, Davenport tried a recipe that didn't turn out the way it was supposed to, causing disappointment in the eyes of the baker. These were molded cookies that puffed too much and lost their shape.
"So, I just dipped them in chocolate and put them on the plate — and they disappeared. It just proves if you put chocolate on anything, people will eat it," she said, laughing.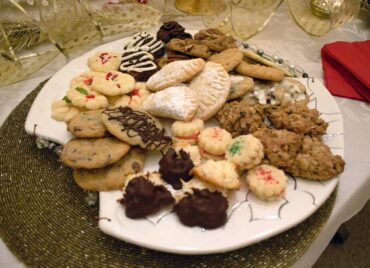 In addition to stringing thousands of lights and baking hundreds of cookies, the Davenports enjoy decorating the whole house since they know they will have so many guests.
"We normally would just do the main living area," Nancy Davenport said, "but since everyone will be roaming around, it is fun to do the rest of the house and porches, too."
She is an avid quilter and wool appliqué artist and has a highly practiced eye for design and color usage. The holiday decor throughout the home reflects her artistic skills.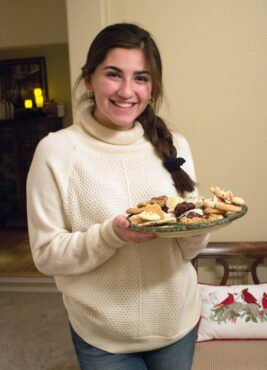 Party, Rain or Shine
The annual event brings 75 or more friends to the Davenport home to socialize, enjoy the myriad types and kinds of cookies piled onto the groaning dining room table, and, of course, amble throughout the illuminated garden areas. Rain does not stop the hardiest of souls from roaming out of doors, while others socialize in the warmth and conviviality indoors.
"We invite everyone we know to come and enjoy our home and the fruits of our labors," Davenport said. "This gives us each a chance to put a face to the names we often mention from our various club activities. And this is a gift we give ourselves and to all of our friends and acquaintances."
To keep all those plates and platters full of cookies — and to help with picking up and cleaning up drink glasses and coffee cups — Davenport employs the help of her young neighbor, Karla Aguayo, who has a charming smile and manages her tasks seamlessly.
Undoubtedly there are dozens of cookies left over, even after all guests have enjoyed their fill and some have taken a few home. In 2018, the couple delivered many dozens to the Tacoma Men's Mission, where they were most gratefully received, and also sent a couple good-sized boxes to a granddaughter in college. Davenport even shares a platter or two with her garden club for their January meeting.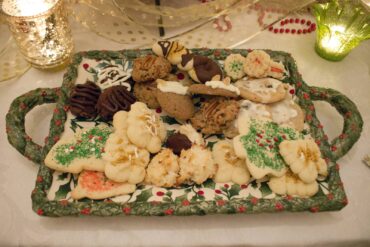 In spring and summer, Don and Nancy Davenport are busy working in their garden. They cultivate a vast array of shrubs and perennials in lush borders, which artfully combine natives with more exotic specimen plants.
In the 12 years they have lived in their home, they have removed much of the lawn, added a water feature, tamed overgrown rhododendrons, added about 40 hydrangeas and created a garden for all seasons. The Davenport garden was featured on the Gig Harbor Garden Tour in 2012.
---
Coconut Macaroons
Recipe contributed by Nancy Davenport
Prep: 10 minutes; Bake: 20 minutes; Makes: 1.5 dozen
Ingredients:
1 1/3 cup sweetened shredded coconut
1/3 cup sugar
2 tablespoon all-purpose flour (you can use almond flour for a gluten-free recipe)
1/8 teaspoon salt
2 large egg whites
1/2 teaspoon vanilla extract
Bitter-sweet chocolate chips, optional
Instructions:
In small bowl, combine the coconut, sugar, flour and salt. Add egg whites and vanilla; mix well. Mixture will be sticky.
Drop by rounded teaspoonfuls onto greased baking sheets.
Bake at 325 degrees for 18-20 minutes or until golden brown. Cool on wire rack.
If desired: When cooled, melt chocolate chips in double boiler. When chips are melted and chocolate is smooth, dip half of each macaroon into the chocolate and place back on cooling rack until chocolate is firmly cooled.
May freeze before or after adding chocolate.