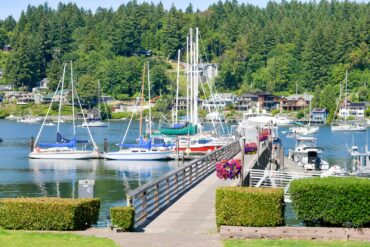 The exciting new location for Brix 25° sits right in the middle of walkable Harborview Drive, enjoys a beautiful view of the harbor and marina below, and features outside seating in fine weather.
Arriving on the Gig Harbor restaurant scene in 2008 and opening Brix 25° in 2009 was "the worst possible time economically," said Thad Lyman, co-owner with his wife, Katie Doherty. "We had been looking for a good restaurant for a while, and when Brix 25° was available (for sale), we jumped at the chance."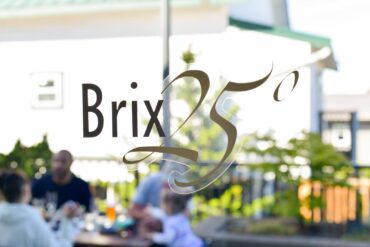 Brix had been named Restaurant of the Year by the Washington State Wine Commission, and it was exactly the sort of place Lyman and Doherty were looking for. The couple have decades of restaurant management, kitchen experience, academic preparation and restaurant ownership between them.
They made a very successful enterprise out of the original Brix 25°, although even with a major remodel in 2013, "it just wasn't the perfect fit, and never felt quite right for what we wanted to do," Lyman said.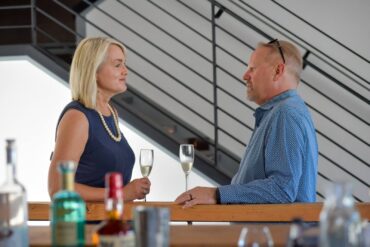 The couple were familiar with the present building on Harborview, knew it would be vacant, and took it over in 2018. They always wanted to be on Harborview with more exposure and a view.
Outside seating is popular during fine weather, and together with inside seating, the restaurant seats about 75. Lyman and Doherty did most of the buildout themselves, and have installed acoustical panels on the walls and ceiling, as well as incorporating lots of live plants to help with sound abatement.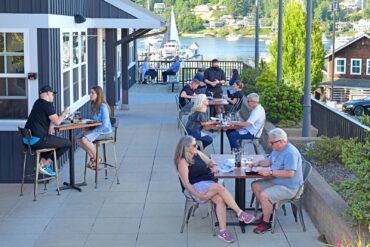 Although this is not their first experience with fine dining, Lyman and Doherty have honed their skills as restaurateurs in the past 12 years. They have built the reputation at Brix 25° for fine dining, a comprehensive Northwest wine list and passion for serving customers the highest-quality food possible.
Over the years, the original menu at Brix 25° has evolved to meet changing times and customer demand. Lyman, who is general manager and executive chef, changes the menu as he sees fit and allows his other chefs and sous chefs the opportunity for input in developing dishes as well.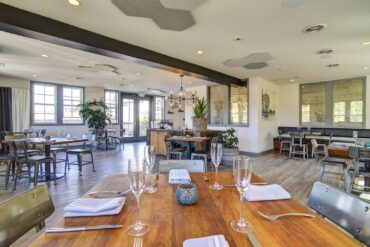 The restaurant sources as much food locally as possible and typically does not buy from large food suppliers or restaurant services.
"I source from small, specialty purveyors for fish, meat and dairy, particularly," Lyman said.
He wants his food to reflect high quality, and he wants to know where it comes from. Respecting the heritage of certain foods and the circle of life represented there is important to Lyman.
"A lot of hands touched these products before they came to us, and we want to be worthy of their work," he said.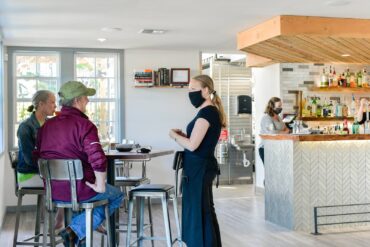 Another aspect of using foodstuffs from local purveyors with whom you have developed a relationship is waste management and the ability to be cost-efficient. Everything in a restaurant contributes to the bottom line, and the less waste, the less cost to that bottom line.
"For instance, when I buy in a whole fish and we break it down in our kitchen, everything is used for something," Lyman said. "Scraps go into seafood stock, trims from large pieces of meat can go into the grinder, etc."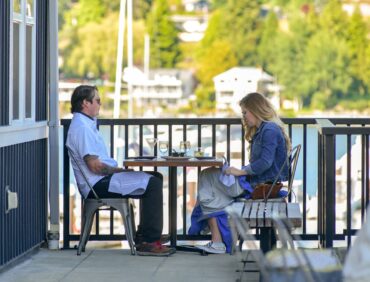 Everything the restaurant used for takeout packaging is cardboard and compostable.
"We made it through hard times by closely managing our menus and our waste," Lyman said.
All dishes are cooked in-house from scratch and to order. There are no steam wells, so everything is absolutely fresh.
Lyman has avoided playing around with food chemistry and trendy presentations. He wants his food to be honest, real, delicious and satisfying. He shuns dishes that naturally are unattractive on a plate, however, as he acknowledges people eat with their eyes first.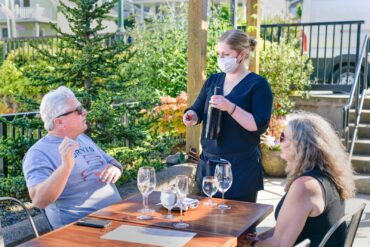 He strives to make sure what comes out of the kitchen isn't overly fussy, but rather has a natural, organic appearance, so patrons understand what they are about to eat. If a patron suffers a serious food allergy, this can be discussed with the server, and frequently menu adjustments can be made if necessary.
The restaurant is only open for dinner five nights each week and the concise menu offers enough variety to please any palate. A list of singular appetizers, a daily soup and shareable plates fill the front side of the menu, while the back page offers regular entrees and specialties called "grand plates."
Grand plates are designed for those with very large appetites, for special occasions or for sharing with a dinner partner. While the menu is not static and changes based on seasonally available foodstuffs, choices of meat and seafood are always available.
While Lyman is busy buying food, overseeing menus and managing the kitchen staff, Doherty is busy on the other side of the house. She manages the dining room and the bar. Her long history of working in the beverage industry has given her great respect for growers and vintners, and she is fascinated by the processes involved in producing fine wines.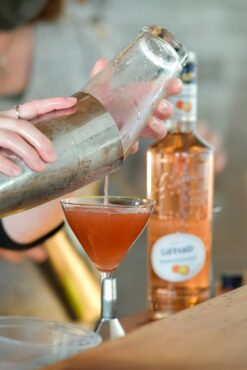 Thanks to — in her own words — "an excessive amount of reading," she often gets a handle on a wine before it gets discovered and hits the popularity polls. At any one time, there are 150-175 Northwest wines in the Brix 25° cellar. Many are purchased and stored until they are mature and at their best for drinking.
Doherty teaches her staff to have honest discussions with customers regarding wine pairing for the patrons' own palates. She would like all of their customers to feel comfortable with wine choices, and that comes with education.
"Wines should offer a pleasant complement to the food one is eating, and a wine doesn't have to be costly to fulfill that pleasure," she said.
Doherty is also proud to have a few certified sommeliers on her staff.
While wine fills the greatest percentage of beverages served in the restaurant, there is also a full bar, and the house offers a few specialty cocktails that rotate on and off the menu. The most-popular cocktail that is on the menu continuously is the Smokin' Sweet Margarita. Bartenders can also offer nonalcoholic cocktail choices upon request.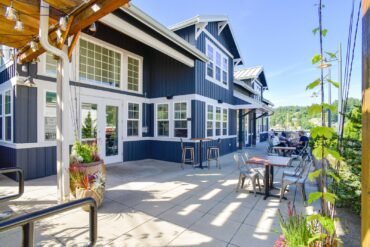 Happy Hour takes place at the bar Thursday through Monday from 4:30 to 6:30 p.m., and Thursday is half-price wine night in the dining room on all bottles except those in cellar reserve. The restaurant is also available for special occasions such as bridal receptions.
Doherty and Lyman own two more restaurants within walking distance from Brix 25° — NetShed No. 9 nearby and Brimstone PNW Smokehouse (located in the former Brix building). They find this proximity advantageous, including efficiency in kitchen and staff management and menu planning. Although the three restaurants have entirely different target audiences and totally separate menus, some ingredients are shared or combined to enhance each other's dishes.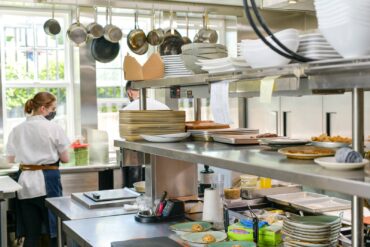 "Our best compliment is to have a customer tell us they had three meals with us in one day — breakfast at the NetShed, lunch at Brimstone and dinner here at Brix 25°," Lyman said.
"Our goal is always quality of service and producing the best food possible to meet our patrons' expectations," Doherty added. "And we are blessed to work with a great team, which we have worked to develop over the years. The more you value the talents of everyone on your team, the more successful you will be."