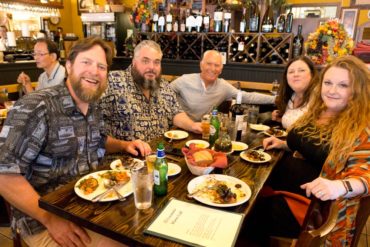 The unmistakable, booming, Italian-accented, jovial voice of Michele "Mike" Simone leaves no doubt Il Lucano is Gig Harbor's iconic Italian restaurant. Simone makes the rounds of tables, greeting customers, inquiring about the quality of food and thanking them for patronizing his business.
"I love feeding people, making them happy through what they eat," he says.
Simone and his wife, Azusa Hirasawa, purchased the Judson Street restaurant 11 years ago, and opened it under the name Il Lucano after the Italian town in which he was raised. Although he has no formal culinary training, Simone has always loved cooking, and learned the basic skills of Italian cuisine from his mother and other family members.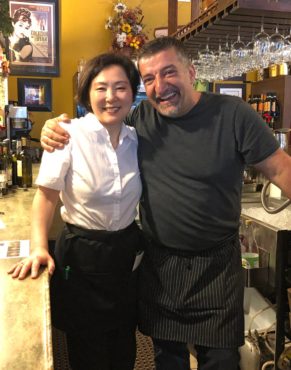 Hailing from Napoli in the ancient region of Lucania, Simone became a freight-truck driver, delivering goods all over Europe. His son Sal, now in his mid-20s, remembers going with his dad on some long-haul trips.
In 1991, Simone came to the USA and stayed for one year. When he returned to Italy, he set the process in motion to immigrate, and arrived in Puyallup in 2000 to become a permanent resident.
He worked long hours supporting his family, driving food-delivery trucks by day and honing his skills working in restaurant kitchens at night. When the Gig Harbor restaurant became available for sale in 2008, Simone saw it as an opportunity to realize his dream of owning his own establishment.
He talked with his wife about purchasing it.
"It is a risk — we could fail," he recalls telling her.
"If we go down, we go down together," she replied.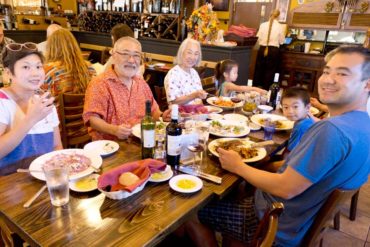 And the two of them began working together to make Il Lucano a success. A short while after they opened, the 2008 recession began, and things were slim for a while. Eventually, the word got out about the friendly atmosphere, the delicious cuisine and good service, and slowly but surely the restaurant began to thrive.
Il Lucano serves house-made, mostly traditional farm-style cuisine from the southwestern part of Italy.
"About 60 percent of our recipes are traditional and about 40 percent are trying new ideas," Simone explains.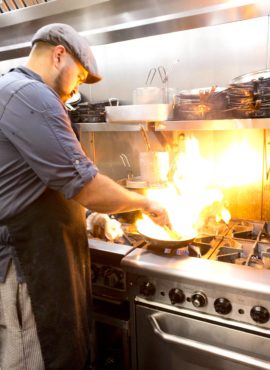 He maintains the position of general manager, and together with his chefs develops new dishes. The main menu is standard, but the daily specials change seasonally as various food stuffs become available or as the kitchen wants to try new dishes.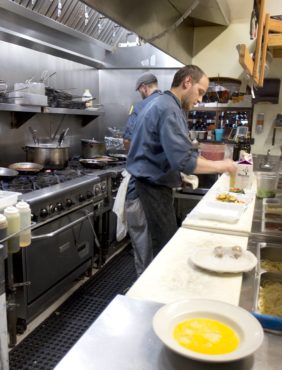 Three principal items lead the menu — pasta, meat and fish. Everything except the pasta is made in house, including gnocchi, lasagna, wild boar ragu, meatballs and cannelloni. Gluten-free dishes are readily available and are prepared in a separate part of the kitchen to avoid contamination. Dairy-free requests can be honored, as well as other specialized diets or allergy issues.
When the restaurant opened, Simone did all the cooking, and Hirasawa managed the dining room with the help of just one or two wait staff. She also took care of the books and did most of the cleaning. As the establishment has grown in popularity, more staff has been hired, and now six employees make up the kitchen staff, including three chefs.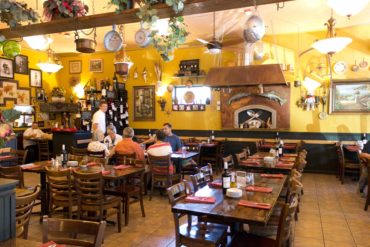 Chef Lorrenzo Torretta, from Padua, joined the team three years ago and makes the pizziola. Torretta was a customer and became Simone's friend. Simone actually performed the wedding ceremony for Lorenzo and his wife.
Chef George Jones is originally from Michigan, but has worked 35 years cooking Italian food, 19 of them in Tacoma before going Il Lucano seven years ago. Alex Marshall joined the team fresh out of culinary school nine years ago. He came into the restaurant for a meal, explained his credentials to Simone, and asked for a job.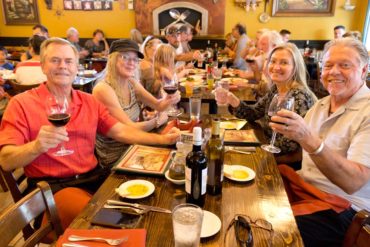 Marshall teaches Italian cooking classes at the restaurant on a monthly basis. The classes are on Monday evenings, when the restaurant is closed, and have two formats: demonstration and hands-on. Both formats include wine and entitle participants to learn about the cuisine. Marshall also caters, owns a hot dog truck and will do a whole pig barbecue for a crowd.
In addition to the kitchen staff, Il Lucano employs five wait staff and four table-buss helpers. Co-owner Hirasawa still does the cleaning, handles the books and fills in waiting tables as needed. There is a full-service bar, but not a dedicated bartender, so the wait staff mix their own cocktails and serve wine and beer.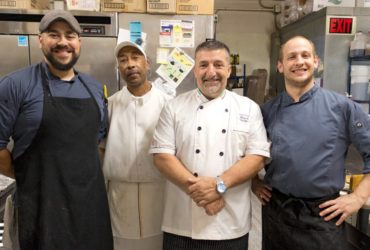 "Being an employer is the hardest part of owning a restaurant," Simone says. "We are a close-knit group, and someone always has a problem."
The majority of Il Lucano's employees have worked at the restaurant for many years, and they all have great respect for each other. The couple's sons also worked in the restaurant as they were growing up.
The best part of owning a restaurant is "definitely the privilege of taking care of our customers," Simone says.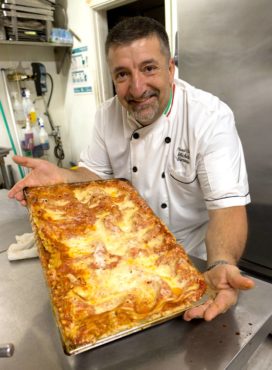 He tells a story: "One night, when we had been open only about three years, I was locking the front door about 10:15. The kitchen was closed down, the dining room was clean and I was locking up to go home. A white van drives up out front, and a guy asks if we are closed. I said, 'Well, I was just locking up — but how many are you?' The guy says there are 11 of them, just flew in from the East Coast, looking for a place to eat, and did I know anyplace else in Gig Harbor they could get a meal? I told them to come in; I was there alone, but I would fix something for them. They ordered appetizers, salads, main dishes and drank a dozen bottles of wine! They left well fed, happy and left me a very big tip. I locked up at 1:30 in the morning!"
Simone loves to feed people, and does not turn anyone away. When asked about the hours of service, he says, "If someone walks up five minutes before our posted closing time, we welcome them with open arms."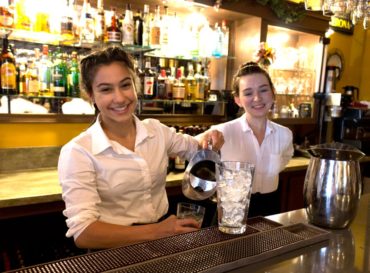 Since Il Lucano is a popular destination dining spot, reservations are recommended for dinner on Friday and Saturday, and always for a large group of eight or more. The restaurant can be reserved for private parties such as business meetings, wedding showers, etc. on most Monday evenings.
From its inception, Il Lucano has been an active part of the Gig Harbor community. The business supports all downtown alliance activities, the AIDS benefit "Dine Out for Life" and fundraisers for Tacoma Community House, among others, and will consider requests for other opportunities to support the community.
Lunch is served from Tuesday through Saturday from 11:30 a.m. until 3 p.m., and dinner service begins at 3 p.m. Tuesday evenings are special wine nights, with all wine bottles under $50 offered at half price with the purchase of two entrees.