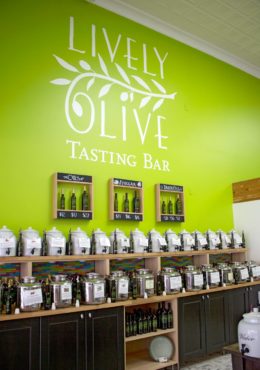 As societal trends move away from accumulating dust catchers and personal possessions, gifts of experiences and consumables become more appreciated. Fall and winter also bring attention indoors to warm and cozy kitchens fragrant with aromas of good things to eat. Those who love to cook frequently search out interesting ingredients to add to their creations, and those who love to eat enjoy shopping for new taste sensations.
In the West Sound region, three specialty shops entice the cooks and eaters among us and offer gifts for those with the most discerning tastes.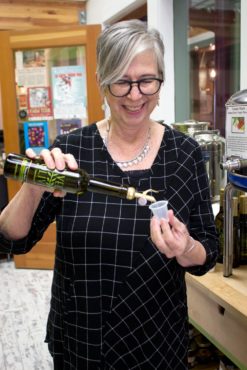 The Lively Olive Tasting Bar in Port Townsend was established in 2013, when Sandy Spencer recognized a niche market for a shop offering specialty oils and vinegars. Spencer, who had worked in retail for many years, enjoyed visiting olive oil shops in California. Taking a year off from other endeavors afforded her time to research the subject of fine oils and vinegars, locate vendors who offered the quality of product she wanted to carry, find a downtown Port Townsend space and design the interior of the shop.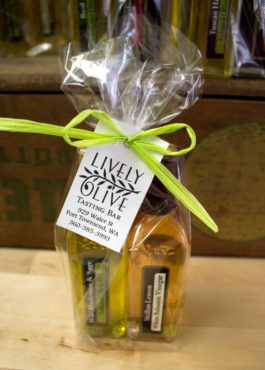 Entering the Lively Olive Tasting Bar almost gives one the sense of walking into a wine cave. Wooden beams overhead; tables and shelves lined with gleaming, stainless-steel fusti (imported vats that store oils safely); lovely, white Italian crocks; and dark-green bottles filled with luscious liquids meet the eye. A knowledgeable staff awaits to explain the origins and qualities of each oil and balsamic vinegar and to lead the novice as well as the seasoned customer through a tasting experience.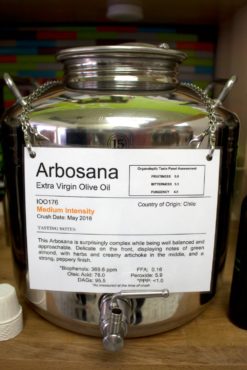 The Lively Olive Tasting Bar offers approximately 30 choices of oil. Of those, 18 are stock flavored oils, which range in taste from spicy to fruity to smoky, and those infused with herbs and mushrooms. Five specialty oils include those flavored with black or white truffles, a Japanese roasted sesame oil and two California nut oils.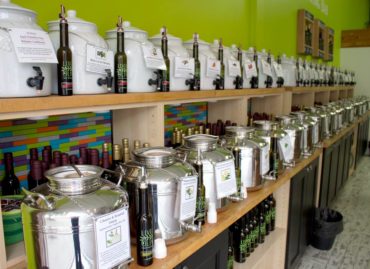 The foundation of the specialty shop is in the presentation of the extra-virgin olive oils (EVOO), which are changed out seasonally and identified by robustness of taste and country of origin. Spencer wants to offer her clients the freshest oils possible and does so by rotating the oils from the Northern to Southern Hemisphere producers every six months. The qualities of each oil are identified by a label on each fusti, stating country of origin, crush date, tasting notes and nutritional chemical analysis.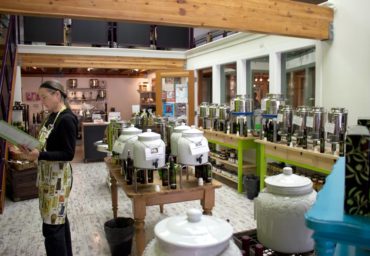 Balsamic vinegars stocked at the Lively Olive, stored in ceramic crocks with spigots, include dozens of flavored dark and white balsamics as well as premium, traditional varieties that are unflavored and aged. Specialty vinegars available include a champagne vinegar from France; a sherry vinegar from Spain; and a spicy, sulfite-free vinegar. The Lively Olive staff is well educated and always eager to assist with taste pairings and recipe suggestions.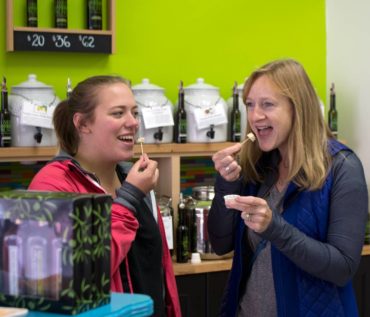 In addition to oils and vinegars, the Lively Olive markets a small selection of food products such as pastas and sauces, and a few gift items such as dipping dishes made by local artisans. The oils and vinegars are all bottled in four sizes: mini, which is available as a single purchase or gift-wrapped with the perfect pairing; 200 mL for $12; 375 mL for $17; and 750 mL for $27. Spencer will ship up to six 200-milliliter or 375-milliliter bottles anywhere in the United States for $15. She has specialty packaging made for shipping bottles that guarantees safe arrival.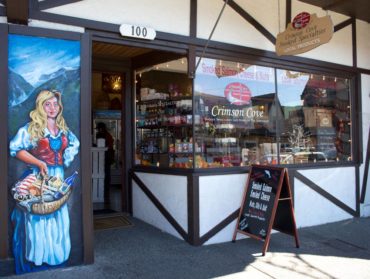 Spencer loves her business. "I love helping people discover new tastes and experience the nuances in my high-quality, unusual products," she said.
Pousbo's Front Street, alive with interesting art galleries, boutiques and specialty shops, serves as a reminder of the Northwest's past and a shopping destination for tourists and locals alike. Tucked into a string of little shops, marked with a striped awning shielding the large picture window from the late-afternoon sun, is Crimson Cove Smoked Specialties.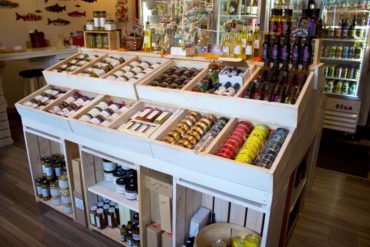 Anne Keller and her husband, Joe Tedford, purchased the business in 2014, when her son Brad Landers, an avid sport fisherman, became aware that the owners of his favorite fish smokehouse were ready to retire. Convinced that Crimson Cove was a business that could continue to thrive in the community and that it was a perfect fit for a family of foodies, Landers convinced Keller and Tedford to step up and run the retail end of the business while he learned the intricacies of running the smokehouse. Landers now manages the smoking operation as well as the wholesale side of the business. Originally, Crimson Cove sold mostly just its own smoked products and beverages, but Keller has slowly expanded the offerings to include many other gourmet products from the Northwest.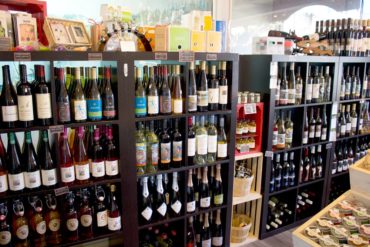 The sandwich board on the sidewalk entices passers-by to stop in for a free sample, while the large window display shows off Northwest specialty foods and one-of-a-kind Northwest ornaments, including miniature Puget Sound ferries complete with tiny, colorful cars.
Stepping inside, guests are greeted by the friendly staff and are immediately invited to taste samples of smoked cheeses and nuts. The walls are lined floor to ceiling with Northwest products such as wines, all manner of culinary products and local handcrafted wares. Seeing a niche in her community for other products made in the Northwest, Keller has added jarred spreads, sauces, teas, spices, crackers, chocolate and granola that are all produced locally or within a couple hundred miles of Poulsbo.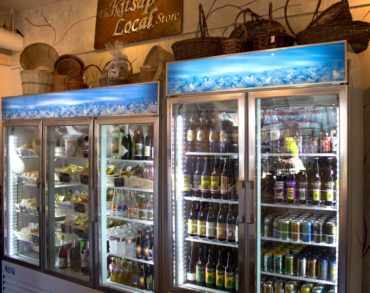 "Since there is no shop specializing in made-in-Washington products here, I thought I could offer that buying opportunity," Keller said.
The large, shining, glass-refrigerated unit on the back wall of the store brims with smoked sockeye and Chinook salmon in various sizes of packages plus wrapped cheeses and cold beverages. Ciders and beers brewed in the Northwest and a good selection of chilled local white wines are ready to take on a picnic.
The top of the refrigerator is loaded with baskets in all shapes and sizes. Customers are encouraged to choose a basket, wander around the store perusing the many choices, and fill the basket as they wish. The staff then fills, wraps and decorates the basket for gift giving. Baskets can be based on a specific theme or dietary preferences.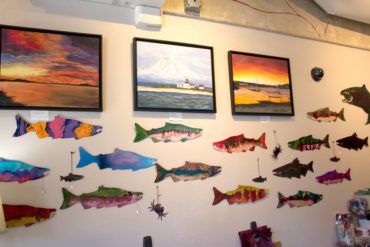 "Sometimes, a customer will call and say they need a basket and wish to spend a certain amount of money, and we will have it ready for pickup when they need it," Keller said.
Crimson Cove also has gift boxes and baskets that can be ordered online. Crimson Cove products can also be found at local farmers markets, with dates and locations listed on the website. Additionally, the business offers a custom smoking service for locally caught fish at its smokehouse location.
Wine tastings and pairing with smoked specialties are offered at the Front Street store every Saturday afternoon from 2 to 5 p.m. Three different beverages are paired with smoked cheeses, spreads, etc.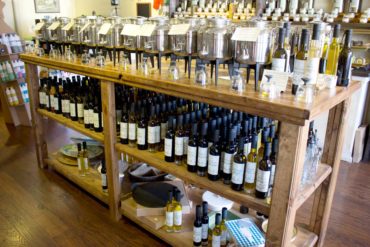 For those foodies living in the Gig Harbor area, For the Love of Spice is the "go-to" shop for delicious olive oils, balsamic vinegars, local wines and especially fresh, fragrant spice blends.
Windy Payne grew up in a family that traveled extensively, and as a youngster who loved to cook, she was fascinated by the flavors she experienced in far-flung places.
"When we got home, I would try and research the recipes and go and hunt for the specialized ingredients I needed to replicate those flavors," she reminisced.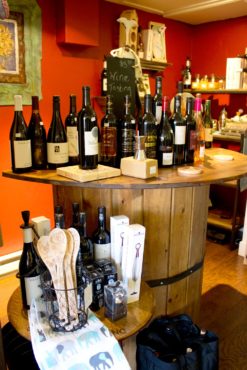 Encouraged by friends who knew of her interest in spices and her ability to blend them for specific flavor results, in 2009, Payne started packaging and selling her spice blends at various farmers markets around the area.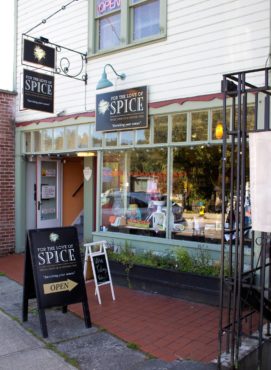 Originally hoping to open a small bistro that would feature seasonal dishes, Payne saw her dream evolving into something less time consuming that would still give her time to tend to her family, but also something to do "just for her." She began to look for the right location for a spice shop, knowing she had to have a spot that had lots of passers-by and could easily be found by locals and visitors alike. It took two and a half years for that location to emerge, and when she heard jeweler Kit Kuhn was retiring and his storefront would be available, Payne jumped at the chance to make it her own.
While looking and waiting for the right location to come along, Payne continued to research, taste and test her spice blends and to look for other products with which to augment her product line. Attending trade shows and tasting and testing, along with researching online, she eventually located suppliers who could offer her the very high-quality olive oils and intriguing Italian balsamic vinegars she wanted to carry.
Entering the Love of Spice, one is met with the delicious and enticing fragrance of a well-stocked kitchen. Spice aromas mingle with the sharpness of vinegar and the warm, exotic balm of olive oils. Little bowls of bread cubes offer visitors the chance to dip and sample oils and vinegars to their hearts' content.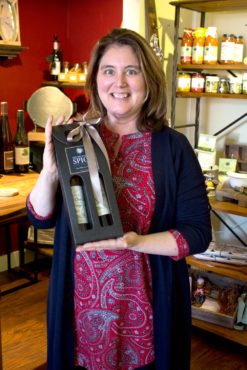 The shop offers 14 olive oils, 18 vinegars and 60 spice blends, each labeled with recipe ideas and pairing notes. One corner of the space is also dedicated to a wine-tasting counter that features wines from small, family-run vineyards in Washington, France and Italy. Tastings take place on special downtown Gig Harbor event dates and daily upon request. Tastings are $5 for the three different wines that are being sampled that day.
Payne and her husband, Michael, recently made a trip to Italy to research the source of the balsamic vinegars they stock in their shop. Their two-week trip is documented on her blog, which can be accessed through her website. Day 8 in Modena describes every aspect of producing balsamic vinegar. The process is heavily controlled and complex, and important to understand for those searching out authentic, high-quality balsamic vinegars. The blog is very well written, entertaining, highly informative and well worth a read.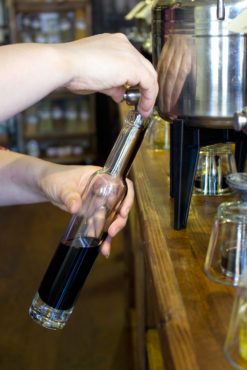 Payne is quite the expert on the subject and enjoys helping her customers understand the labeling on balsamic vinegars purchased in groceries and specialty shops. She also recognizes she has customers with highly refined palates and stocks a limited supply of very old, very rare balsamic vinegars in exquisite packaging for special gift giving.
Spice blends may be purchased by the ounce, freshly scooped into little cellophane bags, or in tins, which are best for storing spices and herbs to keep them fresh. The shop offers oils and vinegars in two sizes of bottles, 200 and 375 milliliters. Bottles and tins may be returned for refilling at a discounted price.
In addition to oils, balsamic vinegars, herbs, spices and teas, For the Love of Spice also stocks specialty pastas, sauces, tapenades, mustards and a bourbon-barrel-aged maple syrup. Gift items such as cruets and dipping dishes from Italy, novelty tea cups and infusers, serving plates and spreaders, and more enhance the gourmet food offerings. Custom gift baskets are available upon request.