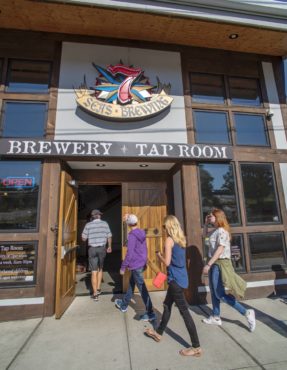 A summer afternoon or balmy evening finds the outdoor seating area at 7 Seas Brewing Co. in Gig Harbor bustling with activity. Couples, groups of friends and families share the conviviality of gathering over a pint or two of local brew, tasting new introductions and enjoying old favorites.
Literally a homegrown company, 7 Seas Brewing has its roots in Gig Harbor, as co-owner Mike Runion was born and raised in the community and graduated from Gig Harbor High School. Travis Guterson was born and raised on Bainbridge Island, and they met when Runion, a student at Washington State University, did an internship at a local brewery between his junior and senior years. Guterson was the production brewer at the brewery, and the two struck up a friendship that soon blossomed into a successful business partnership.
As the two young men discussed their futures, their thoughts developed into a plan for a business.
"I'm a strong believer that sometimes things choose you," Runion said.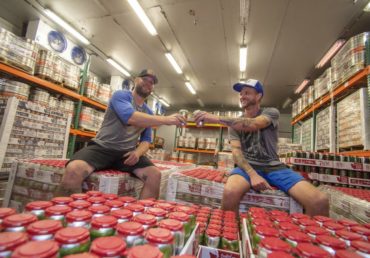 Through a series of serendipitous events, they wrote a real business plan mapping out their futures. They acquired equipment and found a downtown Gig Harbor location to start brewing. But just as the pair were ready to begin their first batch in 2008, a fire, in their leased building destroyed the space.
Undiscouraged by the setback, not long after the fire they started over in a building that previously housed an auto shop, behind the Inn at Gig Harbor. In this 3,000-square-foot space, Runion and Guterson released their first keg on July 7, 2009. Cutts Amber Ale was introduced at the Tides Tavern, and became the first of a selection of several beers brewed exclusively for the Tides.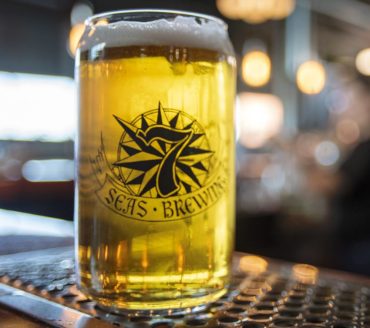 Before long, 7 Seas Brewing outgrew the space by the Inn, as brewing equipment and the tasting room became too small to handle increasing production and the burgeoning customer base. When QFC vacated its store on Judson Street, the partners saw an opportunity to lease a space that could accommodate increased brewing equipment as well as indoor and outdoor places for their customers to gather. The brewery moved operations in 2012, opening a taproom that is nearly as large as their entire previous building.
As 7 Seas beers have become more popular, the need to increase production once again meant expansion of space. Leasing a building always leaves a little uncertainty in terms of longevity in a location, so the partners felt the best solution for future growth was to purchase their own brewery space.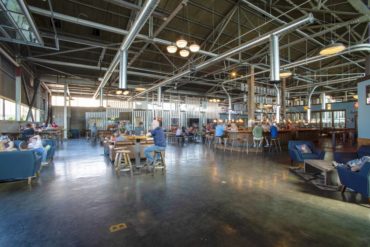 A hunt for a suitable building around Gig Harbor and the southern end of the Kitsap Peninsula proved fruitless, but then a perfect solution appeared. The old Heidelberg Brewery building in Tacoma's Brewery District was available for purchase, and, according to Runion, "could not have been a more perfect fit." 7 Seas Brewing now has more room than it needs for production expansion in the foreseeable future, and the location is ideal.
Innovative, small batch brewing still takes place at the Gig Harbor site.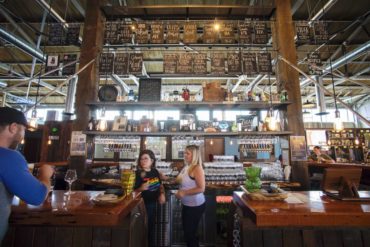 From the beginning, Runion and Guterson have been clear about what sort of atmosphere they want their taprooms to offer. They intentionally keep them light and bright, with big windows and community seating tables. Families are welcome. They consider their individual roles as a family business, where their families will grow along with the brewery.
They have designed their taprooms and patio spaces to be places where community members can gather and share the camaraderie of a pint or a tasting sampler. There are no big-screen TVs to distract conversation, but Seahawks games are projected for fans. Closing times are early: 9 p.m. in Gig Harbor and 10 p.m. in Tacoma, to avoid the taprooms becoming bar atmospheres.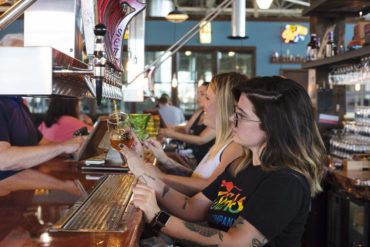 The focus is on the beer, so patrons are invited to bring their own food, should they wish to have a snack to accompany their suds.
"We want to make the best beer there is to drink, not be sidetracked by serving food as well," Runion said.
Occasionally the 7 Seas food truck will appear in front of the Gig Harbor location, when a vendor is available to run it.
"Our business model is to brew beer, and we have spent nine years building a sturdy foundation on which to do just that," Runion said.
Located inside the 10,000-square-foot taproom at Tacoma are a coffee kiosk and a deli from which patrons can order charcuterie, sandwiches and salads. But they're still welcome to bring their own food if they wish.
When it comes to running the business, the partners rely on each other's strengths and compensate for each other's weaknesses. They have 31 other employees including about half at the Gig Harbor location. Guterson leads the brew side of the operation, developing new recipes and watching over production. Runion is responsible for equipment planning, design and installation, while other family and staff members are involved in retail management and sales.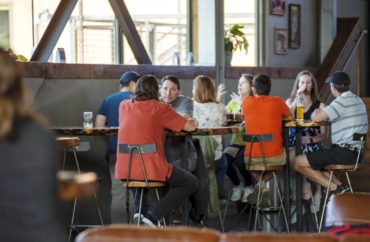 In 2009, 7 Seas became the first craft brewery in the state to sell its beer in a can, and moving into the Heidelberg building allowed space for expanding the canning process.
"[Canning] is best for the quality of the beer, and best for the environment," Runions said. "No more broken glass, no more heavy trash. Cans provide no UV light to penetrate the beer, which can lower oxygen levels, and aluminum is infinitely "recyclable."
He says that cans now have a water-based coating, which doesn't impact the taste or add smell to the beer. Fresh beer has the best taste, so cans are dated with the brew date. Canned beer should be consumed not longer than 90-120 days from that date. Six different beers are available in cans throughout the state in bars, taverns, restaurants and major grocery stores.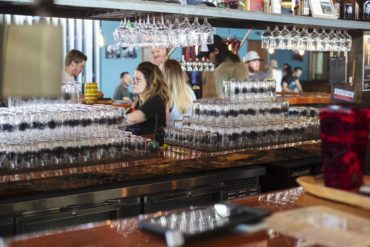 7 Seas Brewing is all about the beer, so the partners talk regularly about what they would want to drink. They keep a well-rounded selection available to please a wide range of consumer palates, and bring in seasonal brews throughout the year. Close attention is paid to what new ingredients are looming on the brewing horizon, and they buy their ingredients close to home.
Hops come from Yakima, where over 20 varieties are grown, and malts come from Great Western Malts in the Skagit Valley. Yeasts mostly come from a lab, but occasionally "feral," or wild, yeasts are used.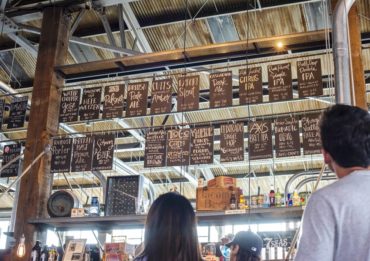 The brewery typically has 17-22 different beers available at any one time, with many only available in its taprooms. Taproom staff are trained and certified via Cicerone, a program for beer-serving professionals. This empowers them to understand the complexities of the beer-flavor spectrum and assist patrons in selecting what will be most pleasing to their palate.
There is constant research and experimentation going on with the IPA (India Pale Ale) series to meet the growing interest and drinkability of that type of ale. The Tides Tavern in Gig Harbor has four exclusive beers, including the Healthy Bay Hefeweizen, from which a part of the proceeds are donated to a local environmental group.
Other efforts to support the community by 7 Seas Brewing include sponsorships of special events for local nonprofits. Recently, a "Dining Out for Life" event was hosted at the Gig Harbor taproom, and on another occasion, $1 of the proceeds from the sale of each Red Ribbon Ale pint was donated to the Pierce County AIDS Foundation.
Business-wise, Runion says he feels "fortunate to live and work in such a supportive community." The business partners strive to keep their focus on brewing great beer and running a sustainable operation that serves its customers and employees well.
"I believe there is a larger flavor spectrum in beer than in wine — but in the end, it is important to remember that beer is the drink of the blue collar," he said. "It shouldn't be fussed over too much. Just drink it and enjoy it!"