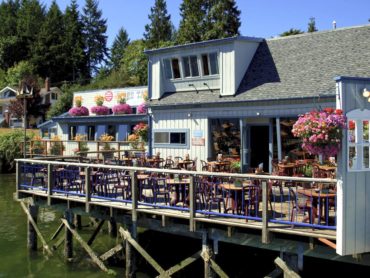 Mention Gig Harbor to anyone who doesn't live here, and if they are at all familiar with this little town, they know about the Tides Tavern. The iconic watering hole and waterside dining spot has been a favorite for locals and visitors alike for generations.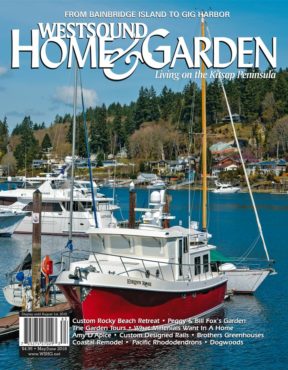 The building itself was built in 1910 by Axel Uddenberg as a general mercantile and has undergone many changes over the past 108 years. Businesses and owners came and went until 1973, when Peter Stanley bought the derelict building on the historic spot and turned it into a Gig Harbor landmark.
He opened the Tides Tavern on the "Harbor Holidays" weekend in June of the same year after a two-month renovation. Shortly afterward, he enlarged the kitchen, and the reputation of great food on the Gig Harbor waterfront was established. Since its inception, The Tides has remained an over-21 establishment, and although some visitors are disappointed they cannot bring their children, it remains a favorite for those seeking an adults-only drink and meal.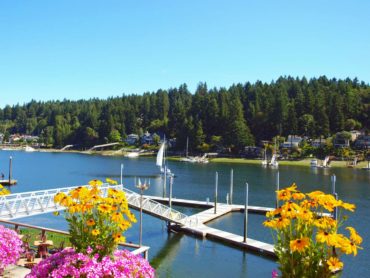 Peter Stanley was the face of The Tides, smiling, greeting and conversing with customers who over time became friends. He made everyone feel welcome, and even through upgrades and remodels over the years, he kept the cozy hometown feel of the restaurant.
"Dad wanted everyone to have a good time," said his son, Dylan.
Dylan Stanley was 4 years old when his dad established The Tides. He grew up around the restaurant but, of course, wasn't allowed inside during business hours.
With a degree in business and many years at the helm of Old Town Bicycle, in 2010 he turned 40 and needed a change. While he was deciding what he would do next, his father brought him in as a business consultant to help with decisions in terms of keeping the business current, but retaining the historic feel.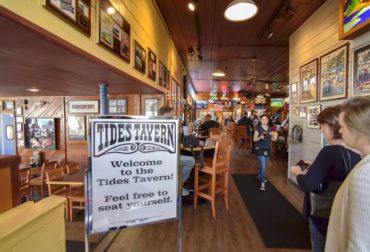 Stanley worked with his dad for a while then took over the reins. "I felt I had one more big effort in me," he explained.
He is now the CEO of the company while his father is still a very present fixture at the restaurant, meeting and greeting friends and strangers alike, but without the daily responsibilities of running the business.
Stanley had no previous restaurant experience when he took the helm, but he did have a sound business background. He recognizes that succession is difficult between generations and has moved ahead cautiously and purposefully. His business philosophy is all about people and making sure everyone has what they need.
He wants his customers to feel comfortable no matter who they are and whether they are wearing a three-piece suit or construction boots. Stanley sees his daily hands-on responsibility as looking after his staff and running the business in a way that makes sure everyone's job is secure.
"Without a strong support staff, the wait staff can't do their jobs. If the wait staff can't do their jobs, the customers aren't happy. If the customers aren't happy, they go away, and then the restaurant will cease to exist," he said.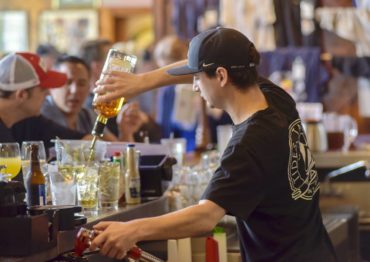 The menu is selected through a collaborative effort between him, his general manager and the chef. Some items are constant on the menu, such as the bestselling fish and chips and high-volume clam chowder, while others are brought in on a seasonal basis.
New items are introduced to the staff when the menu changes during a three-hour restaurant closure, so everyone has a chance to sample them. There is always an effort to be creative while keeping the quality consistent.
"We source as many ingredients locally as possible but don't advertise it much because it has become so much of a gimmick. Instead, we use local vendors and buy great quality," Stanley said.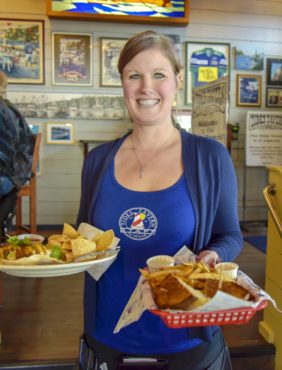 "We have a very small kitchen for the volume of food we prepare," he added.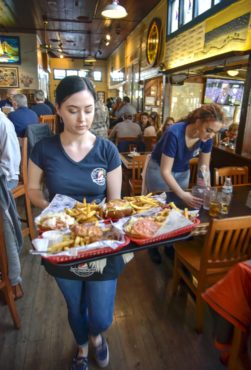 The kitchen supports an executive chef and three sous-chefs, along with prep cooks and dishwashers. The small kitchen and the complexity of switching from breakfast to lunch on weekends is why The Tides discontinued weekend breakfast service a couple of years ago.
"Trying to end breakfast at 11 a.m. and immediately take lunch orders resulted in a lag in service. Customers don't like waiting and, of course, they don't see or understand the problem in the kitchen," Stanley said.
The Tides also has a protocol in place for serving those with specialized diets. If guests mention an allergy to a server, a manager is called to check with the kitchen to make sure the guests will not be served something they should not eat.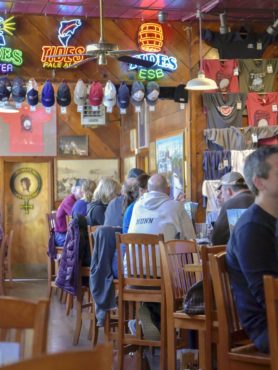 Beer is a favorite attraction at The Tides, with 16 handles always on tap. Four are exclusive brews just for The Tides made Gig Harbor's 7 Seas Brewing. The Tides 40th Anniversary Double IPA was introduced in 2013 and remains its bestselling beer. And speaking of beer, when patrons order Healthy Bay Hefeweizen, 50 cents for every glass poured is donated to Citizens for a Healthy Bay, which helps to keep Commencement Bay and South Puget Sound healthy.
The Gig Harbor community has always been good to The Tides and the restaurant's management believes in giving back. They believe in community interaction and make generous contributions to help good causes whenever possible. They are participants and promoters in many Gig Harbor Waterfront Association activities, as well as posting a Contribution Request button on the business' web page, which is most unusual for a retail business.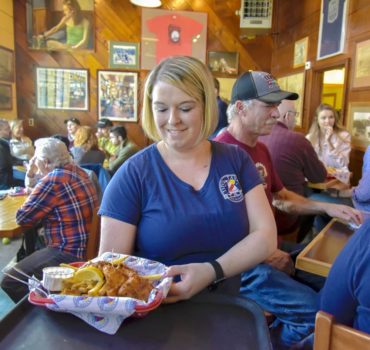 Despite the casual atmosphere and menu, The Tides is a world-class restaurant. It has received acclaim in multiple national magazines and always gets high ratings on foodie websites like Yelp and Trip Advisor. The majority of the diners — about 70-80 percent — are return customers, whether local residents or visitors from afar.
When asked if there are plans to change anything significant in the near future, Dylan Stanley smiled and said, "The trick is to keep up with the growth of the Gig Harbor community."
Other pressures come from changes in the minimum-wage law and trying to narrow the earnings gap between management, support staff and servers. Running a healthy business "isn't just about the bottom line, but also taking care of people," Stanley explained.
The restaurant seats 198 persons, with 80 on the deck in the summer. In wintertime, the pace is more relaxed and more intimate, as servers have a little time to visit with the customers, and the inside dining areas are warm and cozy. In the summer, the visitor base swells, everyone wants to eat on the deck, boaters come in droves and everyone has to hustle.
When the occasion arrives for a business lunch, a casual drink or dinner with friends, everyone enjoys the invitation, "Meet me at the Tides."