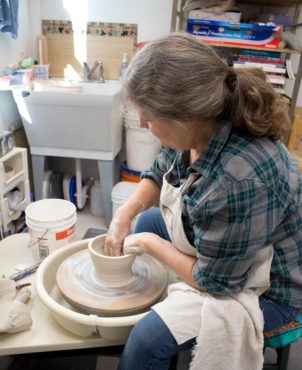 One Saturday each February, excitement builds as the line outside the Gig Harbor Boys & Girls Club lengthens and eager shoppers wait for the doors to finally open. At 11 a.m. sharp, the anxious crowd floods into the room and patrons scurry between large tables laden with glistening ceramic bowls. The fragrance of delicious warm soup wafts upward from the kitchen and eating area while shoppers wait in line to pay for their bowls and head downstairs for lunch.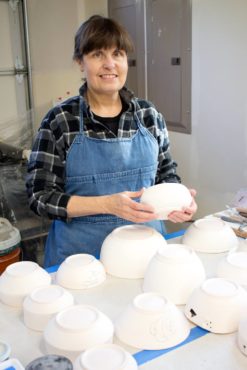 Feb. 17, 2018, marks the third year of Empty Bowls, an event by Altrusa International's Gig Harbor Chapter to raise funds for feeding hungry children in the Gig Harbor and Key Peninsula communities. It is a little known fact that about 20 percent of the students in the Peninsula School District (1,674 kids at last count) qualify for free or reduced-price meals. Although these children receive breakfast and lunches while school is in session, they may go hungry during the summer. The members of Altrusa International, Gig Harbor Chapter, are not willing to allow that situation to persist, if they are able to change it.
Most members of the community find it almost incomprehensible to learn the Gig Harbor area has such a large number of families who are food challenged. Various factors contribute to hunger, and it takes a variety of approaches to solve the problem.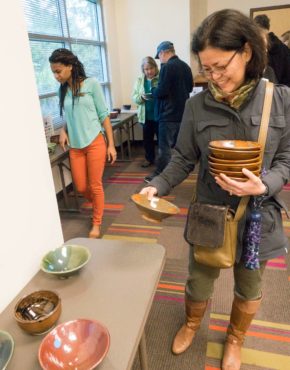 It is hard to know for sure who is hungry and who is not, so the Boys & Girls Club uses the Peninsula School District food assistance records to determine which students are in need. The U.S. Department of Agriculture regulations say that the club's nearest public school must have a minimum of 50 percent of its students on the federal free lunch program in order to receive support from that agency.
Discovery Elementary, which is right across the parking lot from the club, has one of the lowest percentages of low-income families in the entire school district. Many nearby communities have summer and weekend meal programs for kids and their families, but the Greater Gig Harbor area has none, even though the need is great.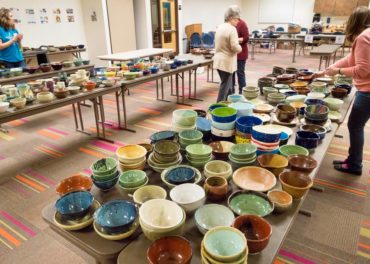 Altrusa is an international service organization formed in 1918. The local affiliate was chartered in Gig Harbor in 1981 and has since donated thousands of dollars and hours to the community.
About 10 years ago, in an effort to support the mission of helping kids thrive, the local chapter pledged to raise and donate $100,000 to equip a commercial-level community kitchen in the new Jim & Carolyn Milgard Family HOPE Center that was soon to be built on Skansie Drive. The intent was to provide an institutional kitchen that would be used for any type of community event hosted at center, which is home to Boys & Girls Club and other programs. It is used daily to prepare meals for participants in Boys & Girls Club and senior citizens programs, as well as groups who use the space for meetings and events.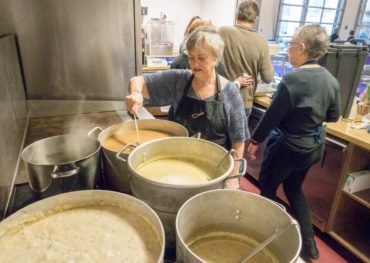 In October 2015, Altrusa made the final payment on the kitchen and the organization began to search for how its investment could grow in service to the Gig Harbor community. Offering food to children who come to the club after school and during the summer builds retention in the programs — kids come earlier and stay later. But there is a nominal charge for those meals, and some families can't manage it.
Jan Hohman was the chapter president in 2015, and she began searching for a hunger-related type of fundraising that would help her club provide meal assistance to needy kids who participate in programs at the Boys & Girls Club. Learning of the international efforts of the Empty Bowls Movement, and being a big supporter of local arts and artisans, Hohman thought this program might be a good fit. Also, engaging other members of the community and local businesses could magnify the efforts of the Altrusa group.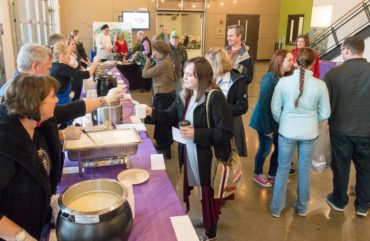 The 27-year-old Empty Bowls Project is an international grassroots effort to raise both money and awareness in the fight to end hunger. The model is loosely structured to allow every community group to design its own way of planning and implementing a program, with few hard, fast rules. The main objective is to have all bowls and meal items donated, and all proceeds must be used to feed the hungry.
In the fall of 2015, Hohman contacted local potters and asked how many bowls they could possibly provide for a February event. Individual artisans began to work, and about 400 bowls were ready for the first sale. That year, enough funds were raised to feed nearly 900 children over 4,000 meals and snacks at the Boys & Girls Club during the summer program.
Funds raised during the second Empty Bowls event in 2017 enabled the club to expand its contribution to the Boys & Girls Club and also to support an after-school snack program at the Red Barn on the Key Peninsula and the Backpacks 4 Kids project that serves the entire community.
Local potters work on bowls that are decorated and fired in a variety of methods. School art departments contribute bowls, as do ceramists from outside the area, and Clay Art Center of Tacoma donates clay.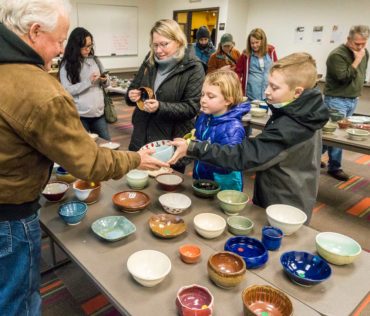 The goal for this year is 600 bowls, which will range in donation price from $10 to $25. Most utilitarian soup bowls are priced at $15 each. After purchasing a bowl, each patron is entitled to a soup meal provided by a local restaurant. More than a dozen chefs and restaurants have donated their services over the past two years.
Entertainment is provided by the Peninsula Youth Orchestra, which is another project funded in part by Altrusa of Gig Harbor. Visual displays and a slide show about hunger awareness in the Gig Harbor/Key Peninsula community are set up in the dining area.
Selecting a handmade bowl from hundreds, sharing a communal soup lunch with friends and neighbors and taking a handmade bowl home as a commemoration of the day serves as a reminder of all of the empty bowls around the world, but especially those closer to home. Maybe even next door.