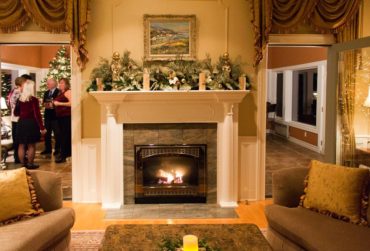 When friends of Katie and Glenn Eberling open their mailboxes and find a personal, creative, original invitation to a Christmas party, the holiday season officially begins. The couple have been holding Christmas gala parties for several years to kick off the Christmas season, always early in December and with a hand-addressed, mailed invitation.
"Our party is our gift to our friends, and a mailed invitation sets the stage," Katie Eberling said.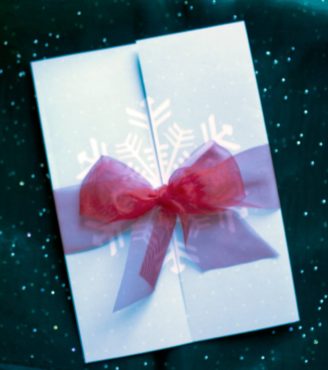 The front entry is festooned with swags and massive wreaths of fresh greenery that Eberling makes herself about a week before the party. Large pots of faux poinsettias nestle within the porch pillars, and white mini lights twinkle softly, a preview for the opulent holiday décor inside the home.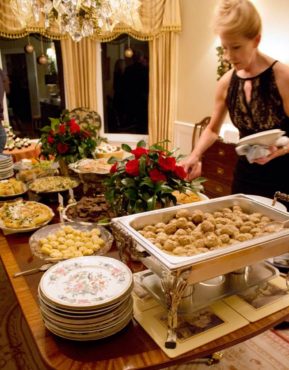 Each guest is greeted personally at the door by either Eberling or her husband and then promptly receives a celebratory drink. In the entryway, a beautiful antique Chinese bowl surrounded by a wreath of fresh greenery, orchids and baby's breath bubbles with champagne punch with a floating ice ring of berries and fresh flowers.
The sideboard holds an arc of sparkling stemmed glasses, prepoured with red and white wine. The first guest or two to arrive may be pressed into service pouring champagne punch or arranging hors d'oeuvres on a plate, to help them feel welcome and comfortable.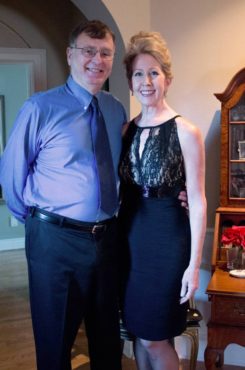 The Eberlings consider their guest list carefully, always mindful of friends and acquaintances who will find common interests with others and enjoy meeting people they do not know. Years of military background have honed the couple's skills in understanding how to put together just the right mix of people, resulting in a lively, successful party.
Successfully throwing a party for upwards of 60 people takes teamwork.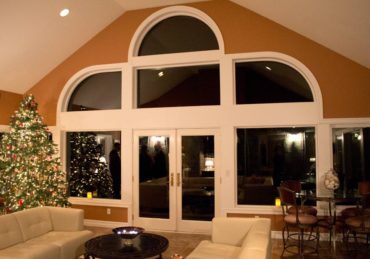 "Glenn will do anything I ask of him," Eberling said. "He also is a keen observer of how things are going during the party, keeping guests engaged with one another and making sure everything flows seamlessly."
Although the guest list is of primary importance, Eberling says the secret to a memorable party is planning, planning, planning. Impeccable planning builds in a destressing component for the host and hostess, empowering them to enjoy their party as much as their guests.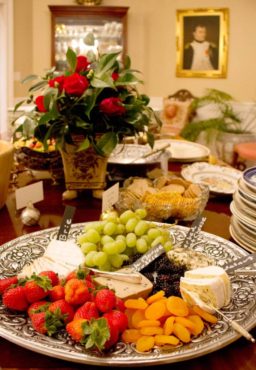 In reality, planning starts nearly as soon as the party in progress ends because she gets out her tablet and makes notes almost immediately. After all the guests have gone, the Eberlings enjoy the last vestiges of the evening by reminiscing about their party, and if they stumble on a subject they feel needs revisiting, she makes a note of it.
Eberling keeps her tablet close at hand to make additional notes as she thinks of things over the next few days or weeks, so when the real planning for the next party begins, she can rely on notes instead of details that may have slipped from her memory.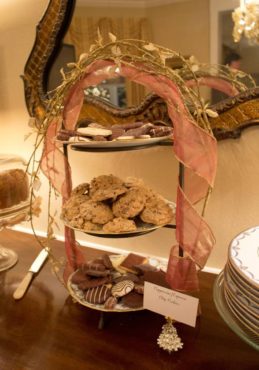 The Eberlings host a large Christmas party about every other year, and when one is planned for early December, the timeline would be similar to the one included here. Eberling keeps a neat file folder with all of her party-planning details in one place, and though she doesn't use a computer-generated spreadsheet, her hand-drawn tables give her all the information she needs.
There is one worksheet for each aspect of the party: menu, guest list, decorations, shopping, tabletop, etc. Each worksheet has detailed columns denoting all the information needed for that subject.
For instance, "menu" will include the name of the recipe, number of servings, ingredients, prep date and quantities needed to then be transferred to the shopping list. "Guest" will include names, updated addresses and responses from invitees.
Tips on Planning Your Party
Mid to late October
Set date of the party.
Decide on number of people you want to invite.
Develop guest list. Glenn explained the list is "about one-third colleagues from work, about one-third friends and about one-third neighbors."
Start collecting and updating snail-mail addresses. Add guests' names and names of significant others where appropriate.
Design and order invitations and return address labels. Eberling explains, "Order 20-30 percent more invitations than you expect to send. You may make a mistake in addressing, you may have inadvertently left someone off your list, you may wish to add others to your guest list, and so on." The Eberlings order their invitations from paperstyle.com because of the great service, high quality and fair prices.
Purchase holiday or special stamps for envelopes.
Four to six weeks ahead, start working on menu and drink options, develop a theme and assess new ways to use your home and garden. Eberling's experience has taught her that every detail in planning and holding a successful party is important. All five senses should engage and be pleased. Decorations reflect the theme, food should be well presented and appeal to those who have sophisticated palates as well as those who prefer comfort food.
Early November
Begin addressing and preparing envelopes for mail.
Decide if additional help is needed. If so, ask friends or neighbors' college-age young people or contact the local culinary arts college for potential candidates.
About the second week of November or not earlier than three weeks before the party, mail invites.
Four weeks out, finalize the menu. List quantities of ingredients needed and develop shopping lists. Start preparing food items that can be frozen. As each dish is prepared and wrapped for freezing, label with a sticky note or other suitable method. This label follows it through the defrosting and reheating process.
While planning food items to be served, inventory serving pieces, quantities of plates, silverware and glasses and fill in gaps through buying, renting or borrowing.
Mid-November (or one-two weeks before the party)
Begin decorating the house with nonperishable décor.
One week before the party
Follow up RSVPs. The Eberlings care deeply about each person included in their invitation list and want their guests to know it is important to them that the guest did, indeed, receive the invitation. For this reason, Eberling personally contacts by phone anyone who has not sent a response to the invitation. She said, "It is possible the invitation was lost in the mail, or one half of a couple may have thought the other responded, or there is some life situation which has delayed the response. Because I want to be prepared for the exact number of guests, I contact them."
Special-order or reserve anything needed.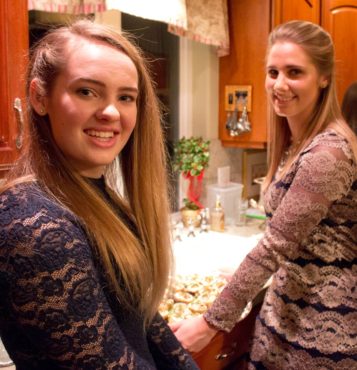 Shop for ingredients, wines, etc.
Do the deep housecleaning.
Make up the cook plan for the week and day of the party and implement according to schedule.
Polish silverware and clean and assemble other serving pieces that will be needed.
Start making fresh wreaths and swags for outside and inside.
Two to three days before
Start setting out tables with serving pieces and utensils to determine placement. As serving pieces are determined for each prepared dish, the serving piece is labeled to coincide with those on the food. This system eliminates confusion and streamlines the placement of cooked foods on the serving vessels. Once food is placed on the table, the fresh labels (see next page) are placed adjacent to the dish on the table.
Make up labels for all food and drinks. Eberling uses her computer for this task and says the snap-apart, printable business cards available at the office supply store work great.
Set out plates and glassware and cover to keep clean.
Adjust final guest numbers as necessary and add or subtract dishes and quantities as appropriate.
Continue preparing menu items.
One day ahead
Work on the final dusting and cleaning of house. Sweep outside, especially the entryway.
Heavy cooking day; finish all meal prep.
Chill all wines and drinks. In addition to champagne punch, red and white wine, Eberling makes up pitchers of nonalcoholic spritzers made of half diet 7UP and half low-calorie cran-grape juice. She also prepares pitchers of water with lemon and lime slices. These drinks are not made up until the afternoon of the party, but ingredients are chilled in advance.
Make all fresh-flower arrangements and store in protected area outside or in garage.
The day of the party
Very little cooking should be done this morning. Finish garnish preps, washing of greens for salads, etc.
Bring all fresh greenery inside in the morning and finish decorating where appropriate.
Midday, bring in fresh flowers for final arrangements.
Do the final sweep and vacuum the house.
Finish all final preparations a few hours before the party to allow time for dressing and a little nap. Eberling insists "there is no other preparation more important than building in a 'destress' time for the hostess." She retires to her bedroom about two hours before her helpers arrive in order to give herself time to bathe, dress and rest.
About an hour or hour and a half before the party, she comes into the area of their home where the event will be hosted, refreshed and ready to attend her own party. She looks at the decorations and lighting as her guests will see them, and is ready to orchestrate the festivities in her own way.
One to one and one half hours prior
Help arrives.
Slice desserts as appropriate and re-refrigerate or cover on the buffet or other serving area.
Guests
Party Time
The invitation states "6 p.m. to midnight" and the Eberlings understand the importance of pacing the drinks and food service so as to give guests an opportunity to mingle, relax into a festive mood and become a part of a most memorable gala occasion.
6 p.m.: As guests start arriving, at least one appetizer should be set out and drinks prepoured.
6:15-6:20 p.m.: A helper begins to pass the first of three hors d'oeuvres. Eberling feels that having a helper offer the appetizers is more refined and special than having them sit on a table for self-service. She prepares three, in addition to her signature chilled shrimp with three festive sauces, which reigns over the kitchen island. Canapés carefully placed on a beautiful serving platter with lots of space in between look lovely and elegant.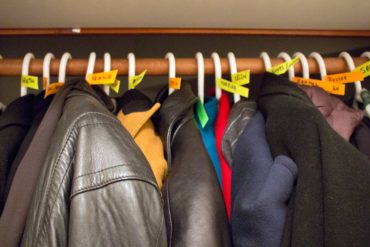 7:30 p.m. (approximately): All food should be on the table. First guests will start eating.
"I would never slide this earlier but might slide to 8 o'clock if people are mixing well and not antsy. My preferred time is 8 p.m. for dinner," she said. "A trick is to set food on the table, but keep it covered until guests are invited to the buffet table. Sometimes people will take a peek, but that builds the anticipation and whets the taste buds."
The table holds plates and silverware at each of the four corners, enabling guests to start wherever they like. As serving dishes are emptied, the helpers remove them and replenish with full ones.
When the Eberlings are assured all guests have eaten, they fill their own plates, sit among the party-goers and join the conversation.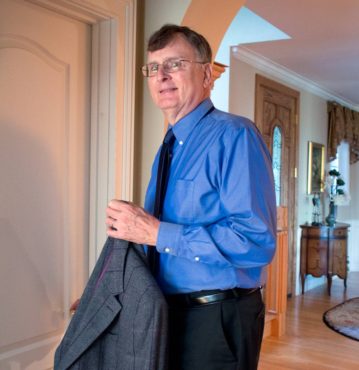 9:30 p.m.: Desserts are set out, along with serving utensils, dessert forks, etc. The hosts vary the dessert menu from year to year, but always include an old standard favorite, amaretto cake. (See recipe.)
After dessert, some guests will begin to depart. Glenn Eberling personally retrieves coats for each one, using a secret system he has developed over the years. Prior to the party, he labels a coat hanger with the name of each guest. As they arrive, the coats are placed on the appropriate hanger, easy to identify at the end of the evening.
Just as they greeted their guests at the beginning of the evening, the host and hostess see them to the door at the end, thanking each for coming and helping them celebrate the season.
10:30 p.m. or so: The helpers have scraped and stacked the dishes, cleared and stored the food and if needed, Glenn will see them safely home or to their cars.
11-ish: Many guests have gone, and there is a visible shift to the "after party." Some ladies will have shed their shoes, a tie may be loosened, and Katie and Glenn follow suit. The remaining guests are relaxed and convivial, enjoying the last vestiges of the fleeting hours.
The Eberlings serve a specially reserved dessert, usually an opulent bowl of wine poached pears, some vintage wine, and then pass around an old, mellow port, and join their guests.
As they bid their final guests adieu, Katie and Glenn Eberling share in the afterglow of their fabulous party, knowing that once more, their gift to their friends of a pleasant evening and festive start to the Christmas season will be long remembered by all.
---
Amaretto Cake
Recipe by Katie Eberling
Ingredients:
Cake

1 cup chopped walnuts
1 18-1/2 oz pkg. yellow cake mix
1 3-3/4 oz pkg. instant vanilla pudding mix
4 eggs
1/2 cup cold water
1/2 cup vegetable oil
1/2 cup dark rum or amaretto

Glaze

4 tbsp unsalted butter
2 tbsp water
1/2 cup granulated sugar
1/4 cup amaretto
Instructions:
Preheat oven to 325 degrees. Grease and flour 12-cup Bundt pan. Sprinkle nuts over bottom of pan. Mix all cake ingredients together at medium speed for 2 minutes. Pour batter over nuts. Bake 1 hour.
Cool. Invert on serving plate. Prick top. Drizzle and smooth glaze evenly over top and sides. Allow cake to absorb glaze. Repeat until glaze is used up.
For glaze, melt butter in saucepan. Stir in water and sugar. Boil 5 minutes, stirring constantly. Remove from heat. Stir in amaretto.