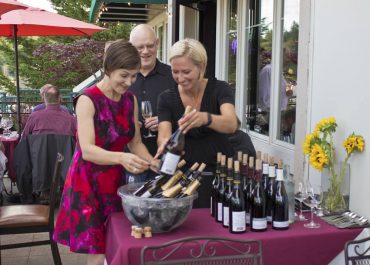 At the corner of Peacock Hill and Harborview in Gig Harbor, Morso's bright, apricot-colored umbrellas on the balcony beckon diners and wine enthusiasts to come up and enjoy the view. Well-appointed planters surround the outdoor dining area, and a fire table warms diners who choose to sit outside on a chilly evening.
Listed as an Open Table "Top 100 Wine Lists in America" and Open Table "Diners Choice Winner 2015," Morso enjoys an eclectic audience of those seeking a wide array of dining experiences. The establishment is known as a place where friends meet for just a glass of wine as well as for a special-occasion dining experience.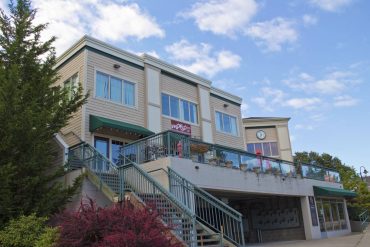 Steve Lynn owned a wine shop next door for several years and was encouraged to move into a spot where patrons could enjoy a culinary experience along with a glass of fine wine. Business partner Stephanie Huddleston joined the venture and the two of them have grown Morso into a place where there is always something happening.
"We want to offer something for everyone in a fun, full-service restaurant that is energetic and comfortable," Huddleston says.
Their goal is to be a place where locals will drop in two to three times a week to meet up with friends or enjoy a meal.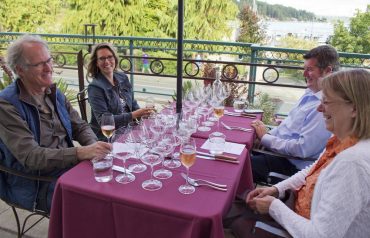 A large, 12-seat "community table" commands a prominent place in the dining room, separating the bar from the table-and-chair seating areas. Occasionally pressed into service for large groups, it is most frequently enjoyed by several smaller groups of friends gathered together. For those desiring a more intimate setting, there are plenty of smaller tables that seat two or four, or can be rearranged to accommodate six or eight.
The Morso owners are committed to being an active and involved part of the neighborhood and community. A weekly emailed newsletter recounts the activities that are scheduled for the enjoyment of patrons, listing art shows, musical performances, special dinners and literary events.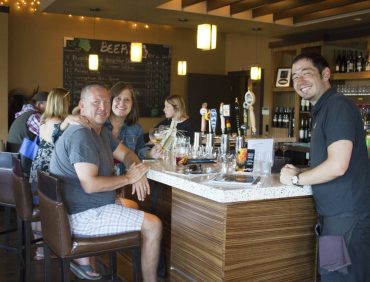 There is a gallery space adjacent to the main restaurant, and local artists are invited to show their work for monthlong showings. Lynn develops a guide to the artwork for patrons to follow as they peruse the display, as well as postcards for the artists to distribute to friends and family. Morso also sponsors an opening reception for the artists complete with sparkling wine. There is no charge to the artists for these services, except for a very nominal commission for work sold while on display.
Doubling as a meeting space for community organizations, the gallery space hosts a monthly poetry reading featuring local prominent poets and authors. Called "The Muse at Morso," the reading is presented in conjunction with Watermark Writers. The room is also used for private parties and can accommodate 26 to 35 people for corporate meetings, wedding rehearsal dinners, etc. As a participating member of the Downtown Waterfront Alliance, Morso also hosts special events that coincide with community festivals such as "Girls Night Out" in November and a five-course wine-pairing dinner for the Gig Harbor Food and Wine Festival.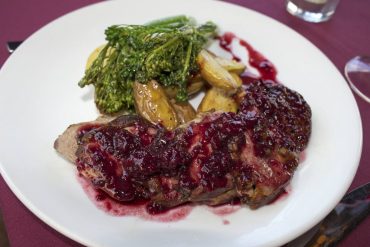 Lynn and Huddleston bring musical performances to Morso frequently, with artists ranging from solo folk musicians, to jazz combos to Tacoma Symphony small ensembles. The dining room is reconfigured into an intimate concert setting with a specific starting time. Patrons may make reservations for dinner to be served prior to the event.
"We don't feature casual musicians in the restaurant as background ambiance because we don't want our customers to be confused," Lynn says. "When we offer a specific musical event, we sell tickets and expect the audience to be attentive to the performance."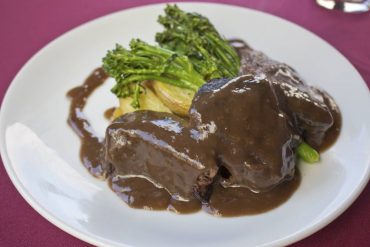 This summer marked the first time small ensembles of the Tacoma Symphony performed in a restaurant venue in Gig Harbor. The series of three concerts were sold out and received wide acclaim from those attending.
Upcoming artists in the fall of 2016 include Danny O'Keefe on Sept. 17, Greta Matassa Jazz Quartet on Nov. 19 and Gypsy jazz combo Pearl Django on Nov. 26. Lynn says these groups usually sell out quickly, and suggests stopping at the restaurant or getting ticket information on the Morso website.
Aside from offering space for art exhibits and music, Morso is a "21 and over" full-service restaurant and is known around the community for its eclectic menu and expansive wine collection.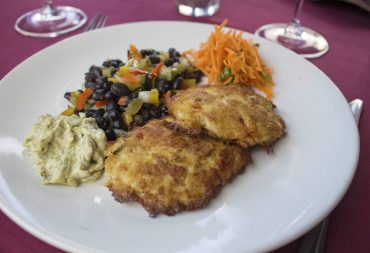 Lynn enjoyed several years of international travel for both business and pleasure and became interested in wines from around the world. When he retired, a natural progression into a second career led him to open "Water to Wine," a small wine shop at the head of the harbor that featured a wide variety of wines from distinctive international appellations. Water to Wine then morphed into Morso, and Lynn still travels extensively, sampling and buying wines for the restaurant. The restaurant and retail rack proudly offers upwards of 150 choices of fine wine.
Occasionally, Lynn is able to acquire only a few bottles of a special vintage, and once in a while he finds a truckload. Monthly Friday night tastings sometimes feature a unique selection and sometimes a windfall of several cases.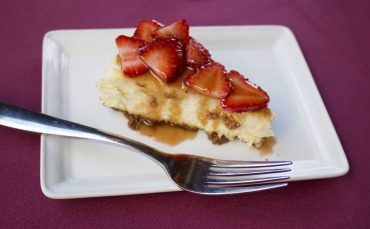 A recent event was titled "Back Up the Truck" and featured wines priced affordably enough that patrons could take them home by the case. A little-known secret is about the Sunday afternoon bartender's special, or "pink sheet." Wines that were opened on the weekend are highlighted in pink on the wine list and sold for $5 a glass until they are gone. Locals who are in the "know" stop in with their friends for a glass or two of specialty wine and a small plate, peruse the art in the gallery or just gaze at the amazing view.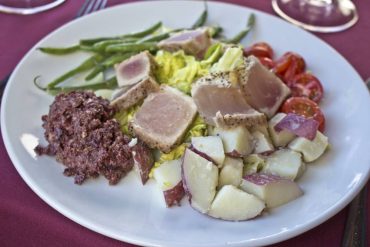 The kitchen is run as a team effort. There is no renowned chef at the helm but instead the owners consult with the kitchen staff and menus are developed based on seasonal suitability and availability of food products.
When asked why there is no head chef, Lynn replies, "An executive chef is usually a kitchen manager but lends his or her name to a restaurant, and if the chef leaves, the restaurant struggles."
Relying on their travel experiences and investigations into dining in other parts of the country and the world, Lynn and Huddleston collaborate to design the seasonal menu and work with the kitchen staff to come up with recipes and presentation. There are separate menus for lunch, dinner and happy hour, with some overlap.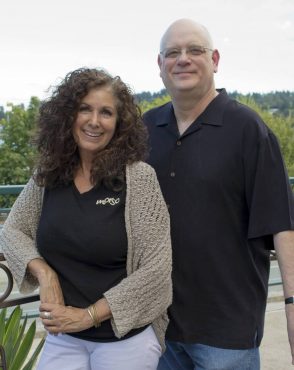 For instance, a popular menu item is the flatbread, which is offered in four selections. It is often shared as an appetizer for lunch or dinner, as a single plate for a small meal, or in a half size for happy hour. Another popular selection, duck liver mousse pate, can be ordered as a small plate at lunch or an appetizer at dinner.
Dinner entree selections change seasonally depending on availability of ingredients and climate, and range from polenta lasagna to filet mignon, with vegetarian and gluten-free options also available. There is always a special twist to even a traditional dish, making it a house original and keeping the ideas fresh and interesting for diners and kitchen staff alike.
Reservations are always accepted for dining inside, and outside tables are seated on a first-come, first-served basis. Huddleston always recommends a reservation for parties of six or more.
---
Fried Herbed Goat Cheese with Onion Jam and Wildflower Honey
Morso has kindly offered to share this recipe, which is one of the most popular appetizers, for the enjoyment of WestSound Magazine readers.
Ingredients:
Goat cheese (log format, 11 ounces), cut into 12 equal cheese round portions
1 cup all-purpose flour
1 cup panko crumbs (fine grain)
1/4 cup Herbs de Provence
4 eggs
2 tbsp canola oil
Wildflower honey
Instructions:
Mix herbs with panko crumbs. Beat eggs. Dip cheese rounds into flour, then egg, then panko herb mix. Heat oil in shallow skillet. Cook coated cheese rounds 2 minutes on each side. Serve with onion jam and honey.
Onion Jam
Ingredients:
1 medium yellow onion
1/4 cup brown sugar
1/4 cup red wine vinegar
4 tbsp unsalted butter
Instructions:
Slice onion into 1/8-inch slices. Melt butter. Add onions, brown sugar and red wine vinegar. Cook 10-15 min until brown.