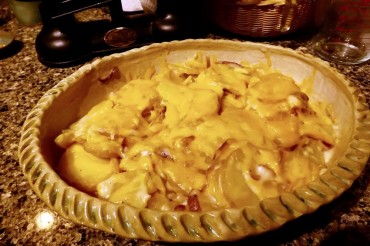 One of the most warming, comforting and filling foods on a cold, blustery day is a bubbling, aromatic dish of scalloped potatoes fresh from the oven. An old-fashioned comfort food that everyone enjoys, a casserole of scalloped potatoes is inexpensive and uncomplicated to make.
The recipe here uses a basic white sauce poured over sliced potatoes. There are lots of ways the home cook can vary this recipe: Prepare it ahead of time and cook it later; speed up the cooking time by precooking the potatoes or using the microwave; or use as a side dish or main dish, depending on the ingredients.
Preparing meals at home saves money and ensures the quality and wholesomeness of the ingredients used. Cooking can be a fun family-bonding activity and teaches children self-sufficiency. Busy families benefit from cooking at home, as time spent in driving to restaurants and waiting for service can be utilized for other activities.
Potatoes have become a staple in the diet of many cultures since originating in South America. Cultivation may have begun as early as 10,000 B.C., according to David R. Harris and Gordon C. Hillman, authors of "Foraging and Farming: The Evolution of Plant Exploitation." Although the tubers don't store well enough to give absolute evidence to cultivation by ancient societies, there is proof that potatoes did provide the main energy source for the Inca Empire in the 13th and 14th centuries.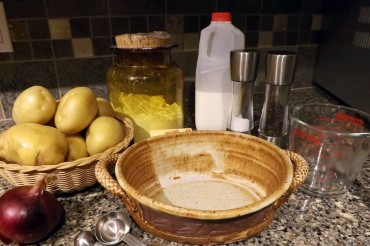 The popularity of the potato began to spread with the Spanish conquest of the Inca Empire, and soon mariners were bringing the simple tuber to ports all over the European continent. There is some thought that the potato was partly responsible for the 19th century population boom of Europe and is also what caused the massive starvation in Ireland in the mid-1800s.
There were so few varieties of potato being grown in Ireland, that when attacked by a fungal disease, the plants offered no resistance and quickly withered and died. There are over 100 varieties of potato under cultivation in the valleys of Peru at the present time, offering biological diversity and protection against widespread diseases.
Easy to grow year-round in the home garden or in a 30-gallon tub on a condo balcony, potatoes are even easier to get at local farmers markets and grocers. Reasonably priced, they are good value for money spent because they are filling and nutritious. The potato is one of the most versatile foods available, lending itself to an almost endless variety of preparation methods. The healthiest recipes are often also the easiest to prepare and require the least number of ingredients.
The basic white sauce used in this recipe is a "mother sauce," or one of five basic sauces in French cooking. The French word for it is béchamel (bey-shuh-mel), and it is the first, most basic sauce taught in cooking classes. Béchamel traditionally contains a little nutmeg, onion and pepper.
The ideal potato for this recipe is a waxy type such as a red, round white or yellow potato. Potatoes are usually classified into two groups: baking potatoes, which tend to have a heavier skin but bake up moist and fluffy and hold up to frying and mashing; and boiling potatoes, which have thinner skins and a smooth, dense internal texture, and don't break down as easily when boiled or roasted.
As always is the rule in home cooking, using the freshest, best ingredients will yield the most delicious results.
---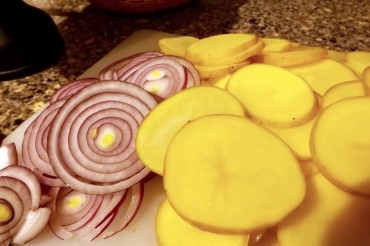 Scalloped Potatoes
Ingredients:
3 tbsp butter
3 tbsp flour (for gluten-free, use potato flour)
3/4 tsp salt
1/2 tsp fresh ground pepper
Pinch of fresh ground nutmeg (optional)
1 3/4 cups milk (full fat, fat free, unsweetened almond, etc)
1 1/2 pounds waxy potatoes (red, yellow or round white)
1 small or medium onion (red, white or brown)
Directions:
Preheat oven to 350 degrees. (For microwave instructions, see below.)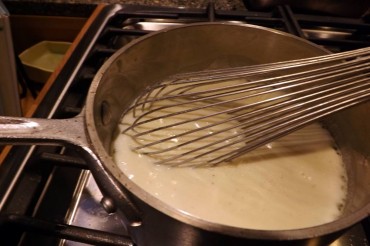 Sauce:
In a medium-size saucepan over medium heat, melt butter. Whisk in flour and seasonings and when smooth, whisk in milk. Cook until thickened.
Casserole:
Spray a 2-quart casserole dish with cooking spray, or oil with a paper towel using vegetable oil or a little butter.
Wash potatoes well to remove dirt and cut out any eyes. Slice into slightly less than 1/4-inch slices. (Potatoes may be peeled or unpeeled, according to personal preference).
Peel and slice the onion into slightly less than 1/4-inch slices.
Using about half of the potatoes and onions, make an even layer in the greased dish. Pour half of the white sauce evenly over the layer of potato and onion slices.
Place remaining potato and onion slices over the sauce layer. Pour the remaining sauce over the potatoes and onion.
(Note: If desired, the casserole can be refrigerated at this point and baked up to 8 hours later. Extend cooking time by half hour).
Cover casserole and bake 50 minutes or until potatoes are tender. (If casserole doesn't have a cover, use a sheet of aluminum foil.)
Remove cover and bake 10-15 minutes until top is golden brown.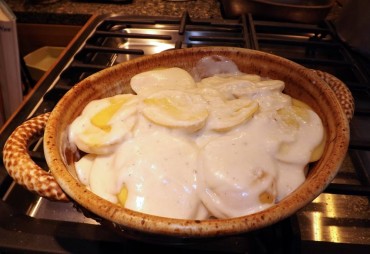 To Microwave:
Make sure casserole dish is microwave-safe. Prepare sauce by placing butter, flour and seasonings in a microwave-safe, 1-quart bowl. Heat 30-45 seconds until butter is melted. Remove from microwave and whisk until smooth. Pour in milk, whisk until blended. Microwave on high for 2 minutes, remove and whisk, and microwave for 1 to 1 1/2 more minutes and whisk until sauce is thick and glossy. Add sauce to potatoes and onions as per instructions above.
Place casserole in the microwave, cover* and cook on high power 10 minutes, uncover and stir gently, re-cover and cook for another 8 minutes. Test with a fork. If potatoes aren't tender, cook 2 more minutes. (If casserole doesn't have a cover, use waxed paper, parchment paper or plastic wrap that is approved for use in a microwave.)
Variations:
Add grated cheese the last 15 minutes of cooking in a conventional oven or the last 3 minutes in a microwave.
Layer sliced ham with the potatoes and onions for a filling main dish.
Macaroni and cheese: Instead of potatoes, cook 12 ounces of elbow macaroni in salted boiling water for 7 minutes or until tender. Drain well. Make white sauce, stir in 1 1/2 cups grated cheese while hot. When cheese has melted, fold in macaroni and place in a 3-quart casserole. Sprinkle with 1 cup breadcrumbs and bake at 350 for 30 minutes.
Seafood sauce: Use the sauce for other dishes by omitting the nutmeg and adding 6-8 ounces canned crab or 8 ounces bay shrimp with 1/2 teaspoon dill to white sauce. Use to pour over steamed vegetables or as a filling for crepes.