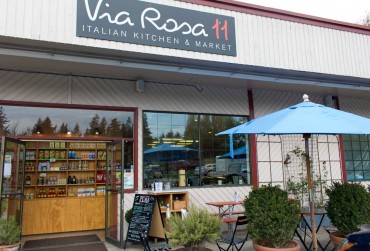 Via Rosa 11 (Italian Kitchen & Market) is a vibrant Bainbridge Island business that grew from the roots of owner Pino Sordello's heritage. The ambiance is that of stopping by a friend's home, entering through the kitchen door and being greeted with a friendly smile and the fragrance of delicious, authentic sauces bubbling on the stove.
Sordello's mother lives at Via Rosa 11 in a small village in Italy's Liguria region. She taught him that home-cooked food using fresh, local ingredients not only gives honor to the food and those who grow it, but also shows love to the people it is prepared for. The kitchen of his childhood was always the center of the home — the place where everyone gathered to eat, laugh, love and to be embraced with open arms as family, whether a blood relative or not.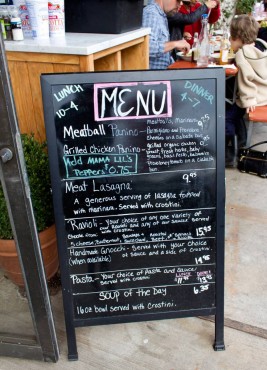 A stay-at-home dad when his children were small, Sordello practiced the cooking skills he learned at this mother's elbow, teaching his own children the joy of eating well and sharing delicious food with their friends. When the opportunity came to follow his passion, he began preparing and marketing fresh pastas and sauces — usually at farmers markets. In time, the demand outgrew his ability to keep up the grind of preparing, transporting and selling at several venues a week, and the decision was made to move into a brick-and-mortar storefront. Naming his business after the family address seemed a logical step.
Outside the unassuming entrance to the establishment are a couple of tables and chairs for patron use in good weather, and inside is one family-sized table and four barstools facing into the kitchen. The original intent was not to open a restaurant, but a cozy, welcoming space where patrons can stop in and buy freshly prepared pastas and sauces for finishing at home. Just inside the screen door is a small case of imported Italian grocery staples, such as jarred peppers, olive oil and amaretto cookies.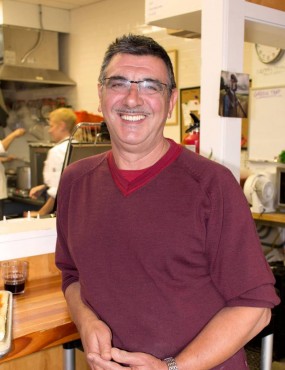 A refrigerated case is laden with several varieties of pasta, made daily with high-quality, organic semolina flour imported from Italy; fresh, local eggs; water and high-quality olive oil. The machine used to extrude the many beautiful shapes is also an Italian import and uses heavy bronze dies, with no plastic or Teflon coating.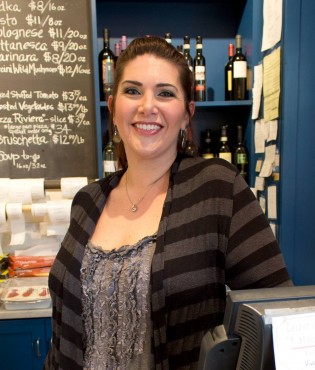 "Mass-produced pastas are pushed through a die with a Teflon coating, which gives the pasta an almost plastic feel," Sordello explains. "It is labor-intensive to clean the die after each pressing, but the authentic shape and texture of the pasta is worth the effort."
Fresh pastas made in this manner are rougher than those commercially produced, require about three to four minutes cooking time and better absorb the sauce.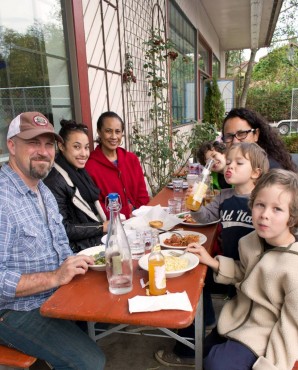 Fresh sauces in takeaway 16- and 20-ounce tubs line the shelf above the pasta trays. There is a meaty Bolognese, a puttanesca, a vibrant green basil pesto, marinara, vodka and porcini mushroom. Fresh raviolis with fillings designed to reflect the season, along with gnocchi and handmade meatballs, are also available, as well as other prepared dishes such as bruschetta, stuffed tomatoes and authentic Pizza Riviera with no cheese. A specialty of the house is torta verde — a savory pie made with pasta dough and Swiss chard. Each purchase comes with instructions on how long to cook or heat before serving.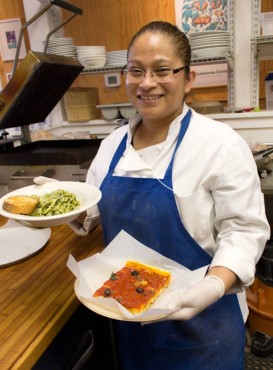 The Sordellos take pride in purchasing ingredients for sauces and raviolis from local farms such as Laughing Crow, Butlers Green Farm and Farmhouse Organics, to name a few. Tani Creek Farm supplies 90 percent of the Genovese basil used in the pesto sauces. Genovese basil is the only one used in the Via Rosa 11 kitchen. Sourcing produce from growers nearby helps to build community as well as assuring freshness and quality.
For those who are hungry and wish to eat on the spot, there is always a meatball panini available or a prepared dish of pasta and sauce, but the emphasis is not on being a restaurant with a lengthy menu and servers. A rack of imported Italian wines offers an impressive selection to purchase and take home — a carryover from Sordello's earlier experience as a wine distributor — but it is also possible to order a glass of house wine to accompany your lunch if you are eating in.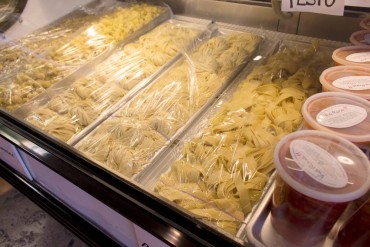 Located just down the street and around the corner from nearly every neighborhood on Bainbridge, Via Rosa 11 has mostly local clientele and the regulars become friends of the family.
Sordello's daughter, Tatiana, manages the front of the store, while her father works closely with the kitchen staff. Neighbors stop in, are asked about their children or their recent trips, or discuss current local events. Friendly banter about the weather, ferry traffic and which sauce best fits which pasta is all part of the conversation. Family stories abound, while the father-daughter team perpetuate the family feel of the kitchen.
Tatiana was sent to Italy at age 11 to spend the summer with her grandmother. Sordello told her, "I want you to go and stay with Nonna and learn two things — to speak Italian and to cook like she does."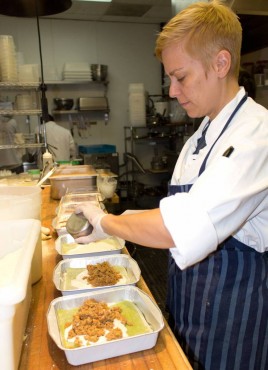 Sordello's father had a vineyard and made wine. He also maintained a vegetable garden and a fruit orchard. One of Tatiana's most vivid memories of her trip was time spent with her uncle.
"He took me to an orchard and showed me a fruit tree planted by my great grandfather," she says. "I suddenly understood the importance and the continuity of family, traditions and that real sense of place in a family's roots."
Social media brings in clientele from other parts of the state, the country and the world. Recently an Indian family, living in the Northwest on a short-term assignment for a Seattle-based corporation, found a review of Via Rosa 11 on Yelp. They decided to take the ferry and a cab to come and find the Italian Kitchen.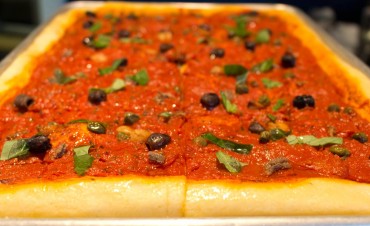 Sordello is amazed and delighted that his customers give him such good reviews. He believes that if he follows his heart and prepares authentic cuisine with the best possible ingredients, others will want to share in that authenticity and the business will grow.
He laughingly says he doesn't believe much in food critics. "It's just one person's opinion. I make my food as authentic as I can, and let the people decide. I prepare it and wait to see if my food will captivate the attention of the customer," he says.
"The true Italian food stays true to its roots," he adds. "My mother, who is 92, and her sister, who is 90, still argue about who makes the best gnocchi."
---
Spaghetti Aglio e Olio
The recipes for sauces produced in the Via Rosa 11 Italian Kitchen are closely guarded family secrets, but Pino Sordello did offer to share one with our readers.
Ingredients:
2 cloves garlic per person, thinly sliced
Plenty of high-quality, flavorful olive oil
Generous amount of Italian flat-leaf parsley, rough-chopped
Freshly grated pecorino-Romano cheese
Tutto Calabria crushed red chili peppers, to taste
Instructions:
Sauté garlic in hot olive oil just until slightly yellow in color. Add chili crushed peppers and stir well.
Pour over hot, well-drained, freshly cooked spaghetti pasta. Sprinkle with chopped parsley and toss together. Garnish with coarsely shredded or shaved cheese.
Buon appetito!