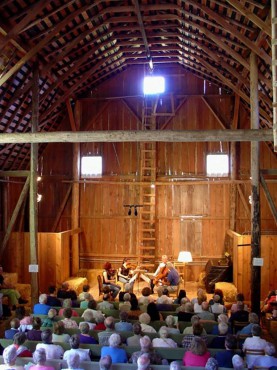 Located on a 55-acre farm on the Olympic Peninsula in a restored vintage dairy barn, the setting is enchanting and the concerts feature world-class classical music performances all summer long. The grounds and barn are beautiful, and the barn has a rich history.
Opening Celebration: Honoring Festival Founder Alan Iglitzin
June 27 & 28: The Olympic Music Festival celebrates festival founder Alan Iglitzin and his three decades of extraordinary leadership. Iglitzin will be joined by his closest colleagues for a performance of the two lyrical and passionate string sextets by Johannes Brahm.
Independence Day Pops
July 4 & 5: Bring your family and friends to the Olympic Music Festival to celebrate Independence Day! With American favorites like Gershwin's Rhapsody in Blue and the classical-jazz fusions of Paul Schoenfield, artists will be creating some musical fireworks that you won't want to miss!
Rare Masterworks: Mozart & More
July 11 & 12: Renowned flutist Sooyun Kim makes her debut at the Olympic Music Festival with a program of rare chamber music masterworks by Czerny, Kodaly and Telemann. OMF artistic director Julio Elizalde performs Mozart's famed Piano Concerto No. 20 in D minor, arranged for the unconventional combination of flute, violin, cello and piano, by Mozart's own pupil, Johann Nepomuk Hummel.
Breaking Boundaries: Musicians From GardenMusic
July 18 & 19: Prepare for a concert experience unlike any you have ever experienced. Led by OMF veteran artist Teddy Abrams, GardenMusic breaks every barrier between musicians and audience members by presenting music in an unusual format where classical works are punctuated by thrilling new compositions, jazz and world music. This weekend will also include a special concert for families.
Piano Extravaganza: Anderson & Roe
July 25 & 26: Anderson & Roe bring the concept of piano duo to a whole new level. Their jaw-dropping performances and seemingly impossible arrangements have reached millions of fans on YouTube. This exciting concert will feature works ranging from two fantasies based on Mozart's famous operas to Rachmaninoff's gorgeous Vocalise and everything in between.
Sarah Chang & Julio Elizalde in Recital | The 2015 OMF Summer Gala
Aug. 1 & 2: The Olympic Music Festival celebrates its 2015 summer season with a special gala event. International violin superstar Sarah Chang performs alongside her regular duo partner and OMF artistic director Julio Elizalde, in an exclusive recital featuring electrifying works by Vitali, Prokofiev, Franck and Ravel.
Heroic Beethoven
Aug. 8 & 9: Grammy-nominated violinist Caroline Goulding makes her debut at the Olympic Music Festival with cellist Karen Ouzounian and OMF artistic director Julio Elizalde at the piano. This Beethoven Festival weekend features the composer's most powerful works, including the brilliant "Ghost" Piano Trio and the stormy Violin Sonata in C minor.
Festival Artists & Iglitzin Fellows Week I
Aug. 15 & 16: The Olympic Music Festival is thrilled to present the first two of four concerts featuring resident festival artists in collaboration with the Iglitzin Chamber Music Fellows, four exceptionally gifted, rising young artists on the verge of a professional career. This concert weekend features classics of the chamber music repertoire in two separate programs including Dvorák's Piano Quintet and Tchaikovsky's Souvenir de Florence. Violinist Itamar Zorman, winner of the International Tchaikovsky Competition, makes his OMF debut.
Festival Artists & Iglitzin Fellows Week II
Aug. 22 & 23: The second week of the Iglitzin Chamber Music Fellowship closes with glorious music including Suk's passionate Piano Quartet, Chausson's symphonic Concerto, and Mendelssohn's dazzling String Octet. Come listen to the two final concerts of the Iglitzin Chamber Music Fellowship that feature two beautiful programs. Naumburg Award-winning violinist Tessa Lark makes her OMF debut.
Darkness to Light: The Quintets of Franck and Schubert
Aug. 29 & 30: No two pieces are more emotionally opposed than Franck's fiery Piano Quintet in F minor and Schubert's heavenly String Quintet in C major. Inspired by a romantic infatuation with a student, Franck's Quintet was one of the most controversial works of the late 19th century. Schubert's Quintet was written in the final year of his life as he faced his own mortality and is considered one of the towering monuments in the history of music.
Ray Chen Returns to the OMF
Sept. 5 & 6: Virtuoso violinist Ray Chen returns to the OMF for his third season to perform a recital with OMF artistic director Julio Elizalde. Chen, a Sony recording artist and winner of the 2009 Queen Elisabeth Competition in Belgium, has taken the world by storm with an instrumental and musical command reminiscent of violinists of the golden age. He performs on the famed "Joachim" Stradivarius violin. As the final classical music weekend of the 2015 season, it can't get any more exhilarating than this!
Festival Encore: Jeremy Kittel Band
Sept. 12 & 13: As an encore to the 2015 summer season, the OMF is throwing a party. Grammy-nominated violinist Jeremy Kittel has collaborated with some of the most famous musicians of our time, including Mark O'Connor, Bela Fleck, Paquito D'Rivera, among many others. For the final weekend of the summer, Kittel is joined by his regular band members for a concert that features a wide variety of music that will keep your foot tapping all afternoon long.