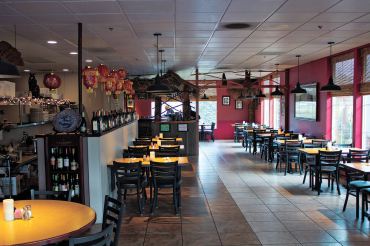 It's not easy to catch up to Tina Nguyen. She lives (for now) on Bainbridge Island. She owns Simon's in Port Orchard, serving Chinese, Vietnamese and Thai cuisine. And she recently bought the Rosedale Market in Gig Harbor, where she has plans to expand the deli menu to include Pho and spring rolls, among other delectable offerings.
"I sleep five to six hours a day. That's it for right now," Nguyen says, and it's easy to believe her.
Simon's, located in a shopping complex right off Bethel Road and down the hill from Sk8Town, sits next to a nail salon and day spa. But step through the door, and you are instantly transported to a place apart by the rich interior and the tantalizing smells wafting out from the kitchen.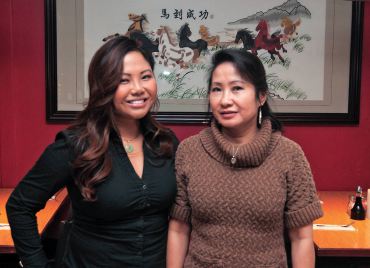 The restaurant's own website advertises more than 100 authentic Szechuan and Hunan style dishes as well as Vietnamese and Thai dishes, and everything is prepared from scratch, including all sauces, according to Nguyen. She is adamant that the kitchen staff, working in a space complete with three separate refrigerators and prep tables, can accommodate any special requests or dietary needs.
"We are your own personal chef," she says. "We will cook anything to special order."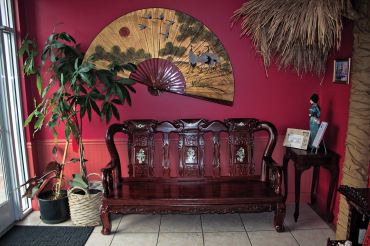 The restaurant's interior is spacious and includes 19 tables and a full bar. A patio offers additional fair-weather seating with nine tables. The maroon walls (one of Nguyen's favorite colors and one that she has used to greater or lesser degree in all her restaurants) are decorated with intricately designed and prominently displayed Japanese fans, gifts to Nguyen from customers who have traveled, including one man who has collected them since his time in the service in the 1960s.
"I have very loyal customers," Nguyen says. Also notable throughout the restaurant are furniture pieces she found while traveling, including a dramatic Vietnamese teak bench with abalone inlays that rests just inside the front door.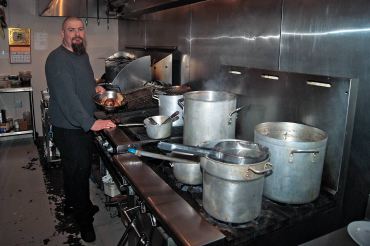 Nguyen has longtime restaurant roots. After her family emigrated from Vietnam in the mid-1970s, they eventually settled ‰ in Mississippi, where they bought a restaurant. That is where Nguyen got most of her early training, which included becoming manager of the restaurant. From there she would go on to have her own restaurant in Kansas before discovering the Pacific Northwest while attending a friend's wedding in Seattle and falling in love with the area. She moved to Bainbridge Island in 1999 and opened the first Simon's shortly thereafter. Within five years, she had built a successful business but decided to sell it and try to open an import/export business.
"And I missed the restaurant business," Nguyen says. A friend of hers in Port Orchard called Nguyen to tell her that there was a space available for a restaurant and asked her if she would be interested. Nguyen opened the second Simon's (named after her youngest son) in its current location in 2009. (It is worth noting that the Bainbridge Island restaurant, under the new ownership, closed not long after Nguyen sold it.)
Nguyen's children are grown now; the youngest son and restaurant's namesake is 20 years old. Recently, Nguyen's daughter Sophia left her job at Lunchbox Laboratory in Gig Harbor to take over the management of Simon's. "My kids have all been raised in restaurants," Nguyen says. "Sophia has worked since she was 8."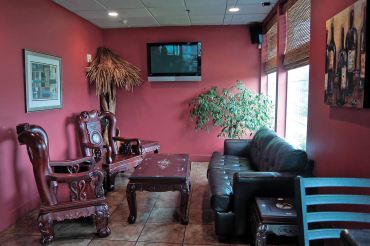 Nguyen is forthcoming about her own high standards for the restaurant. "I'm a tiger mom," she says with a smile. "I want to make everything clean and fresh. I have very high expectations. People love to work with me."
She sources ingredients locally as much as possible, purchasing her beef bones for Pho from Farmer George down the street and as much seasonal produce as she can from various Port Orchard fruit and vegetable stands. And she's confident her food would stack up to anything you'd find in Seattle, without having to pay Seattle prices.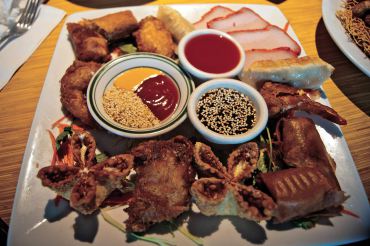 The food even comes with a guarantee. "I tell them (customers) if they order food from me and don't like it, they don't have to pay for it," Nguyen says. It's no wonder that the love between Nguyen and her customers appears to flow both ways.
In fact, it was a regular customer at Simon's who first approached Nguyen about buying the Rosedale Market in Gig Harbor. To check it out, she went to the market one Monday with a book and sat for four hours, pretending to be a customer so she could observe the comings and goings of the neighborhood.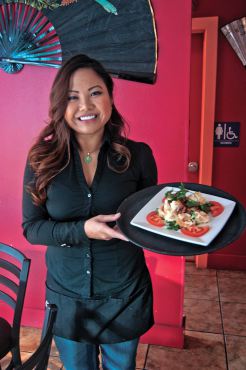 "I fell in love with it because it's so homey," she says. "The people walking in, they make it like home." She has no big plans to change anything except for increasing what the store can offer customers, like additional choices in the deli (she has already expanded the deli's hours to be open all day), more fresh produce and some spices. During the summer, she says she'd like to have an outdoor barbecue, and she hopes to keep hosting the fresh farm stand.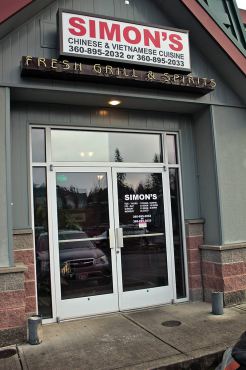 In the meantime, she expresses appreciation for the many customers who have made her feel welcomed and, in some cases, even helped out by correcting the prices on certain items to her benefit. She was surprised by how nice everyone was, Nguyen says. "I was overwhelmed. I was very appreciative," she says.
Now that she has two well-established businesses on the peninsula to run, she finds herself strategizing ways to decrease her commute time and get back that extra hour of sleep. She stays with Sophia in Port Orchard some nights and is busy finishing an apartment above the market. One thing Nguyen probably won't be doing any time soon is slowing down.
"I never thought of that. I just work," she says. "My friends call me a workaholic. I guess it's keeping me out of trouble."
When You Go

Simon's is open Tuesday-Thursday and Sundays from 11 a.m. to 9 p.m., Saturdays from 11 a.m. to 10 p.m., and is closed on Mondays.

www.simonschinesecuisine.com • 360-895-2032

The Rosedale Market is open seven days a week from 7 a.m. to 8 p.m.