Fashion entered the revitalization arena and stole the show. It was unexpected that an old Navy city, struggling to reestablish itself, would burst at the seams with display window mannequin and aqua color accents. Purpose Boutique changed the face of downtown Bremerton.
Old timers remember the heyday building at the corner of 4th Street and Pacific Avenue that housed Christensen Shoes and the elegant Frances Dress Shop. In the '50s and '60s Bremerton was the commercial and social hub of the county.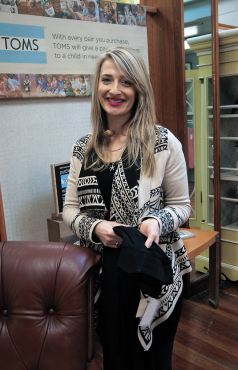 I remember standing on the mezzanine of the Frances Shop trying to decide which dress I would buy to wear on my first day at Olympic College. It would be the red one with cap sleeves; $20, but that large amount of money would be OK for such a special occasion.
How would I know then that some 28 years later I would own the building? And that the building would revert back to its heyday theme? But it has. Leave it to fashion.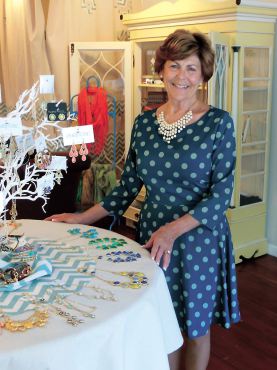 Christie Johnson, a Navy officer's wife who has two small children, asked me about a small space that I had for rent. She had a dream.
The space had already been rented, but there was an unadvertised small space in the 14,000-square-foot building that could be available. I offered her the 700-square-foot 4th Street shop, having a feeling she would do well but never expecting the immediate results.
Mayor Patty Lent bought the very first dress. In fact, she bought four. It was uphill from there. They were major buyers, providing trendy, affordable fashions, and moms found the boutique child-friendly. Purpose Boutique was making more in one month than most startup local small retail businesses make in a year. This extreme, immediate success was a surprise, especially since some advised Christie not to open a business in Bremerton.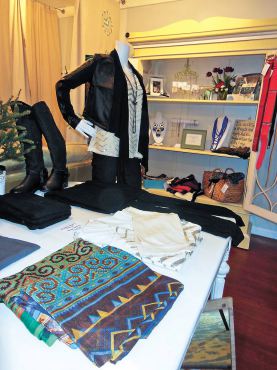 After a few months, they added shoes and boots to their line and attracted nationally recognized exclusives like TOMS Shoes, which, for every pair of shoes sold, donates another pair to a Third World need. The shop was already donating 20 percent to world causes, thus the name Purpose Boutique.
Needless to say, the 700-square-foot space was getting a bit cramped. I, on the other hand, had found my 4,000-square-foot gallery a bit much to handle. Jokingly I would say, "They are young, enthusiastic and energetic. I am old, tired and grumpy." I suggested we trade places. They agreed.
"Have others wanted your prime corner space?" Christie asked. An amusing question, for almost monthly someone does inquire, but either the business intents are not appropriate in the art environment or the business owner does not have capital or a business plan.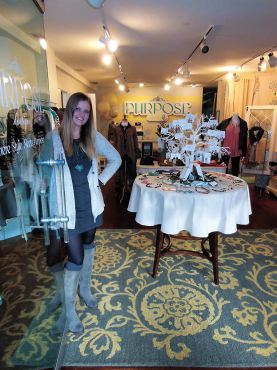 This past October, we began to flip the two business locations. The move was complicated and lasted three months, primarily because Christie and staff were juggling a major holiday customer season. Besides my art gallery, I was also moving an enormously amassed Pyrex collection. But the old building was used to seeing change.
Sophia Bremer, the wife of Bremerton founder William Bremer, had Seattle architect Harlem Thomas design and build the two-story corner building in 1922, with small retail shops that lined 4th and around down Pacific. Still today atop the building, it reads "Harlem Building" and large, ornate letter Bs are displayed around the building's top fringe.
I purchased it in 1991 and named the imposing structure 4th Pacific Arts Building. At that time Bremer Trust owned probably 80 percent of the downtown Bremerton commercial properties and those properties were vacant.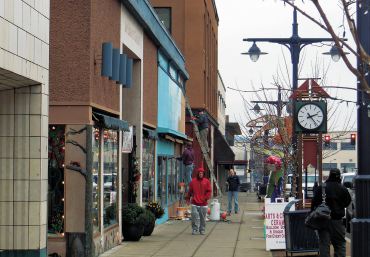 The opening began with four art tenants: Art Concepts in the small 4th Street shop, Sound Design & Framing in the corner store, Whitman & Dancers in the lower level and Amy Burnett Gallery in the large mezzanine area where the Frances Shop once was.
Luckily my national art reputation followed, and in 1993 we were one of the top earning art galleries in the United States, winning lots of nice awards and attracting creative endeavors. The Navy Museum was a tenant for almost four years until it moved to the ferry area location. And award-winning Rejuv opened its first massage business in the building nine years ago. Today Amy Burnett Gallery, Pyrex Museum, Gift Shop Alley, Claywerks Ceramics, Habitat Massage and Purpose Boutique occupy the 4th Pacific Arts Building.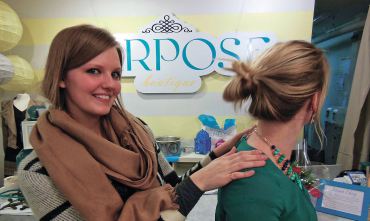 Newest occupant Purpose Boutique brought an entirely new brand to town, as yellow and aqua accents dance within the large, freshly redesigned and painted space. Having almost 90 feet of prime corner city block display windows, it made it seem as if "fashion" were the town's theme. With neighboring Ish Vintage Clothes and newly established RocketRoost down 4th Street, in the other direction, city councilman Jim McDonald laughingly said, "They'll be calling us a fashion district."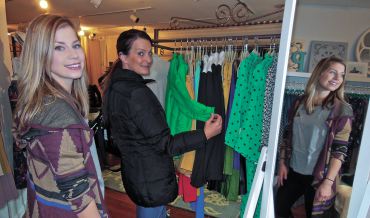 Christie, with a bachelor's degree in marketing and a lifelong love for fashion, has brought newness, floor to ceiling. Being major buyers, the fashion crew never ceases to amaze the public with an array of women's dresses, shirts, shoes, boots and jewelry — only buying limited quantity of any one item. The up-to-date styles are affordable and in some cases the lines are area exclusive.
Purpose has six employees. I asked store manager Lindsey Cresseth about new summer trends. "Still fitted leggings and oversized tops with creative, loose, longer back layer but also lace and the color purple is popular," she said.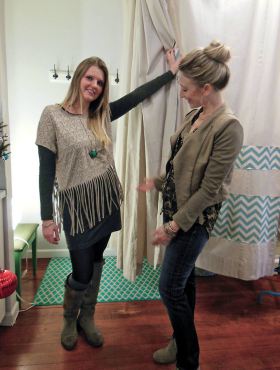 Employee Ashleigh Lauber has been with Purpose Boutique from day one. She said, "For us, it is more than just cute clothes. It's the relationship with customers, engaging with the community and knowing that our donations are giving back to so many children and women that makes this job invaluable."
When I asked Christie about future plans, her eyes gleamed with excitement. "Of course our fashion statements are wonderful but we also have incredible plans to make every fiber of our store's existence to benefit oppressed women worldwide. We are extremely driven by our purpose."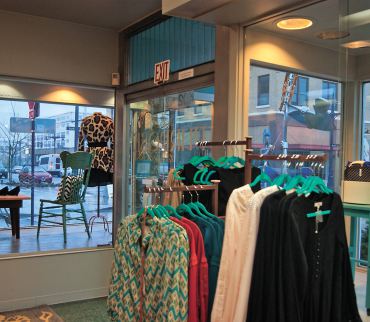 Christie's husband, naval officer Philip Johnson, is also part of Bremerton's new "fashion face." His master's degree in aeronautics and astronautics from the Massachusetts Institute of Technology may not seem a contributing factor to his wife's new fashion world, but enthusiastically they venture together in what Philip calls his new "dream job."
And an old Navy town reflects on past imagery of bustling department stores, theaters and dress shops — now pausing with pleasure as the old display windows are new again, maybe the same again.