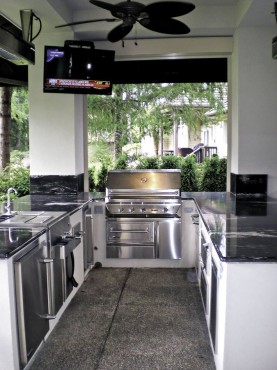 It's perhaps the most lavish setup ever designed for a smoker banished from the house.
Oh sure, Carl likes to barbecue any time of year on his deluxe stainless-steel gas grill and to entertain guests seated on swivel stools at the black-granite countertops flanking the grill.
But the genesis for creating the covered patio and outdoor kitchen behind his home on the Canterwood golf course was, he admits, his bad habit.
"I'm a smoker, and my wife didn't tolerate it inside," he said. "But if I'm out here, it's OK.
"So it's an expensive habit."
Two gas heaters are suspended above the countertops to keep his bad-habit habitat comfortable and accessible even on chilly days and nights.
"If I bundle up, I can pretty much be out here year-round," Carl said on a mild spring afternoon. "The biggest thing about being out here (in winter) is the wind chill. Otherwise it's tolerable with a little bit of goose down."
Carl — a retiree who asked that his real name not be used for personal reasons — said his grilling repertoire includes "everything from beer-can chicken to steaks to doing the rotisserie with a roast."
He'll even relinquish his post at the grill on occasion, such as a Christmas party he and his wife have hosted the past two years for a couple dozen guests. For that formal gathering, he brings in Canterwood Golf & Country Club's executive chef, Dino Cruz, to provide catering.
Cruz said he was impressed to find such a well-equipped space for cooking outside. There's a warming drawer beneath the grill, plus a refrigerator, a restaurant-style icemaker, a small sink with heated pipes to prevent freezing in winter, even a pullout compartment for a paper-towel roll.
"I think it's a chef's outdoor kitchen dream," said Cruz, who grilled bacon-wrapped filet mignon and Colorado lamb chops for the party guests. "You can pretty much cook anything out there. It's kind of limitless, what you can do, from a chef's perspective.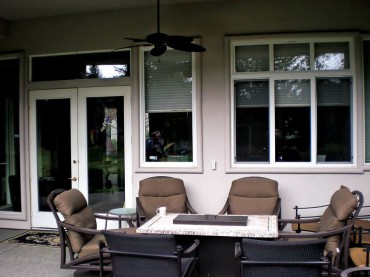 "It's definitely something I would want for myself."
It's something that a growing number of homeowners are wanting in new homes or adding to their existing residences. According to a Realtor Mag online article about hot home trends of 2013, "interest continues in outdoor food preparation of all kinds — as simple as a grill and as elaborate as a built-in cook's station with sink, storage, beer tap, pizza oven, refrigerator and countertops."
Carl said he pretty much knew what he wanted when he sized up the open area behind the house they bought in the upscale Canterwood community of Gig Harbor about four years ago.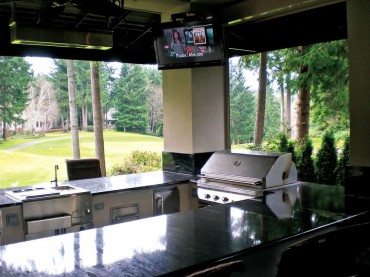 "It was just all this space out here, with no covering," he said.
To cover that space and execute his design for an open-air kitchen and lounge, Carl hired a contractor who already had a connection with the home — Bart Lovely, who owns Lovely Construction in Port Orchard.
"We bought the house from Bart's dad," Carl explained.
On the back side of the house, which was built about 1990, an extended central section divides the outdoor area into two sides, connected by an open patio where there's a tiled table with a natural gas firepit in the center.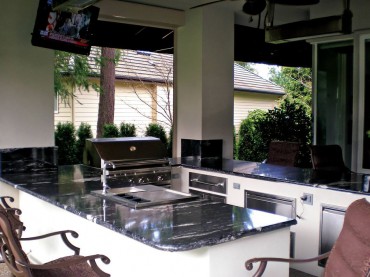 To cover the area for the outdoor kitchen, Lovely built a column to match those at other corners of the house, then extended the roof. That column — which also functions as the conduit for all the wiring and the gas line — forms part of an opening that frames the grill, and a retractable wind-blocking screen can be lowered into the opening when needed.
The parallel granite countertops form a horseshoe layout with the grill, and a custom awning with a hardpoint metal frame wraps around the open-air room addition.
Lovely was able to make the exterior surfaces of the addition match the finish and color of the rest of the home's exterior using Dryvit, a synthetic stucco-like wall coating, and he found a supplier who had a stockpile of roof tiles to match the originals on the house.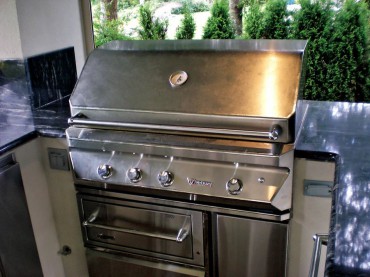 Carl said Lovely and his crew tied the outdoor kitchen seamlessly to the rest of the house, so it doesn't look like an addition.
"If you're down on the golf course looking at this house, it looks like it was built this way," he said.
Lovely described the outdoor kitchen — which also includes a 42-inch television mounted in a sheltered corner above the space — as "pretty full-tilt, for sure."
"It's got everything you'd want," he said.
He noted another unique aspect of the project.
"One other requirement Carl had was that we use all American-made products," he said.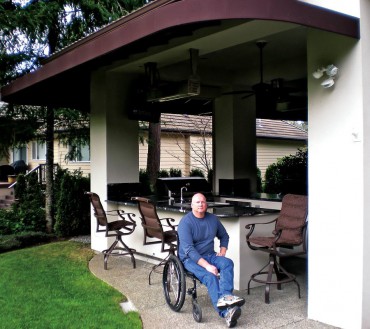 So the centerpiece grill came from Twin Eagles USA of Cerritos, Calif.; the granite countertops were ordered from Direct Buy, a membership buying service that allows members to purchase home furnishings direct from manufacturers; and the Tacoma Tent & Awning was the source for the awning.
Outdoor kitchens don't have to be covered; they can be designed to be weatherproof.
Aaron Bates, owner of Bates Construction & Stonework, has built an outdoor model at his shop on Bethel Road in Port Orchard. Cabinet frames supporting granite counters and shelves are made from cinder blocks, and through an adhesion process called cladding, the blocks are covered with tiles of natural quartzite. That's an all-weather material that Bates said can withstand rain and can even be pressure-washed when it needs cleaning.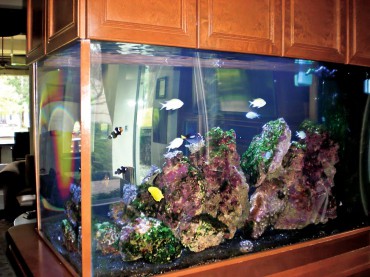 "A lot of people around here think it's high-maintenance and you've always got to cover it up," Bates said of outdoor kitchen setups. "But natural materials are perfectly fine to be out in the weather all the time."
On a wood deck where the weight of cinder blocks could be a concern, the masonry can be put over a wood cabinet frame to create a lighter weatherproof setup.
Bates added the outdoor display to his business "so people can kind of get an idea for the potential of natural materials and what they can do." The display isn't just for show; he plans to be grilling there this summer to give customers a little added hospitality when they drop by.
The quartzite he uses, which comes from Northern Stone Supply in Idaho, also can be cut into tiles of any shape for installing patios and walkways.
Most of his business is installing indoor countertops but he hopes to spark more interest in putting them in outdoor spaces as well.
"I'm seeing more and more of it in magazines and websites. In some of the higher-end homes, you see a lot of designers putting them in," he said.
An outdoor kitchen may appeal to guys desiring a "man cave" space or those who just like to be king of the grill.
"Usually the women get what they want in a house, so guys want something, too," Bates said.
Gender preferences aside, everyone in a household will enjoy the enhanced outdoor spaces. According to online publisher Furniture Fashion's survey of 2013 trends, "a big push for the trend is families wanting improved entertaining facilities for families and friends."
That's certainly the case with Carl, who quipped that he and his wife "defected" from California, where he once was a citrus grower. They moved to Texas for a few years and lived in a lakefront house in Austin before returning to the West Coast and settling into their comfortable Canterwood home.
"In the summer," he said, standing on his well-appointed patio and watching golfers hit their tee shots nearby, "this is the perfect place for entertaining."