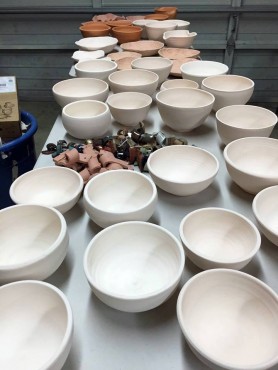 Hungry kids? In Gig Harbor? Most people would find the idea almost unthinkable in this community of lovely homes and a glistening harbor lined with pleasure-boat marinas.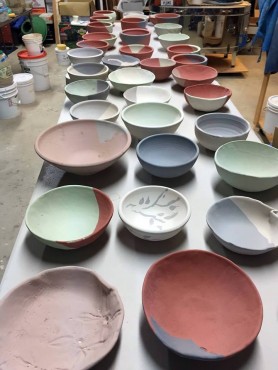 The reality is a much different story, as 25 percent of the students in the Peninsula School District receive free or subsidized lunch support. Without a summer lunch program to fill the gap, as many as 2,200 school-age children who qualify for free or reduced price lunches while in school are at risk of having no food support during the summer months.
The Gig Harbor chapter of Altrusa International is one community organization fighting to help keep undernourished children fed. There is no other organized effort in Gig Harbor to provide summer lunches to this group of children.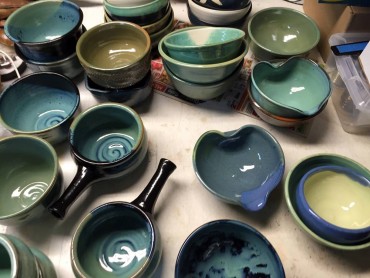 On Feb. 20, Altrusa will host an Empty Bowls event at the Gig Harbor Boys and Girls Club from 11 a.m. to 3 p.m. All proceeds from the event will be used for food scholarships at the Boys and Girls Club to provide lunches and snacks through the summer months for children who attend structured programs at the facility but are unable to pay the nominal daily fee.
According to its website, Empty Bowls is "an international grassroots effort to raise both money and awareness in the fight to end hunger." As a grassroots organization, it has few rules, except that all costs to sponsor the event must be donated and all proceeds must be used to feed the hungry.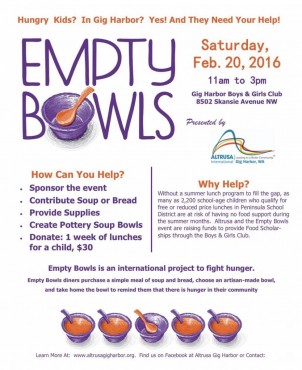 Gig Harbor is the home of several artists working in clay. When approached and asked to support Empty Bowls, they enthusiastically agreed to help. Dan Barnett, Chris Johnson, Jordan Meyers, Jana Fisher, Ann Danis, Gail Kelly, Miles Strukness, Amy Barkauskas, Gary Larson, Wanda Garrity and yours truly, Barb Bourscheidt, all got down and dirty and started making bowls.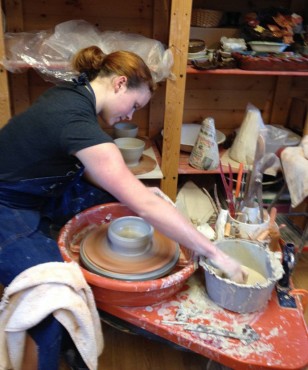 Altrusa also contacted Gig Harbor and Peninsula High schools, whose art students will contribute bowls, in addition to other private contributions. Altrusa members will be painting bowls donated by Java and Clay. More than 300 handmade soup bowls will be offered for a donation of $10 or more per bowl.
Attendees will choose a bowl, make their donation and receive a meal of soup donated by one of several local restaurants. Bowls are taken home as a reminder that hunger exists everywhere, even in your own local community.
The Clay Art Center in Puyallup donated 100 pounds of clay and many of the artists also donated their own clay for the project. Some potters, such as Barnett, worked singularly, while others worked together, throwing, trimming, glazing and firing — making it a community effort. Wanda Garrity led workshops at the Washington Corrections Center for Women in Purdy, where inmates made a few dozen bowls that were then fired and glazed by Garrity, Kelly and Danis.
"It is so gratifying to have so many members of the community supporting this effort," said Jan Hohman, chairperson of the Altrusa Empty Bowls project.