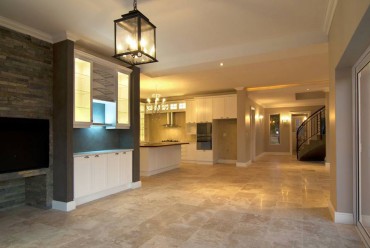 Interior design choices can be overwhelming, especially with so many choices on the market. To help you along in the process, here are some basic tips for your floors. Read part 2 of this article on Friday for more tips for the walls and the ceilings.
Carpet
The most forgiving material for a floor is wall-to-wall carpeting. With a proper pad and the right texture, it can hide small imperfections. It does not need to be supported by stronger structure.
It's also available in a wide range of prices. If you're selling a home, you can throw down an inexpensive pad and a nylon carpet for much less than any other material. However, if your master bedroom requires a bit of luxury, choosing a high-quality wool can cost far more than any hard flooring.
Some of my clients feel that regular cleaning of a carpet is harder than cleaning a hard floor. It does not have to be that way. Dark carpets do show light-colored lint but that can be vacuumed in minutes.
If you choose a tight-weave, dark-color, loop wool, it will look like new for many years.
Wool is naturally resilient and the fibers are not crushed as easily as nylon or polypropylene.
While synthetic-fiber carpets will not necessarily wear out quickly, they will "ugly out."
That is, the surface texture will be flattened and the overall look will be that of a soiled material.
Although most people might not think of carpeting as a practical material for a bathroom, it can be if the right weave is chosen. It's a great way to have a friendly, warm floor under your bare feet.
A bathroom carpet needs no pad and is not installed. It is cut to size around all the fixtures and then loose-laid. It is best to have an extra piece, cut-to-fit, ready in case of water overflow. While the soiled carpet goes to a cleaner, such as D. A. Burns Company in Seattle, the second one is there for you to use.
Stone or Ceramic Tile
This is a wonderful material for powder rooms, bathrooms and kitchens. It can be easily cleaned and will last forever. You do need soft area rugs, however, where you'll be standing or sitting.
For a tub mat, be sure to choose one with a rubber back. In fact, it is best to have a rubber back even if it is at the kitchen sink. If the area rug has no rubber back, add a sheet of the gummy shelf liner. Use double-sided carpet tape to attach it to the back of the rug.
For kitchens, look for a tight-weave polypropylene fiber. Any soiling, such as grease, can be easily washed off the surface. For bathrooms, get a cotton throw rug that can be washed in a washing machine. Avoid fluffy nylon plush as it's not absorbent and will quickly mat down.
The downside to hard materials is that they require a strong supportive foundation. That is not a problem in new construction, but in a typical remodel, especially in an upper-floor apartment, the floor may simply be too weak to support the weight of stone or tile. In addition, any flexing of the floor will crack the grout lines or the stone or tile itself.
Wood
I love wood floors. Genuine wood floors. There is nothing more beautiful than a Brazilian walnut (Ipe) or Brazilian cherry (Jatoba) floor. You can go to Wikipedia and get the full story.
For a lighter-colored floor, choose a classic oak or many other species that a flooring professional can show you. For new construction, it is easy to allow for the thickness. However, it can be a real problem to use wood where a thinner material has existed, such as vinyl tile or carpeting.
The extra thickness can easily be 3/4 of an inch. It's possible to install a transition piece in the doorway, sloping down from the thicker to the thinner surfaces, but that's not always a great solution.