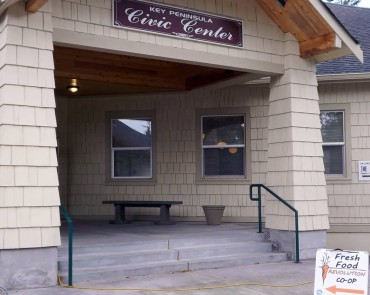 The Fresh Food Revolution Co-op on the Key Peninsula began in 2010 when a small group of fresh-food enthusiasts wanted a way to support local growers. They found a delivery site and busily set about connecting consumers with food producers.
In 2011, an official cooperative was formed, complete with a board of directors, about 50 official members and an average of 20 orders each week. They made their home base at the Key Peninsula Civic Center in Vaughn.
Today, the Fresh Food Revolution serves as a vibrant, weekly meeting place where food producers from the Key Peninsula and beyond bring their products and eager consumers arrive to pick up their orders. Each Sunday morning, members receive an email from the co-op, describing which products are available, pricing and an online cart for placing orders.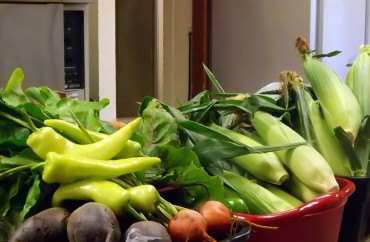 Wednesday afternoons, farmers deliver their orders to the Key Peninsula Civic Center, and a small cadre of volunteers fills bins that are identified with each member's name. Lush greens, fresh fruits of the season and other delectable garden selections overflow the boxes awaiting pickup by the members.
In addition to farm-grown produce, Taylor Shellfish supplies clams, oysters and geoducks in season; Pie Squared delivers freshly baked, gluten-free desserts; a member picks up ice cream from Viking Ice cream in Poulsbo; and there are products from vendors such as Bee Lady Honey, Theo Chocolates and Purcell Mountain grains, just to name a few of the 36 or so producers the co-op now supports.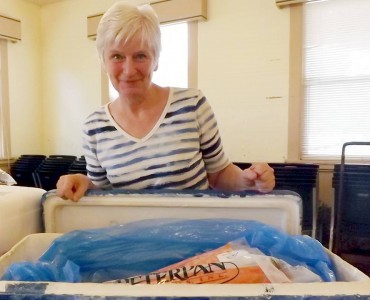 The Fresh Food Revolution Co-op now enjoys membership from approximately 70 families, dedicated to sustainability in the environment, the community, food safety and security. Some of the farmers and ranchers are reaching toward a full organic designation, while others are simply growing their products in an Earth-friendly, sustainable and natural way.
Depending on availability and seasonal cycles, the co-op may have pork, beef, poultry and rabbit on its list of weekly offerings. Eggs are available when the hens are happy, raw milk from one or two dairies comes in half-gallon jars, and even plants and flowers are offered from time to time. Rolf's salmon is represented in the summertime, along with surprise offerings on market day when a neighbor, farmer or friend of the co-op has a surplus.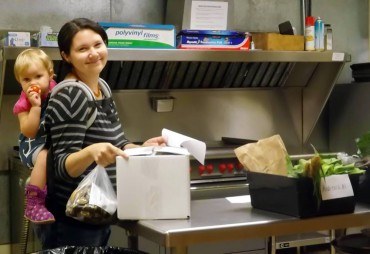 I recently enjoyed a lovely conversation with volunteer coordinator Junko Jacobsen, who said that what makes a co-op a viable organization is all of the members pulling together. There are no paid employees, so the week-in, week-out success depends on each member volunteering time and energy when able. Meeting in the kitchen or at the cashier table and having a little conversation helps to build community.
When we work together toward a common goal, meet the folks who produce the food we put on our tables, visit a farm to see how animals are slaughtered, or help a farmer weed on a hot day, it makes us all more appreciative of the work that goes into producing what we eat.
The Fresh Food Revolution is a members-only cooperative. If you would like more information, go to this link.
I closed my last blog entry by saying, "If you ate today, thank a farmer." It is a mantra that serves us all well.