Margie and Jerry Breunig have shared a lifetime love of plants. She was originally from Seattle but moved to California in her 20s. He was from Southern California but fell in love with this area during visits. They met in their 30s, married and lived in a house 6,000 feet up a mountain near San Simeon in California.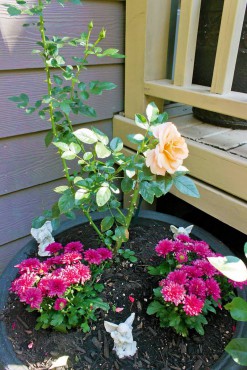 Jerry's first career was in the aerospace industry but he vowed he would "never sit in an office again," so his next career was in wastewater treatment for the city of Los Angeles, where he got lots of outdoors time. Margie worked as an investigative probation officer in Central Los Angeles and in Lancaster. She worked shifts of 60 hours on duty and 96 hours off duty.
When asked how they met, Margie Breunig says, "I was on my way home from work (first probation officer position at juvenile hall) after getting off my shift and stopped at a coffee shop to get something to eat. I sat at the counter and met Jerry there. We talked for a long time and made a date for the next day. We married two weeks later. It's been 41 years now so I guess it was the right thing to do."
Inspiration
When they lived in Cambria, Calif., they met Sharon Lovejoy, a renowned garden writer and artist. Lovejoy at the time had a gift shop with a garden called Heart's Ease.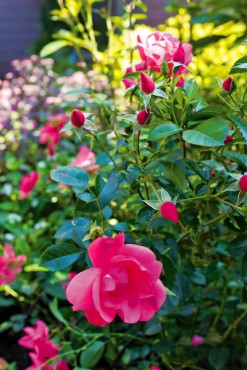 Breunig would walk by the Lovejoy home almost daily and not only fell in love with the garden but also with the home. She still keeps in touch with Lovejoy.
"It was a really old, old house with an existing old, old garden. At the time, I was new to gardening and Sharon helped me a lot on how to grow various plants," she says.
Upon retiring, the Breunigs moved to the Kitsap Peninsula. Margie's brother suggested she take the WSU Extension Master Gardener training.
Breunig says, "I was such an eager beaver. I just wanted to learn everything I could and it was so good. I learned the botanical names of plants and could name every plant in my gardens by both its botanical and its common name."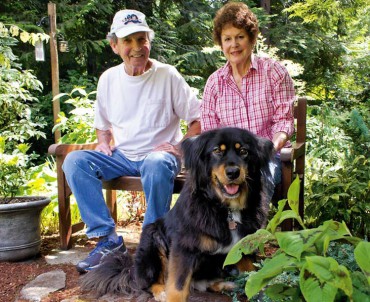 That was in 1995 and she's been an ardent gardener ever since and highly recommends the WSU Master Gardener training.
Creating and enjoying their garden has been a journey of learning and discovery. They are part of a group that plants and maintains the rose display garden at the Silverdale Library.
Margie belongs to Long Lake Garden Club and was an active Master Gardener for 12 years. They also attend workshops and talks offered locally. Favorite events are the Northwest Home and Garden Show and local garden tours.
Passion for Plants and Farm Houses
Both Breunigs love plants. But they also love older homes.
Their first home in this area was a 1930s farmhouse in Graham that they restored. That old farmhouse inspired them to design and build their two homes when they moved to West Sound. They had both homes built from the ground up and surrounded by gorgeous gardens.
Their current home was planned and built as a forever home, with the master suite on the first floor and plenty of space on the second floor for family and friends who come to visit.
Jerry has overseen every part of the homebuilding processes from beginning to end and Margie meticulously oversees the gardens. Their current house looks like it's been on the 2.5-acre property for decades. The home is charmingly framed by a country porch, lawn paths to define the planting beds and various types of hardscaped paths made of brick or bark or crushed gravel.
Margie and Jerry are especially fond of roses and belong to the Kitsap Rose Society. Jerry is currently the secretary of the society. Their home was on the Rose Society Tour this past summer.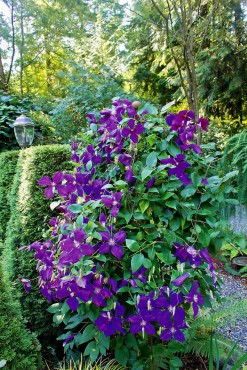 Both this current home and the previous one have been on several garden tours. Visitors could conceivably spend days walking through the gardens. One visit just isn't enough to take in all the beauty and charm of the Breunigs' cherished landscapes and plants.
Critters
Native plants around all the edges of the property frame the planting areas and provide privacy. The official greeter and protector is Sable — their 7-year-old Bernese Mountain mix (probably with Chow). Sable makes sure the black bear, raccoons, squirrels, deer, coyotes and birds stay out of too much mischief in the gardens.
Winston the cat adopted the Breunigs. Winston's self-appointed purpose is to keep mice and rats away, but also to soak up as much sunshine as possible throughout the gardens.
The Breunigs' garden is a Certified Wildlife Habitat by the National Wildlife Federation. The garden provides wildlife with food, shelter, water and numerous places to raise their young and to survive. Because of the bear, though, Jerry brings in all bird feeders each night.
Water and Hardscaping
Jerry and Margie water the garden by hand or use sprinklers. Most of the plants survive quite well once established, but do need watering sometimes during the hot, dry summer months. Because of their well capacity, they have to water one section at a time and do not have an irrigation system.
Trellises, paths, raised beds, holes dug for planting and other projects and enhancements are mostly the work of Jerry. Both Breunigs like garden art and garden furniture.
Chairs, benches, tables and other resting areas are strategically placed here and there. One patio area is mostly full sun, but there are shady areas too. Lots of containers in every shape and size, and even ones painted a coordinating color to best show off the plants are used to happy advantage.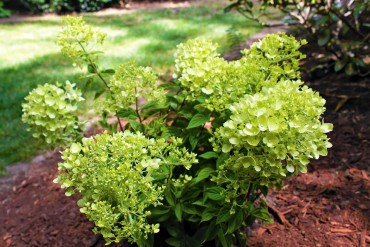 Three types of garden ornaments that bear mentioning are a sign painted with the words "Real men dance naked in the garden." It was a gift for Jerry that has been displayed in their last two gardens.
Tucked here and there are a few gargoyles, which Jerry loves. He first learned about them when he saw Notre Dame Church in France during World War II.
Here and there can also be found a few pigs and piglets. Margie fell in love with a lovely knickknack whose name is Henri the Pig. It's been given a special spot in the house. Soon friends and family were presenting her with pigs for both inside and outside the home.
Tasty Plantings
Even though their home is a haven for every type of ornamental plant and abundant native plants, there are also areas for growing herbs, vegetables and small fruits. Some of these tasty and nutritious plants are even decoratively combined in with the ornamental plants.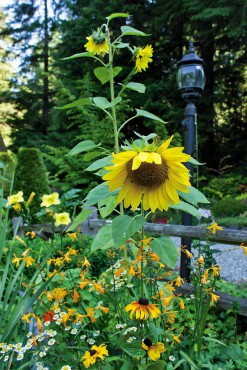 As the trees have grown and sunny areas have become shadier, some of the vegetable and herb beds have been relocated to the sunny front-entry gardens flanking the path leading up to the porch. A few are in containers (including a wheelbarrow) that can be moved strategically to take utmost advantage of sunlight and heat. Last year, the wheelbarrow was planted up with squash. Raised beds contain tomatoes, chard, beans and kale.
Roses Galore
Roses are one of their favorite plants. At one time they had several hundred roses. Getting enough light is becoming a problem, so they're growing some of their roses in containers so they can be moved to take advantage of maximum sun exposure.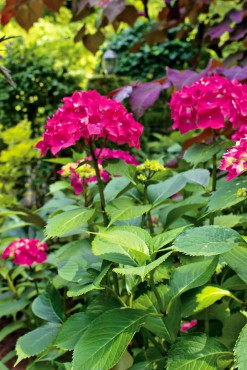 In 2013 they had to treat the plants for rose midge. Margie has found that she can better control this pest, which prevents buds from forming, by washing soil completely off the roots and then replanting the roses into the container with fresh, clean, uncontaminated soil.
Trees, Shrubs, Perennials, Annuals
It would take pages to list all the treasured plants in the couple's garden. One notable plant is a beautiful Japanese maple. The mayor of Orting gave Jerry a start of the maple years ago. "We've always moved the maple to our new homes," he says.
Margie grows vegetables and annuals from seed. One room in their home (the laundry/garden room) has a whole wall of windows, lots of shelving on the opposite wall and a long countertop under the windowed wall. This is where she grows, pots up, divides and propagates plants from cuttings.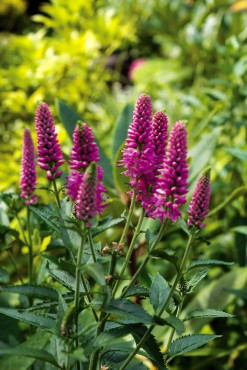 Tender plants, requiring wintertime protection, are stored under the porch, in the garage and sometimes in the garden room.
Help Is Good
Margie and Jerry are the first to say that they couldn't take care of their bit of paradise without help. They are very fit but admit that their bones are aging, and sometimes a gardener just needs a bit more muscle power.
They've hired assistants through the years to help move materials (mulch, bark, manure, crushed rock) to the paths and garden beds. They also had help initially and for a few years as they developed the numerous garden rooms throughout their site. And they have someone come in periodically to assist with weeding.
When asked how they manage to do most of it themselves though, Margie says, "He helps me." Jerry replies, "I'm in charge." She adds, "But he doesn't always do what I want."
The Breunigs keep up by pulling up weeds daily when they see them. And, both agree that no one could create such a festival of garden enjoyment all by themselves.