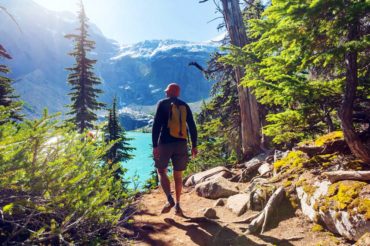 We need to be sensitive not only to the environment surrounding our trails, but to other trail users as well. Some of the trails are also open to mountain bikers and equestrians.
When you encounter other trail users, whether they are hikers, runners, bicyclists or horse riders, the only hard-and-fast rule is to follow common sense and exercise simple courtesy.
With this Golden Rule of Trail Etiquette firmly in mind, here are other things you can do during trail encounters to make everyone's trip more enjoyable:
Right-of-way: When meeting bicyclists or horseback riders, those of us on foot should move off the trail. This is because hikers, walkers and runners are more mobile and flexible than other users, making it easier for us to step off the trail.
Encountering horses: When meeting horseback riders specifically, step off the downhill side of the trail unless the terrain makes this difficult or dangerous. In that case, move to the uphill side of the trail but crouch down a bit so you do not tower over the horses' heads.
Also, make yourself visible so as not to spook the big beastie, and talk in a normal voice to the riders. This calms the horses. If walking with a dog, keep your buddy under control.
Stay on trails: Don't cut switchbacks, take shortcuts or make new trails; all lead to erosion and unsightly trail degradation.
Obey the rules specific to the trail or park you are visiting: Many trails are closed to certain types of use, including dogs and mountain bikes.
Hiking, walking or running with dogs: Trail users who bring dogs should have their dog on a leash or under very strict voice-command at all times. And if leashes are required, then this DOES apply to you.
Many trail users who have had negative encounters with dogs (actually, the dog owners) on the trail are not fond of, or are even afraid of, encountering dogs. Respect their right not to be approached by your darling pooch.
A well-behaved leashed dog, however, can certainly help warm up these folks to a canine encounter.
Avoid disturbing wildlife: Observe from a distance, resisting the urge to move closer to wildlife (use your binoculars or telephoto lens). This not only keeps you safer but it prevents the animal from having to exert itself unnecessarily fleeing from you.
Take only photographs: Leave all natural things, features and historic artifacts as you found them for others to enjoy.
Never roll rocks off trails or cliffs: Gravity increases the impact of falling rocks exponentially and you risk endangering lives below you.
This is an excerpt adapted from the new guide, "Urban Trails: Kitsap" by Craig Romano (October 2016, Mountaineers Books). Check out some of the trails included in the book in a previous post linked here.