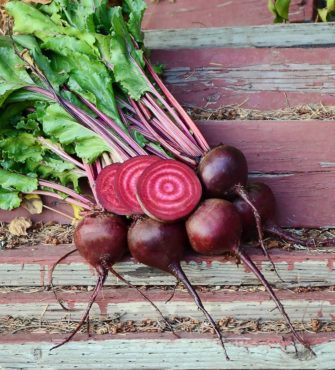 From its humble beginnings around the Mediterranean, the table beet (beta vulgaris) has spread to all continents of the world. Beets have been consumed in many ways: medicinally in ancient Rome, fresh (both the greens and the roots) in salads, in soups and as pickled slices, to name a few.
Today, beets are also popular as a processed product sold in stores or as fresh greens and roots. Beet is being marketed as a superfood, with the juice sold as a natural energy drink, powders encapsulated as nutritional enhancements and slices dried as chips.
In recent years, baby beet leaves have become popular as a salad green. Varieties such as Fresh Pak and Fresh Start are produced specifically for the baby leaf market.
High in fiber, vitamins A and C, beets have more iron than most vegetables. They are also rich in antioxidants, calcium, potassium, phosphorus and folic acid.
The root's red color comes from the antioxidant betalain, which is an excellent source of red color pigment and can be used as natural dyes or food coloring agents.
How to Grow
Beets are a biannual crop that flowers in the second year of growth), but the roots can be grown annually in 50-95 days depending on climate and desired root size.
Seeds should be planted into the soil, 1/4-1/2 inch deep and 1-2 inches apart in rows or blocks. Keep seeds evenly moist to encourage germination.
The seeds are actually little clusters of two to four seeds. Thin out the seedlings (they're delicious to eat!) by pinching or snipping when they are 1-2 inches tall. This will encourage larger, well-shaped roots for harvest.
After you thin the plants, space them about 3 inches apart.
Beets prefer slightly acidic soils with some boron content and limited nitrogen. They need about 1 inch of water per week.
Usually planted in spring or early fall, beets can tolerate cool temperatures. Harvest roots by either gently pulling the tops or digging the roots when they are about 2 1/2 to 3 inches in diameter (they can also be larger or smaller if desired). You can also grow beets in containers.
While most beets are red to purple in color, some varieties are yellow or red and have white internal rings, like Touchstone Gold and Chioggia Guardsmark.
The most common shape for table beets is the globe (like AAS Winner Ruby Queen) but they can also be cylindrical (like Cylindra, Alto or Rodina), top-shaped, flattened (Crosby Egyptian types) or blocky.  Some traditional U.S. varieties include Detroit Dark Red (great for canning or pickling) and Early Wonder Tall Top for greens and roots.
Beetroot has a reputation of having an "earthy" taste that some love and some do not. If you prefer milder flavors, you'll find new hybrid varieties more to your liking.
Beet is a great food for the health conscious as well as easy and fun to grow in the garden.  It could very well be the kale of the 21st century.