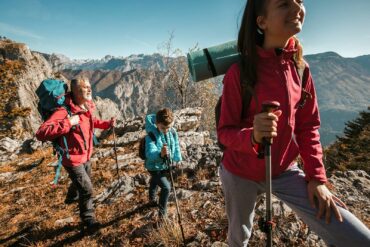 Summer and fall are prime times to get kids out of the house and spend time outdoors, especially if you live at high altitudes or by the water. As you can imagine, studies show tremendous positive effects for children who spend time outside:
Exposure to nature and natural environments can reduce stress, anxiety and symptoms of attention deficit hyperactivity disorder (ADHD).
Outdoor activities often involve cooperative play, which helps children develop better social relationships and conflict-resolution abilities.
Exposure to nature has been associated with improved attention spans and enhanced cognitive function/
One of my favorites: Children who have positive experiences in nature are more likely to become environmentally conscious and develop a sense of responsibility toward the environment.
However, you may need more than the idea of another hike to get kids to get out the door.
Turn the Hike on its Head
Reframe the sometimes dreaded h-word to a nature scavenger hunt or a secret mission. Make it fun by giving kids something specific to search for. Consider challenging them to count the number of different wildflowers they can find or to hunt for a specific flower in bloom. Encourage kids to find different colors or textures in nature or simply play "I Spy" along the trail.
Make It Mindful
Remember, the goal is to enjoy being outside, connect with nature and observe your surroundings. Ask your child questions about their favorite flower, their feeling when the sun touches their skin or the grass touches their toes, or their favorite snack to enjoy under a tree. Think of open-ended questions like: What do you think those squirrels are saying to each other? Why do you think those birds are in that tree?
Getting Your Hands Dirty
While paused along the trail, encourage your child to be creative with elements of nature. Can they make a sculpture by stacking rocks and twigs? Can they lay out leaves and sticks in the dirt to create a picture? Maybe even try braiding together blades of grass to make a bracelet or writing a poem inspired by the sounds, smells and sights of nature. This can be even more fun if your child has a buddy with them, so consider inviting a friend or two.
Don't Rush: It's More About the Journey
Make it OK to meander with a focus on curiosity and exploration rather than destination. Avoid focusing on the distance you've traveled or any specific goal of where you want to arrive. Take plenty of breaks for snacks and water, and make sure to wear a hat and sunscreen. Ensuring that your child is hydrated, well-fed and comfortable is key to spending quality time outdoors.
Nature is mesmerizing in and of itself. Like exercise, sometimes the hardest thing about it is getting out the door. By adding just a tiny element of structure, you might create new routines and habits that encourage your child to explore the world around them, rather than a screen.
Rachel Branham is the development director at Mountain Roots Food Project, a 501(c)(3) nonprofit organization that cultivates a resilient and equitable food system in Gunnison Valley, Colorado, by enhancing healthy connections between earth, food and community. The organization fosters knowledge, teaches skills and provides opportunities that ensure access to affordable, nutritious food that is regionally based and sustainably produced.