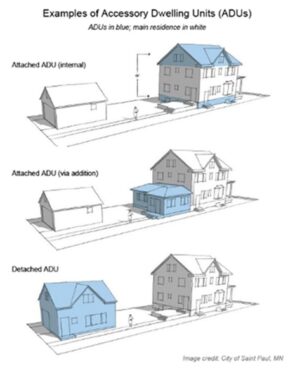 Countless Washington State families are seeking affordable alternatives of having a second home to house an aging parent and other family members on their existing property. Accessory dwelling units (ADUs) are a cost-effective housing alternative for existing homeowners to place an additional housing unit on their property. The Washington State Legislature recently made changes pertaining to ADU permitting, and many local manufactured housing retailer dealerships offer various ADU options.
With a 2023 Washington State median priced home at $518,215, many families are looking for a more cost-effective and smaller footprint solution in the same community proximity or even on their own building lot, private property. The Manufactured Housing Institute reports that a manufactured home costs half as much per square foot as a site-built home. HUD homes are built in a quality-controlled in-door environment and don't have the site-built limitations of weather, material supplies delivery, subcontractors and labor delays.
"Homeowners have choices (varying floor plans, size and budget) in their housing choices (ADUs, single, double-wide or multisection)," said Del DeTray of DeTray's, LLC of Lacey. "ADUs can range $80,000 to $150,000. This level of affordability for the ADU home purchase price and siting costs (foundation build and setup), even when adding local building department requirements with utilities and sanitation expenses, provides a smart alternative for 'aging in place' living for family members on the same property of family generation."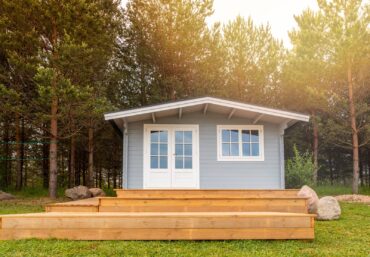 Northwest Housing Association's members offer affordable options for homeowners seeking to add a smaller residential unit on the same lot of an existing single-family home.
"Across Washington, homeowners have sought building permits from their local building departments for years, only to be directed to hardship exemption permit application for properties for an aging parent or other family member to add a second home on their building lot," said John Lee of Site Services, LLC of Mount Vernon. "It has been common practice that the hardship exemption application could be sought, but with the requirement that the accessory dwelling be removed after the family member passes or no longer resides in the accessory dwelling. This requirement gives little consideration for the financial impact for the families who install these dwellings."
Lee added that new regulations now allow accessory dwellings meeting the size limitation to stay on the property if they meet the use requirements of the jurisdiction.
"Fast forward, in the recent years, ADUs have become more common place and Washington state homeowners can now seek and secure building permits from their local city and county building departments," he said.
Homeowners have the option of placing either a site-built or HUD-approved manufactured housing ADU unit on their lot or private property, according to Lance Clark, executive director of Northwest Housing Association.
"Homeowners seeking to develop an ADU on their property need to budget accordingly, such as impact fees, permitting fees, utility connection costs and increased property taxes, in addition to labor and materials costs associated with the actual construction of an ADU," Clark said. "Some local governments are seeking to directly reduce cost-burdens and incentivize ADU development."
What As an ADU?
An ADU is a small, self-contained residential unit located on the same lot as an existing single-family home. An ADU has all the basic facilities needed for day-to-day living independent of the main home, such as a kitchen, sleeping area and a bathroom. As the term "accessory" implies, ADUs are generally defined to be smaller in size and prominence than the main residence on the lot. Some definitions include specific size limits and a location that is not readily visible from the street.
In theory, an ADU may be created as a separate unit within an existing home (such as in an attic or basement), an addition to the home (such as a separate apartment unit with separate entrance) or in a separate structure on the lot (such as a converted garage). Some communities, however, only allow ADUs that are within or attached to the main residence and exclude ADUs housed in a separate structure.
Whether attached or detached from the main residence, most codes require that the main residence and the ADU must be owned by the same person and may not be sold separately.
ADUs are sometimes called "mother-in-law apartments" or "granny flats" because they are often used to house extended family. Other codes use terms such as "accessory apartment," "accessory living unit," or "secondary unit," to have a similar meaning.  https://mrsc.org/explore-topics/planning/housing/accessory-dwelling-units
HUD-manufactured ADUs offer several advantages over traditional site (stick) built option:
Factory labor typically runs about 50% less than field labor.
There is less than 5% waste in materials.
The entire building process is done in a factory-controlled environment.
All structural and construction inspections are performed in the factory by HUD-certified inspectors. This allows the entire building process to move much more efficiently and is far less time-consuming.
Large volumes of plans, specifications, details, cross sections, etc. are not necessary because the HUD manufactured ADU is delivered to the site 100% code-compliant and ready to install.
It's move-in-ready immediately after the final inspection has been completed and a Certificate of Occupancy (CO) has been issued. This eliminates what can amount to weeks of plan reviews, corrections, resubmittals ad nauseam and, finally, approval. It's not unusual to get tied up in just the plan review process for months in some cases.
Add to that myriad fees that are charged by the building department for various services and it's not hard to understand why the site built option can be extremely time consuming, costly and frustrating.
Learn More
New Washington state legislation (effective July 23, 2023) and RCWs since the 1990s related to ADUs:
EHB 1337requires cities and counties to allow ADUs in urban growth areas and prohibits cities from applying certain regulations to ADUs.
E2SSB 5045allows a county with a population of 1.5 million or more to provide a property tax exemption for ADUs rented to low-income households under specified conditions.
RCW 43.63A.215and RCW 36.70A.400, adopted as part of the 1993 Washington Housing Policy Act, require many Washington cities and counties to adopt ordinances encouraging the development of accessory apartments or ADUs in single-family zones.
For more information, contact your local building department. Find your local official at wabo.org.
Download a glossary of terms from NHA, from tiny homes and manufactured homes to CrossMod.