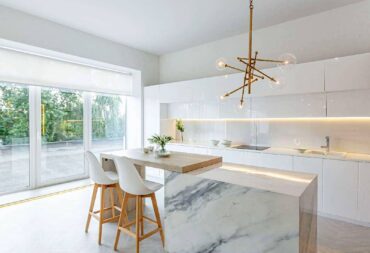 Extra square footage in your home is prized real estate, but sometimes your house has a space that you don't always know how to use. Whether it's a pseudo-room with no actual door or an alcove with only three walls, you may be dealing with what's known as a bonus room. A bonus room is any space in your home that doesn't meet the requirements to be a habitable room, but also isn't your kitchen, bathroom, hallway or living room.
If you're ignoring your bonus space or are unsure about what it should become, we have some design ideas to inspire your next home renovation. Peruse these five bonus room designs so you can turn this blank area of your home into a favorite space that everyone can enjoy.
What to Know Before Finishing a Bonus Room
Believe it or not, a finished bonus room can add around $10,000 to $30,000 of value to your home. It also allows you to create something useful and special that adds sentimental value to your home.
Before you finalize your plans and start renovating, there are a few important things to keep in mind before. To fix up your bonus room, check in with your local building and permit office first, to ensure that your plans meet zoning requirements.
You will also need to consider adding plumbing, gas and HVAC if your room lacks these. For example, if you have a bonus space that you converted in your garage, it likely won't be considered a "habitable" room with all the amenities you're used to indoors. Work on adding these in to make your room more functional. Keep in mind that if your room is considered "habitable" after renovating, it may increase your property taxes.
Let the ideas below help you decide what kind of room works will bring the most value to you.
Ideas to Flex Your Bonus Space
Hobby Room
A hobby room provides you with the perfect place to do your favorite activities. Whether you like to paint, sew, scrapbook or craft, you can design a hobby room to fit your passions and needs. When designing your hobby room, think about what you'll need to make it functional for you. You can try adding a sturdy work table or built in shelves to store materials.
Nursery
If you're new or expecting parents, you can create the perfect nursery to welcome your newborn into your home. Make sure to add plenty of storage space to organize all of your baby's clothes, toys, diapers and other material needs. Remember to get creative and customize the design and decor especially for your bundle of joy.
Yoga Studio
An at-home yoga studio can be a relaxing, zen place to engage with your inner-self and practice mindfulness. You can practice yoga and wellness at home with some minimal decorations, essential oil or incense, and your favorite mat. Keep the space bright and airy to help you meditate and find inner peace.
Home theater
Who wouldn't love to watch their favorite movies, eat popcorn and sit in a cozy chair, all in the comfort of their own home? Stream your favorite awards shows, TV shows and more with a simple projector and a Bluetooth speaker. Don't forget to add in blackout curtains to block out any light and create the perfect movie theater experience.
There are tons of options when it comes to transforming a blank bonus room into a homey space that you'll love. Use these tips and ideas for inspiration to create the room you've always wanted but never thought you could create. For more ideas for designing a bonus room, check out this infographic from The Zebra.