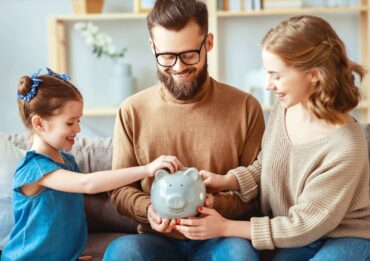 Make 2022 the year you achieve a level of financial wellness that you have always striven for.
Whether your goals involve spending less, saving more or any number of things, it's never too late to start working toward them.
It may seem daunting, but balancing your finances doesn't have to be the scary feat it sometimes seems. Take the next step now and you'll be well on your way to financial success.
Your money will help you achieve your lifestyle goals. Being clear on what your goals are, how your money can help you reach those goals, and then regularly checking your progress will keep you on track.
It's not too late to start working on your financial goals this year. Here are five ways to reach financial wellness in 2022:
1. Create a financial vision board.
What are your goals for this year? A new car? More travel? What are your five-year goals? More long-term savings? Identify what is most important to you, and make sure to delegate some spending to those things. This is your financial "vision board."
In making a budget, don't just include food, housing and other needs. Include categories from your vision board. Since you will be watching your money help you achieve your goals, you may check in more often.
2. Continue to invest.
It's still worthwhile! Even as the market faces the challenges of the past years, stocks are benefiting from increased value year over year. To avoid investing a large amount at a bad time, add smaller amounts consistently.
Additionally, rather than investing in just one or two stocks, diversify your allocations. This way, if one stock or industry has a market decline, you still have investments in others that may perform better.
3. Prepare for inflation and supply chain disruptions.
Even a small increase in the cost of food, gas or heating can have a significant impact on your finances. Add an extra 10 percent to your living expenses to account for inflation or unexpected expenses.
Thinking about a construction project or a new car? The supply chain disruptions have significantly impacted the cost of lumber and vehicle computer chips. It's a great time to sell but not an ideal time to buy. Consider waiting for a year to buy as the prices may decrease.
Is there a possibility you'll need a lot of cash soon for a large project or expense? If you have a house, consider getting a home equity line of credit, as your home's value may have increased. The amount you can borrow may have also increased.
4. Build your emergency savings — and protect it.
Set aside some money with each paycheck for unexpected expenses, like car repairs or a lost job. Many financial experts recommend putting aside three to six months' worth of living expenses, though you can certainly save more.
Make sure anywhere you store your emergency funds is FDIC-insured for your protection. For flexibility, open both a savings account and a brokerage account. However, I don't recommend storing emergency savings in an IRA, ROTH IRA or 401K due to the tax implications involved with taking distributions.
5. Remember to check in on your progress.
If you do nothing else, do this: Periodically check in on your finances during the year.
After creating your goals and forming a budget around them, review them regularly. It can be monthly, quarterly or even biannually. During your check-in, compare your projections with where you are. If your need is larger in an area than you projected it would be, shift your projections. Readjust your budget going forward. A lot can change over a few months, so be shifting your budget as your priorities shift as well.
Budgeting does not have to be the time-consuming, frustrating activity that it seems. You don't have to spend hour after hour painstakingly tracking every expense. Rather, putting in a little more time and effort into managing your spending and saving habits can and will set you on a more sound financial path.
Being mindful about your finances is important and will inevitably help you to achieve financial wellness and any of the other goals you set out to accomplish.