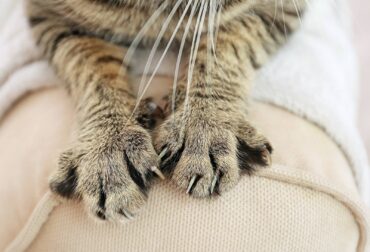 Bringing a new pet home is an exciting time. During those first few months, while the new member of your family gets used to their new home, there are a lot of things that need to be done. The training, the gaining of trust, the playtime — becoming a pet parent takes a lot of work. And perhaps the most important step, for both your home and your pet, is pet–proofing.
Take a quick scan around your home. While you may only see one or two opportunities for pet destruction, think again. How you see your home can vary greatly from how your pet sees it, in terms of what is and isn't a toy. Because of this, you may end up with a few damaged or destroyed possessions if you aren't careful enough. To help prevent the legs of your dining room table from looking like a fun toy, you'll need to do some pet-proofing.
Pet-proofing doesn't just stop with the dining room table. This is a room-by-room endeavor, requiring a good amount of work to keep curious cats and dogs from getting into things they shouldn't.
But there is a good reason to put in all this work before bringing your pet home. Pet-proofing not only protects your belongings (which you likely spent a lot on) but it also helps protect your pets from ingesting something that's harmful to them. Putting away choking hazards and properly storing cleaning supplies can lead to fewer accidents over time, and will help you and your pet sleep safer each night.
So what are the biggest dangers for your pets in each room? The following list will break down what pet-proofing steps you should take throughout your entire home. For information on good design for fur babies, check out this post.
(click for large view)

Living Room

Add antiscratch tape to furniture.
Cover electrical cords and air vents.
Move heavy exercise equipment.
Put down pee pads.
Remove all choking hazards.

Kitchen

Add a gate to keep pets out.
Add lids to all trash bins.
Never leave dangerous kitchen supplies out on counters.
Put up a stove guard.
Store cleaning supplies in a cabinet.

Bathroom

Keep cleaning supplies locked away.
Move medicine to a high shelf.
Remove rugs until your pet has matured.
Store toilet paper in a cabinet.

Bedroom

Cover charging cables.
Ensure all plants are nontoxic. (Check out these

pet-safe house plants

.)

Make your bed each morning to discourage digging.
Put lotions or lip balms away.

Garage

Ensure proper ventilation.
Properly install animal or bug traps.
Remove chemicals, paint and similar substances.
Sweep the floor regularly to remove debris.

Yard

Block off access to home systems.
Ensure all plants are nontoxic to pets.
Patch any holes in the fence.
Put away lawn equipment.
For more information on how to properly pet proof your entire home, as well as how to fix items your pet destroys, check out the following graphics from Hippo.