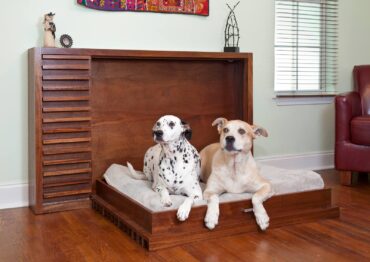 Good access, workflow and organization are high on many homeowners' wish lists for their kitchens, bathrooms, closets and laundry rooms. But what about the home spaces dedicated to pets?
Don't pets — and their two-legged caretakers — deserve good, functional design too? Based on the 3.9 percent compound annual growth rate in durable pet-care products between 2015 and 2020, as documented by research firm Packaged Facts, it's safe to assume that homeowners have a keen interest in devoting resources to their fur babies.
When designing for pet needs, factors you must consider include the type of pets and their general needs for sleep spaces, feeding stations, bathing and grooming areas, and access to outdoor spaces and litter boxes.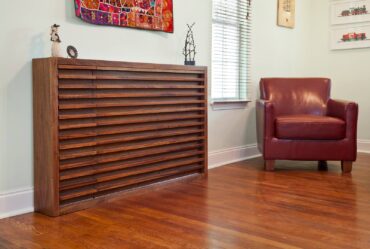 Sleeping and Security Spaces
Many pets have soft, transportable beds that are simply placed on the floor. However, when floor space is at a premium, it's just a matter of getting creative by designing built-in sleeping nooks with or without doors in base cabinetry, murphy beds or under interior stair accommodations (think Harry Potter closet).
The decision to include doors will depend on space as well as needs such as preventing pets from roaming around and potentially tripping a security system alarm, harassing other pets in the home, sleeping on the furniture or helping themselves to the content of the trash or kibble bin.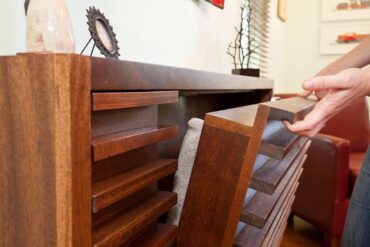 Eating Stations
Few things are as annoying as kicking a pet's water dish and splashing water around a room. Designing a dedicated space for food and water bowls will be appreciated by all members of the household.
Concealment in a drawer is one way to achieve this but has several drawbacks, such as denying your pet access to the food or water dishes when closed, as well as the inevitable slobber from the pet getting all over the cabinetry, which will require consistent and diligent cleanup to keep the cabinetry looking good.
Designing a niche in base cabinetry is a good way to not only confine the food dishes but also keep them out of the way of foot traffic.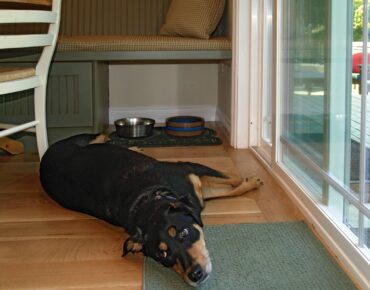 Bathing and Grooming Stations
Whether you have show dogs or you simply like to reduce the fur bunnies in your home, an area for grooming and bathing your pet is a nice addition to a home. Depending on the size of your pet, a portable, adjustable-height table or a nonporous countertop for small pets can help make a grooming job easier. Short-walled showers with or without shower doors can be both a wonderful feature for washing pets (and muddy boots) and a means for creating a beautiful focal point with decorative tile.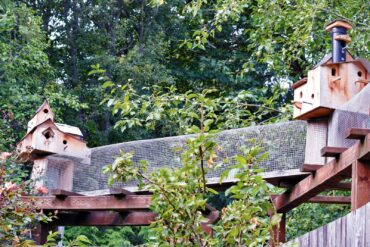 Access to the Outdoors and Litter Boxes
Pets need access to appropriate places for their bodily functions. Pet doors come in a wide variety of options, including models that only open to a security chip on your pet's collar.
Models that are intended to be installed in a wall need forethought and planning due to framing requirements. Make sure the model you choose can be locked from the inside of the home to minimize unwanted intruders of both the two- and four-legged kind.
Unlike dogs, cats like a bit more privacy when they are conducting their business. Locating a litter box in a dedicated base cabinet or closet with an access hole is one way to give your cat privacy while keeping your home tidy and free of unsightly litter boxes.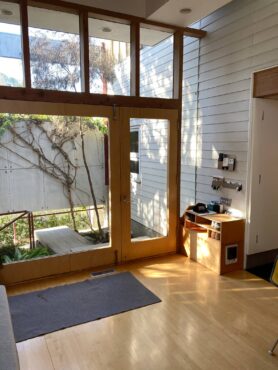 Pet Entertainment
Most dogs and other small mammals (other than cats) correlate entertainment with time spent with their owners. Cats, on the other hand, like to create their own entertainment, hence the advent of the cabitat or catio, a protected outdoor adventure space for cats.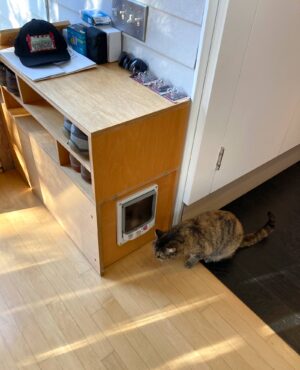 Catios can be simple or elaborate, and a surprising number of building professionals specialize in the design and construction of cabitats. A Portland, Oregon, nonprofit called Cats Safe at Home has sponsored a catio tour for the past seven years, with the most recent tour being converted to a virtual format due to the pandemic.
When designing a catio, it's important to not only consider your available space and how your cat can access it (best if there is a direct connection from the house via a cat door to the outdoor catio). However, you know your cat and its needs and preferences, so use this information to guide the design and build the catio. For more inspiration, turn to resources such as Houzz.com, Pintrest and catio tour sites.
Finding dedicated space for your pets' needs and activities can help keep all members of your household happy — it's just a matter of developing your priorities and setting a realistic budget.
What we won't do for our pets…