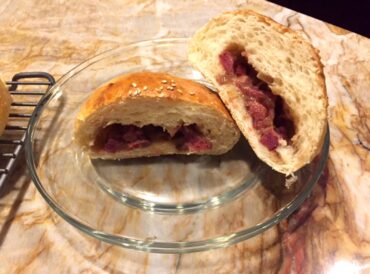 Home baker Jeff Stelmach discovered dim sum (Chinese small plates typically served with tea) sometime in the '70s in New York City. He remembers it as a fascinating experience that, through a series of twists and turns, has brought him to the place where he now makes his own dim sum pork buns at home.
"I believe the process has changed over time. Back then, they just left all the plates on the table and when you were done, they counted up the plates (small, medium, large and special items) to tally the bill. Nowadays, however, they keep the table bussed while you are eating (making room for more dishes!) and record the dishes you are served on a paper bill that sits on the table," Stelmach says.
Typically, a dim sum restaurant has a number of carts — some heated and some with just shelves — that are rolled through the establishment so the diners can make selections. Some restaurants also have wait staff with trays walking through the restaurant with either special items or items that are being prepared faster than the carts can take them out.
"From my perspective, dim sum is Chinese appetizers on steroids. Depending on the restaurant, there can be as many combinations of types — steamed, baked, pan-fried, greens, meats and desserts — that you can conjure up. All served alongside a standard stable of condiments such as hoisin, oyster, soy, plum, sweet and sour sauces, hot mustard and chili oil," Stelmach says.
One of the traditional setups of a dim sum restaurant includes large, round tables that seat between eight and 10 and have an enormous revolving tray ("lazy susan") in the middle. Families and groups can sit together and order multiple items and "pass" them using the revolving tray to spin them around to others on the other side of the table. An objective, therefore, is to fill that revolving tray with many dishes so everyone can have the opportunity taste something as it passes by. It's also a great way to grab one of your favorite dishes as well as having the opportunity to try something new.
Later, living and working in San Francisco, Stelmach became friends with "Jackie," a Chinese American who introduced him to an authentic Chinese restaurant she and her family frequented.
"Dim sum on weekends is a bustling experience at this restaurant filled with Chinese American families. I was often the only non-Asian person in the restaurant which assured me that the food was authentic and good," he reminisces.
He continues, "Since moving to the Pacific Northwest, I have missed the amount of Asian food readily available in the Bay Area. And I especially miss the opportunity for dim sum — since I don't go into Seattle very often (even before COVID), where there should be more options. There is a chain of dim sum restaurants dotted around the Sound, but I didn't care for them and found them catering to a mostly non-Asian clientele who (from my perspective) didn't understand or appreciate the tradition of dim sum.
One of the dishes Stelmach is particularly fond of is "char siu bao," which is essentially char siu (barbecued Chinese pork) wrapped in a dough bun (bao). These can be steamed or baked. The steamed buns always tasted overly "doughy" to him, but the baked baos didn't overwhelm the contents and — in his opinion — added to the flavor of the dish.
While he has discovered many dumplings in the frozen section of grocery stores, including Costco, Stelmach has never found baked ones. Siu mai, potstickers, among others, are available in the frozen section at Central Market. And they have steamed char siu bao. This began his search for baked char siu bao recipes since he'd found good char siu at Costco.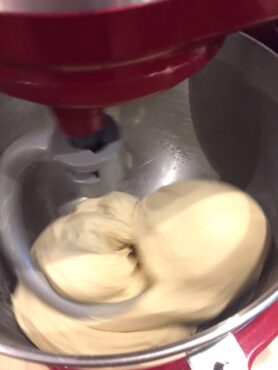 "I'd been using that in my fried rice when I would make stir fry dinners," he says.
His search has resulted in finding multiple baked char siu bao recipes and there are similarities between them. They all contain, of course, flour, but also salt, sugar, some sort of fat and yeast.
These recipes include separate ones for the filling, which include hoisin, soy and oyster sauce with rice wine (or, as a substitute, gin), cornstarch and the char siu. For uniformity, Stelmach uses a scale to measure out the dough as well as the filling resulting in uniform sized buns.
Although the process from start to finish is complex, the result is lusciously satisfying taste, and for the uninitiated, a real introduction to the world of dim sum.
The following are the recipes Stelmach uses for the yeast buns and the filling. Note: He purchases he char siu (roasted pork) in the filling from Costco, where you can be find it in the refrigerated meal section.
---
Pork Buns for Dim Sum Recipe
Ingredients for the dough:
2/3 cup heavy cream (at room temperature)
1 cup milk (whole milk preferred, but you can use 2%, at room temperature)
1 large egg (at room temperature
1/3 cup sugar
1/2 cup cake flour (can substitute 1/2 cup all-purpose flour sifted with 1 tbsp cornstarch)
3 1/2 cups bread flour
1 tablespoon active dry yeast
1 1/2 teaspoons salt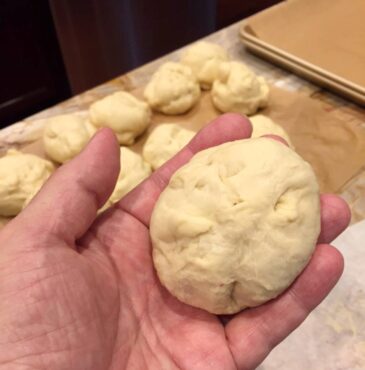 Ingredients for the filling:
1/2 cup water
1/2 pound char siu, diced *
1 tablespoon sugar
2 teaspoons soy sauce
1 teaspoon gin
1 tablespoon oyster sauce
1 tablespoon hoisin sauce
1 teaspoon toasted sesame oil
1 tablespoon cornstarch dissolved in 1 tablespoon water
*Char siu: purchased ready made
Instructions to make the dough:
In the bowl of a stand mixer fitted with the dough hook attachment, add the dough ingredients in the following order. Start with the room-temperature heavy cream, milk and egg. Then add the sugar, cake flour, bread flour, yeast and salt, in that order.
Turn the mixer on to the lowest setting to bring the dough together. When a scraggly dough has formed, knead on low speed for 15 minutes. If needed, turn off the mixer to bring the dough together with a rubber spatula. Alternatively, you can stir all the dough ingredients together with a wooden spoon in a large mixing bowl, and then knead by hand for 20 minutes.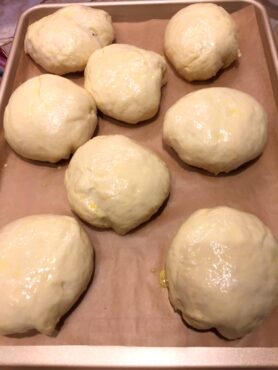 The dough should stick to the bottom of the bowl, but should not stick to the sides. If you're in a humid climate and the dough is sticking to the sides of the mixing bowl, add a little more flour, about 1 tablespoon at a time, until it smooths out.
Shape the dough into a ball and cover with an overturned plate or damp towel. Place in a warm spot to proof for 75-90 minutes, or until the dough doubles in size.
After the first proof, knead the dough for another 5 minutes to punch the air out. Dump it onto a lightly floured surface and shape into a ball.
Cut into 16 equal pieces. The best way to get evenly sized buns is to weigh the entire dough ball and divide the weight by 16.
To shape the buns, knead each individual dough ball to punch out any air bubbles and smooth it out. Roll it into a 4-inch circle, with the center slightly thicker than the outer edges.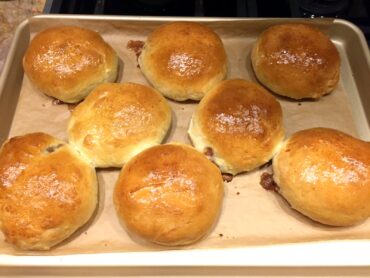 Add 1 portion of filling to the bun and crimp it closed, making sure it's tightly sealed. Lay them seam-side down on baking sheets lined with parchment paper, about 3 inches apart. Cover with a clean towel and allow to rise at room temperature for another hour.
Arrange two racks in the top and bottom thirds of the oven, and preheat to 400 degree F/200 C. Brush the buns with egg wash and sprinkle them with sesame seeds, if using.
Transfer the buns to the oven and immediately turn down the temperature to 350 F/175 C. Bake for 22-25 minutes or until golden brown.
Remove from the oven and immediately brush the buns with the sugar syrup while they're still hot. Cool and enjoy!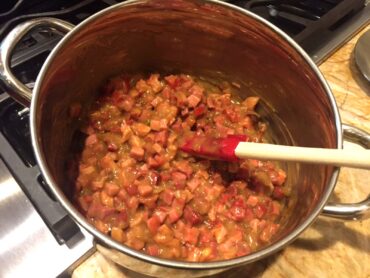 Instructions to make the filling:
In a small saucepan, mix together water, sugar, soy, rice wine, oyster sauce, hoisin sauce and sesame oil.
Cook the sauce over medium heat until it bubbles.
Stir in the cornstarch mixture and cook for 1 minute, stirring. The sauce should thicken considerably.
Remove from the heat and add in the diced char siu. Cool to room temperature.