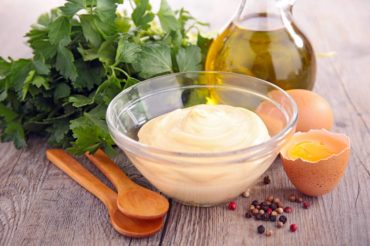 Here we are in the midst of the Covid-19 pandemic and most of us have been asked to stay at home to fight the virus and help save lives. If you have stocked your pantry with basic necessities, chances are pretty good you can "make-do" with lots of items on hand, and avoid unnecessary trips to the store.
In some cases, even a trip to the store may result in coming home empty-handed, as many staple items may be sold out.
I am down to two or three tablespoons of mayonnaise in the bottom of a jar, and while mayo may not be a necessity of life, it sure adds a nice layer of moisture and flavor to a sandwich. My mother always made mayonnaise as long as I can remember, and even though I have made it several times over the years, I generally just rely on a jar from the supermarket now.
But I started thinking about how easy it is to make mayo, and how many other things we can substitute in our kitchens to avoid unnecessary trips out.
Salad dressings are among the easiest items to make at home and generally end up being healthier than the store-bought version, as well as sporting a fresher taste. We always make olive oil lemon vinaigrette at our house and frequently, I stir up creamy dressings as well.
When getting out the blender or mixer to make a dressing, I recommend making at least a cup-full, so you will have more for a couple of days salads.
When baking, it is easy to find or make substitutions for chocolate, sugar, milk and even eggs and leavening. Although it takes a few days to make it, sourdough starter can be substituted for yeast to get a decent rise in an artisan style bread. It also makes delicious pancakes, English muffins, focaccia, pitas and tortillas. Sourdough is a huge subject on its own, but you can find lots of information online.
Today's blog will deal with substitutions you probably have on hand, and with a little imagination and ingenuity, you will maybe even make some of your own. I've included a list here with a couple recipes at the end.
In some cases, the substitution won't perform or taste exactly like the original called for in the recipe, but you may be surprised and find you like it even better!
Sugar Substitutes:
1 cup granulated sugar = 1 cup brown sugar or 1 3/4 cup packed confectioners' sugar
1 cup brown sugar = 1 cup granulated sugar + 1 tablespoon molasses
1 cup corn syrup = 2/3 cup sugar + 1/3 cup water
1 cup honey = 1 1/4 cup sugar + 1/4 cup water
For powdered sugar: Place 1 cup granulated sugar + 1 tablespoon cornstarch in a blender and process until powdery consistency is reached. Measure quantity needed after blending.
Dairy Substitutes:
1 cup dairy milk = 1 cup any nut milk, soy milk, coconut milk, etc.
1 cup milk = 1/2 cup evaporated milk + 1/2 cup water
1 cup milk = 1 cup reconstituted dry milk + 2 tablespoons melted butter
1 cup sour milk or buttermilk = 1 tablespoon lemon juice or vinegar plus enough fresh milk to make one cup
1 cup sour cream = 1 cup Greek yogurt and vice versa
1 cup whipping cream = 2/3 cups whole milk + 1/3 cup melted butter
Egg Substitutes:
1 whole egg = 2 egg yolks (in custards or creamed dishes)
1 whole egg = 2 egg yolks + 1 tablespoon water in cakes, etc.
1 whole egg = 2 egg whites
1 whole egg = 1 tablespoon cornstarch dissolved in 1 tablespoon water
Chocolate Substitutes:
1 ounce unsweetened chocolate = 3 tablespoons cocoa + 1 tablespoon butter or coconut oil
1 cup semisweet chocolate (6 oz.) = 6 tablespoons unsweetened cocoa + 7 tablespoons sugar + 1/4 cup butter or coconut oil
Leavening Substitutes:
1 teaspoon baking soda = 2 teaspoons baking powder and omit salt
1 teaspoon baking powder = 1/3 teaspoon baking soda + 1/2 teaspoon cream of tartar
I have found lots of resources online with other substitutions, so be creative and do a little research when you find you are short of an ingredient. One technique I use is to check my pantry, fridge and freezer for everything I need before beginning a recipe.
When you find you are short on a specific ingredient, you can search for a substation for that particular one. Another trick is to search for a recipe using the ingredients you do have on hand; for instance, "flourless chocolate cake" or "bread without yeast."
---
Homemade Mayonnaise
Ingredients:
1 egg yolk* room temperature
1 teaspoon dijon mustard
1/4 teaspoon salt
1 teaspoon vinegar (white or cider)
1/1/2 teaspoons lemon juice
3/4 cup oil (avocado, olive or canola)
Instructions:
Place egg yolk, mustard and salt in blender or food processor. Mix until blended. Add vinegar and lemon juice, and pulse until well combined.
With motor running very slowly, add oil in a steady stream until mixture is well emulsified, thick and creamy.
Store in refrigerator and use within 1-2 weeks.
* If you have concerns regarding the use of a raw eggs, you can pasteurize them before use. Place room-temperature eggs in a steamer basket over an inch or two of water in a saucepan. Slowly bring the water to 140 degrees and steam for 5 minutes. Do not allow the water to exceed 140 degrees or the egg will start to solidify. Rinse the egg carefully in cold water and use as a raw egg.
---
Basic Vinaigrette
Ingredients:
One part acid such as lemon, lime, wine vinegar, balsamic vinegar or cider vinegar
Two parts oil such as olive, avocado or canola
Seasonings such as salt, pepper, garlic, herbs (fresh or dried)
Additions such as tomato paste, cheese or avocado
I encourage you to try all sorts of combinations until you come up with the perfect dressing for your palate.
Instructions:
This is my basic "go to dressing":
Dissolve 1 teaspoon salt in 1 tablespoon lemon juice and 1 tablespoon wine vinegar.
Mix in 1-2 cloves crushed garlic or 1 teaspoon garlic powder. (If garlic salt is all you have, just omit salt, above.)
Add 2 teaspoons chopped fresh herbs or 1 teaspoon dried herbs.
Mix well and slowly drizzle 1/4 cup oil into mixture while whisking constantly.
Ready to serve when it is opaque and slightly thickened.
Notes:
When using 1 tablespoon tomato paste, add it to the vinegar.
When using avocado, it's best to mash well or mix dressing in a blender.
Use lime juice for the acid and cilantro for the herb for a delicious "Mexican style" dressing.