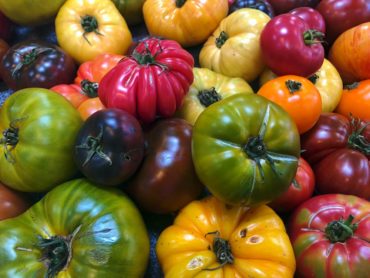 No matter how you say it – "toe-MAY-toe" or "toe MAH-toe" – there is no doubt these luscious, juicy fruits are at the top of the list for late-summer, garden-to-table enjoyment.
Tomatoes are the No. 1 produce grown in home gardens, and frequently the reason most people start gardening in the first place. A resurgence of interest in heirloom varieties is making more and more interesting colors and shapes available in grocery stores and at farmers markets.
Colors of tomatoes can range from chocolate brown to bright yellow, orange and, of course, red. There are mammoth slicers that weigh a pound or more, and tiny sweet cherry tomatoes barely half inch in diameter. Most heirloom varieties are open pollinated, many grown organically, and they are never genetically modified.
The term "heirloom," as applied to plants, apparently came from one "Prof. William Hepler at the University of New Hampshire, who first used the term 'heirloom' to describe some beans that friends had given him back in the 1940s," according to the website tomatofest.com. Later, Kent Whealy of Seed Savers Exchange used the term publicly in a talk he gave in 1981.
The general understanding is that "heirloom" has come to mean seeds handed down from one generation to the next, having been in circulation prior to 1940, open-pollinated, and if cross-bred at some point, dehybridized over a period of many plant generations.
Tomatoes are members of the nightshade family, which sports many edible varieties as well as poisonous ones. Tomatoes, potatoes, peppers and eggplant are the most commonly recognized and eaten in this country, but tomatillos and ground cherries are gaining in popularity. It is thought tomatoes originated in South America.
Many seed companies offer heirloom tomato seeds, and gardeners are enjoying the hunt for their special favorites. Ed Hume Seeds and Territorial Seeds offer varieties of organic and open-pollinated tomato seeds that grow particularly well in Pacific Northwest gardens. Winter is a great time to peruse catalogs and place orders for next years garden.
Varieties that grow particularly well in this area are the round, red "Stupice," with large potato-like leaves; the large, flattened, oval "Cherokee Purple," which is purplish pink to brown in color; "Yellow Persimmon," which, as the name implies, is shaped like a persimmon and is bright yellow; and "Hillbilly," which doesn't know if it wants to be red or yellow, so it is streaked with yellow and orange.
An important source of lycopene, vitamins, minerals and polyphenols, tomatoes are a nutritious and delicious healthy addition to the table year-round. They lend themselves well to preserving by canning, freezing and drying, for use out of season.
Many people feel that the best way to enjoy tomatoes is to just eat them raw at the height of the season, and cultures in warm climates around the globe use them in dozens and dozens of ways.
South American recipes include stuffing with other raw garden vegetables and serving as a salad or main dish, tomato cucumber gazpacho, ceviche and, of course, salsa. The Mediterraneans favor dishes such as caprese salad, Greek salad or bruschetta. In India, raw tomatoes are used to make chutneys and grilled sandwiches.
Tomatoes should never be refrigerated. It is best to store them at room temperature until ready for use, as refrigeration deadens the taste and alters the texture.
What follows is a selection of my favorite ways to enjoy this wonderful taste of summer.
---
Caprese Salad "Insalata Caprese"
Ingredients:
Allow 1 tomato and 1 oz mozzarella per person
Plump "just ripe" tomatoes
Sliced fresh mozzarella
Whole small basil leaves (or chiffonade if larger)
Fresh, high quality EVOO
Freshly ground sea salt and pepper.
Instructions:
Slice tomatoes and mozzarella in 3/16-inch slices. Arrange alternately on a plate or platter.
Tuck basil leaves between tomatoes and cheese. Drizzle with olive oil. Grind seasonings evenly over tomatoes and cheese.
Let set at room temperature about 1/2 hour before serving.
---
Traditional Greek Salad "Horiatiki"
Quantities according to preference
Ingredients:
Fresh, ripe tomatoes, any color
Crisp cucumber (peeled if thick skinned)
Red onion
Bell pepper — red, orange, yellow or green to contrast with tomatoes
Kalamata olives
Pinch of salt
Dried Greek oregano
Olive oil
Red wine vinegar
Instructions:
Cut tomatoes into wedges or bite-sized chunks. Cut cucumbers in half lengthwise, remove seeds if large.
Cut onion into quarters and slice thinly. Deseed and cut peppers into chunks.
Toss vegetables together. Sprinkle with a pinch of salt, olive oil and vinegar to taste, and lightly toss.
Scatter a handful of olives over vegetables. Place thick slices of Feta cheese on top of salad, sprinkle with oregano and a little olive oil.
Serve with crusty bread.
---
Open-Face Broiled Tomato Cheese Sandwiches
My childhood favorite
Ingredients:
1 slice whole grain bread
Mayonnaise
Sliced tomato
Slice of cheddar cheese
Salt and pepper
Instructions:
Preheat broiler.
Spread bread with mayonnaise. Cover with sliced tomato. Place cheese on top of tomato and sprinkle with salt and pepper.
Broil until cheese is bubbly. Remove from broiler and let cool slightly before eating.