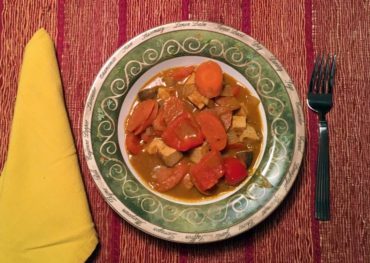 There are as many different kinds of curries as there are cooks who prepare them. Once the basic sauce is prepared, nearly any combination of vegetables can be combined, meat added if desired, and a nutritious and delicious meal can be on the table in less than a half hour.
Curry, which has become a restaurant item in the West, actually refers to a variety of spices that combine to attain an intended flavor. Originating on the Indian subcontinent, specific blends of spices and the varieties of foods combined with them tend to be fairly regional. Discovery of mortar and pestle, which dates to 2600 B.C., indicate spices were gathered, ground and used to flavor foods in very early civilizations.
Curry dishes can be wet or dry. Dry preparation requires making a dry rub or marinade, which absorbs into the surface of the meat or vegetable. The dish is then finished by dry roasting, grilling or frying.
Wet curries combine vegetables and meats in a sauce that usually contains broth or coconut milk or both, and are commonly served over rice. Curry is usually quite spicy and is often accompanied by a cooling yogurt dish to calm the heat.
Although for the sake of convenience, curry sauce can be purchased in the specialty foods section of most grocery stores, it is easy to make at home. This is inexpensive as well as healthier. Commercially prepared foods tend to be high in fat, sugar and salt. The conscientious, health-minded home cook can take pleasure in assembling the ingredients and preparing a delicious and satisfying curry to suit person taste.
This column generally tends to focus on seasonal foods available at farmers markets and grocery stores, but for January, those items are slim pickings. As we all generally have stock items in our refrigerators and pantries, I defers to using what there is on hand. Also, for those with a chunk of turkey meat in the freezer from Christmas or Thanksgiving, a curry is a nutritious and delicious way to use it up.
The focus of In the Market Now also is on healthy eating, and curries by their nature are low in calories, fat and sodium because the bevy of herbs and spices in them combine to heighten flavor with very little salt.
Frequently, curries are vegetarian or vegan, but there is no harm in adding a little meat — a strictly personal preference. Most curry sauces depend on pureed vegetables or cream for thickening. The recipe included here uses a base of cooked lentils, which adds extra nutrition and flavor while offering substance and creaminess to the sauce.
Once the base sauce is made, it can also be used in a variety of ways. Adding sautéed vegetables to it makes a traditional dish to serve over rice. There are no rules about which vegetables to use — use what you have. Carrots, potatoes, butternut squash chunks, mushrooms, green beans, cauliflower, broccoli, pea pods and summer squash are all good choices. Leftover precooked meats such as chicken, lamb, pork and beef, cut into small chunks, make a hearty addition for meat lovers.
The following recipe is adapted from one that Jamie Oliver presented in his BBC series "School Dinners."
---
Curry Base Sauce
Recipe adapted by Barb Bourscheidt
Ingredients:
1 cup red lentils
2 medium onions, peeled and roughly chopped
3 medium carrots, roughly chopped
1 red pepper, deseeded and roughly chopped
Olive oil or vegetable oil
6 cloves garlic, peeled and roughly chopped
2 tbsp fresh ginger, peeled and roughly chopped
6 stems of cilantro (with leaves), chopped
1/4 tsp red chili flakes
1 tbsp ground coriander
1 tbsp ground cumin
1/2 tsp ground black pepper
1 tbsp ground cinnamon
1 tbsp paprika
1 tbsp turmeric
1 tbsp garam masala
2 15-ounce cans diced tomatoes
1 1/2 cups water
1 cup coconut milk
Salt
Freshly ground black pepper
Instructions: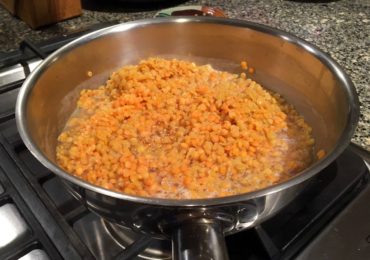 Wash the lentils, then place them in a pan and cover with cold water. Bring to the boil and simmer gently for 15 to 20 minutes, or until tender.
Meanwhile, pulse all the raw vegetables, garlic and ginger in a food processor until finely chopped.
Heat enough oil to cover the bottom of a large saucepan, put it on a low heat, add the spices and toast gently for a couple of minutes. Add the chopped vegetables to the spices and cook for 5-10 minutes until the onions start to soften.
Add the tomatoes, water and lentils and simmer for another 30 minutes. Add the coconut milk. Bring to boil then remove from the heat and blend until smooth using a hand-held stick blender. Season to taste. Set aside to cool then use as required.
Freeze excess sauce to be used at a later date.
---
Turkey Curry
Recipe by Barb Bourscheidt
Ingredients:
1 tbsp olive oil
1 medium onion, peeled and chopped
2 medium carrots, sliced 1/4-inch thick
1 cup mushrooms, quartered
1 red pepper, diced
1 cup roast turkey, cut into 1/2-inch cubes
2 cups curry base sauce
1 cup water or coconut milk
Instructions:
Heat oil in a nonstick skillet. 2. Sauté the onion gently for 10 minutes, then add the remaining vegetables and mix.
Add the curry base sauce and simmer gently for 20 minutes, taking care not to overcook the vegetables. 4. Add chopped turkey and simmer about 5 minutes.
If the sauce becomes too thick, add a little water or coconut milk to give you the desired consistency.
Serve over brown rice or in a bowl as a stew.