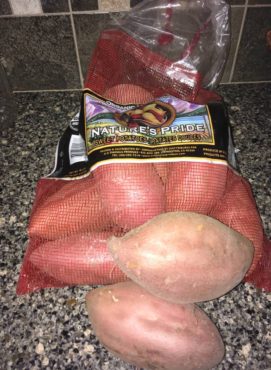 Is it a sweet potato or a yam? Much confusion abounds as to whether they are the same thing or not, and what, if anything, is the difference.
Unless you visit an ethnic-foods market that imports vegetables from Africa, it is doubtful that the long, red skinned tuber offered for sale is a yam. Yams are not grown commercially in the United States, and 95 percent of the world's production comes from West Africa.
Botanically speaking, sweet potatoes and yams are not even related. Both are tubers, but yams are monocots, related to lilies and grasses; while sweet potatoes are dicots, closely related to flowering morning glories.
Although similar in appearance and nutritional value, they are much different in taste and texture. Yams are more the texture of a regular potato, and not nearly as sweet as, well, sweet potatoes.
The confusion may have begun in the slave-era South, when sweet potatoes became a cultivated crop. The African word "nyami," meaning "to eat," may have been shortened to "yam" and it just stuck. Over the years, the name became interchangeable with sweet potato as grocers had no way of knowing the difference.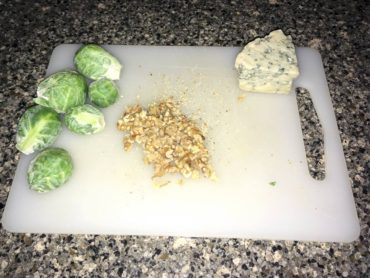 Today, over half of the United States supply of sweet potatoes is grown in North Carolina, and much of what comes into Washington is grown in California. It is possible to grow sweet potatoes in the Pacific Northwest but not on a commercial basis as our climate and soils are better suited to russet or Yukon gold potatoes.
Nutritionally, sweet potatoes offer a broad array of beneficial vitamins, minerals and fiber. They are easy to prepare, delicious to eat and satisfying. As they are harvested in late summer and early autumn, they are abundant in the markets in November and prices are reasonable.
Here follows a few recipes for your cool weather cooking and enjoyment.
---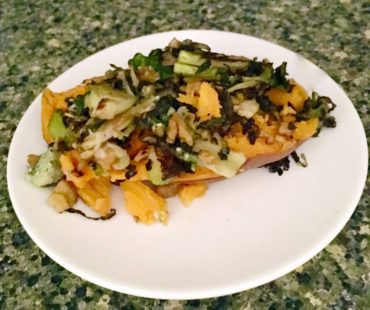 Sweet Potatoes Stuffed with Brussels Sprouts, Walnuts and Blue Cheese
Serves 4
Ingredients
2 large sweet potatoes
12-16 Brussels sprouts
8 tbsp walnuts
4 tbsp blue cheese
1 tbsp olive oil
Kosher salt and pepper to taste
Directions
Wash and cut ends off sweet potatoes. Wrap damp potatoes in paper towels and microwave on high 4 minutes. Let potatoes rest for 2 minutes, then test for doneness. If needed, turn over, microwave 2 more minutes, tallow to rest, and test again. Take care not to overbake.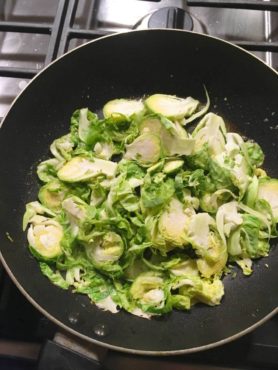 While potatoes are cooking, wash and cut stems off sprouts, and slice lengthwise into 1/4-inch slices.
Heat olive oil in nonstick skillet, add sprouts and stir to coat with oil.
Coarsely chop walnuts, stir into sprouts. Saute until sprouts begin to brown around the edges.
Cut blue cheese into 1/4-inch chunks. When sprouts are cooked, toss in cheese and stir just until cheese begins to melt.
Remove from heat. Season to taste with salt and pepper.
Cut sweet potatoes in half and slightly mash flesh with a fork, making a little nest in the middle.
Fill indentation with one-fourth Brussels sprout mixture.
Enjoy!
---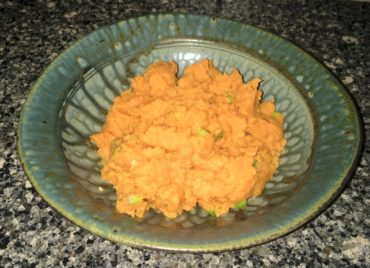 Mashed Sweet Potatoes
Serves 4-6
Ingredients
2-3 large sweet potatoes
4 green onions
1/4-1/2 cup orange juice
1 tsp kosher salt, divided
Pepper to taste
Directions
Peel sweet potatoes and cut into 1-inch chunks. Cover with water, add 1/2 teaspoon salt and cook over medium heat until easily pierced with a fork.
Remove from heat and drain off water.
Chop green onions into 1/4-inch slices, using all of the white and green to the tips.
Coarsely mash the hot potatoes, adding orange juice for moisture and texture. Stir in green onions, salt and pepper.
---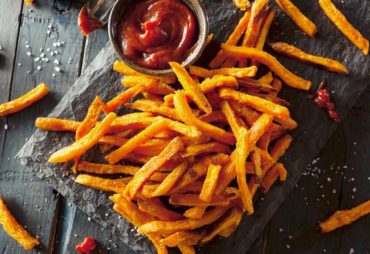 Sweet Potato Oven Fries
Serves 2
Ingredients
1 sweet potato
1 tbsp olive oil
1/2 tps Kosher salt
Paprika and garlic powder to taste
Directions
Heat oven to 425 degrees.
Peel and slice 1 large sweet potato into 1-inch wedges. Place on silicone baking sheet and brush on all sides with olive oil. This should take about 1 tablespoon of oil.
Season on all sides with paprika, garlic powder and 1/2 teaspoon Kosher salt.
Place in hot oven, bake 10 minutes, turn with a spatula. Bake another 10 minutes, turn again. Return to oven, and remove when edges of "fries" just begin to brown.
Serve hot.