Who doesn't love the sweet, juicy crunch of fall's first apple? It is as if all of nature has concentrated the best days of summer and the cooling nights of fall into one beautiful red, shiny gift that makes us happy to be alive.
According to the Washington Apple Commission, six out of 10 apples consumed in the United States are grown here. Check out the commission's website for lots of interesting information about apples.
An apple is perfect just the way it is. It's transportable and not highly perishable, and doesn't have to be peeled. It needs no tools except a hand and teeth to bite into its wholesome goodness.
Everyone loves an apple in their lunch bag, and kids still bob for apples at fall parties. Caramel apples are sold by the thousands at fairs across the country, dips for apples are sold at grocery stores, and it doesn't take much to toss them into a saucepan and make applesauce. Beyond the basics of eating apples raw with little prep, they lend themselves to endless ideas for baked desserts.
There are probably a thousand different recipes for apple desserts, from pies to cobblers to crisps and just plain baked apples. But I am on a quest for a different kind of dessert — one that showcases the lusciousness of the fruit and adds healthy nutrition to the end of a meal.
It all started two weeks ago, when my hubby, Paul, underwent a triple-bypass heart surgery. In our immediate future, the surgeon has limited Paul's sodium intake to less than 2,000 mg per day.
Undoubtedly as time goes on, his health is going to require some serious revisions in my cooking methods and our food preferences. Although I almost always cook from fresh ingredients, there are a few convenience foods stocked in our pantry and refrigerator: canned beans, tomatoes, broths or stocks and of course various cheeses and butter, to name a few.
Sugar, salt and fat are the ingredients that are most pleasing to our palate and do the most harm to us when we overdo their intake, especially over the long term. I propose to redesign our favorite recipes, making them just as palate pleasing but heart healthy. That means first, lowering the sodium (or salt) to the absolute minimum level possible, finding nutritious substitutes to tease the taste buds and satisfy the palate.
Today's recipe features the sweet-tart juiciness of fall apples paired with the smoky sweetness of blackberries. It is fruit forward, enhanced with the crunchiness of healthy, fiber-laden oats.
It's a simple, old-fashioned, "comfort food" dessert slimmed down and modernized for today's healthy living approach.
---
Heart Healthy Apple/Berry Crisp
Ingredients:
4 large eating apples
2 cups blackberries
1/4-1/2 cup sugar
2 tbsp wholewheat flour
1 tbsp cinnamon
1/2 tsp nutmeg
Topping:
1 1/2 cups rolled oats
1/4 cup sugar
2 tbsp whole wheat flour
1/3 cup avocado or canola oil
1 tsp vanilla
Instructions:
Preheat oven to 350 degrees. Spray a 9-by-13-inch pan with baking spray.
Dice apples into 1/2-inch (no need to peel). Toss apples, berries, 1/4 cup sugar, flour and spices together. Taste for tartness. Add additional 1/4 cup sugar if needed.
Topping:
Place oats, flour and sugar in bowl. Drizzle with oil and vanilla and mix thoroughly.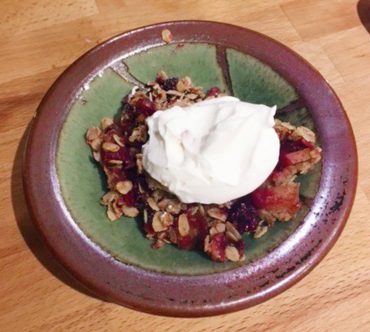 Spread topping evenly over fruit. Place in oven and bake until fruit is bubbly and topping is browned and crisp, about 45 minutes.
Let cool to room temperature and serve with one of these:
A small dollop of whipped cream
A tablespoon of Greek yogurt
A small scoop of ice cream
You can also pour it over 1/4 cup of milk — or, just eat as is! You will love it (maybe for breakfast?)
Note: 1/2 cup chopped nuts can be added to the topping for more crunch.