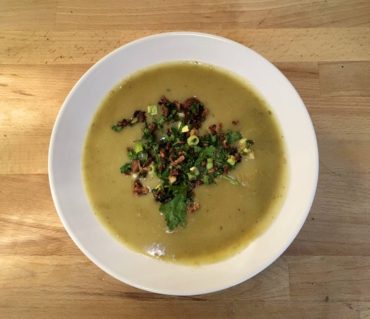 Leeks are the vegetable auntie of the family allium. They are easy to grow from seed or to transplant in the late-spring garden from sprouts, Leeks are long growing and don't mind being in the ground for a long time. They are often best in late winter and early spring.
Leeks are readily available now, often large in diameter and sweet in flavor. Their color is that of the electric green of spring, but their flavor is mellow and comforting.
Potatoes are a staple of so many cultures, they are probably considered a comfort food in most of the world. Because they store so well, they versatile and adaptable to a wide variety of recipes. Potatoes, though harvested in the fall, store so well that they are a dependable food stuff for the last winter months.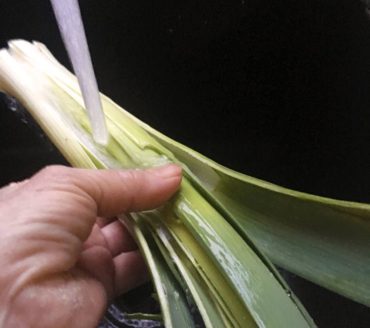 A perfect dish for warming body and soul and chasing the chill of late winter and early spring rainy days is Leek-Potato Soup. It is easy to make and pairs well with crusty bread and a fresh salad.
Start by cleaning the leeks in cold running water. First, cut off the dark green leaves at the top, down to where they turn to a lighter green color. Next, slit the leek lengthwise and place under a stream of running water to rinse any garden soil that may be hidden between the layers of leaves.
Although this recipe is readily adaptable to a vegan version, most people enjoy it with a bit of bacon flavoring and crunch.
---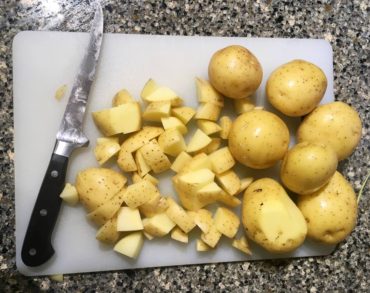 Leek Potato Soup
Recipe adapted by Barb Bourscheidt
Ingredients:
4-6 slices smoked bacon
1 medium sized onion, chopped in 1/2-inch cubes
2 large leeks, tough dark green leaves removed, cleaned and sliced into 1/2-inch rounds
2-3 cloves garlic, chopped
3 pounds white potatoes, chopped in 1/2-inch cubes (if skins are thin, no need to peel)
2 tsp dried thyme, or 1 tsp fresh
8 cups chicken broth
1/4 cup chopped Italian parsley
2 tbsp chopped chives or green onions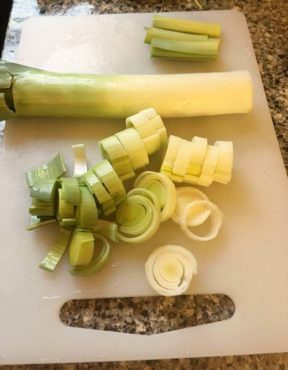 Instructions:
Fry bacon in bottom of 3-quart stockpot.
Remove bacon, drain on paper towel, then crumble and set aside.
Drain off all but 2 tablespoons of the fat. Add onions and leeks. Sauté until the onion is translucent and leeks are soft.
Add potatoes, thyme and 6 cups of the broth. Simmer over medium heat until potatoes are soft.
Remove from heat and puree with a stick blender, adding additional broth if needed for desired consistency. Adjust seasoning by adding salt and pepper.
Ladle into warmed bowls, sprinkle with crumbled bacon, chives and chopped parsley.
Enjoy!