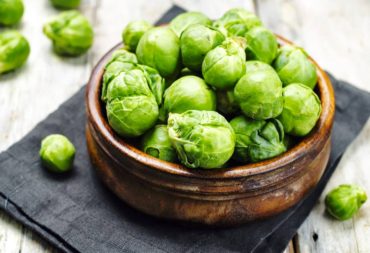 Little, green mini cabbages that are frequently offered on long, straight stems intrigue the eye and confound the mind. A staple winter vegetable, Brussels sprouts suffer a love/hate relationship with most consumers. Those with a more sophisticated palate usually enjoy them and prepare them in a large variety of ways, and those who generally shy away from anything green may have never tasted them.
Although they are native to the Mediterranean region, it is thought that cabbages and Brussels sprouts may have been brought to Northern Europe as early as the 5th century. These easy-to-grow vegetable was widely cultivated in Belgium by the 13th century, hence the name Brussels sprouts.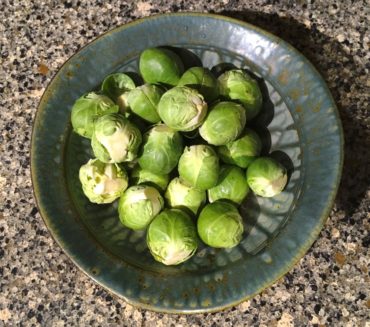 Most of Europe's crop is grown in the Netherlands. England grows nearly as many bushels as Holland, but few, if any, are exported, as they are a favorite there. Included here is a rendition of a British Brussels sprouts recipe.
Like most cruciferous vegetables, which are members of the mustard family, Brussels sprouts can become strong flavored and bitter if stored too long or cooked incorrectly. The most flavorful time of the year to eat them is during harvest, which generally runs in our climate zone from late November through February.
They are considered a "cool season" crop, are planted in late summer and are ready for harvest about 90-100 days later. The best yields occur on plants grown in rich soil where temperatures range between 50 and 75 degrees Fahrenheit.
Washington state's Skagit Valley is a major West Coast producer of Brussels sprouts, making this nutritious veggie both abundant and affordably priced in local produce markets. Brussels sprouts are at their flavorful best after a light frost, hence they are a wonderful winter vegetable.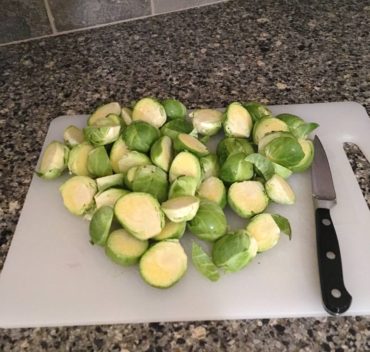 As with any vegetable, the key to success in preparation is in not overdoing it. Fresh sprouts should have an almost sweet, nutty flavor and give a decided crunch when bitten or cut into. The traditional way to serve them is by cooking, although recipes for serving and enjoying them raw are beginning to surface.
Roasting the sprouts either whole or by cutting in half is gaining popularity over boiling or steam cooking, and also a method for braising them popped up recently.
I hold the opinion that the key to enjoyment and the best flavor is in the preparation. Three recipes follow: one for raw sprouts and two for cooked.
---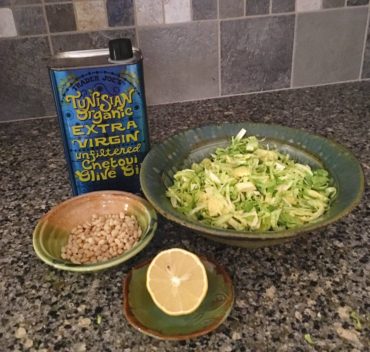 Simply Sprouts
Recipe adapted by Barb Bourscheidt
Ingredients:
Choose firm, tightly closed, bright-green sprouts at the market. One pound will serve four people.
Instructions:
Wash sprouts, take off tough outer leaves, and cut stem to base of the sprout. Cut a little X in the bottom of each base.
Place sprouts in a saucepan and just cover with water. Bring quickly to a boil and cook for about 5 minutes.
Test with a skewer. The goal is to have them just barely tender and still bright green.
Drain, shaking off water and drizzle with 2 tablespoons of melted butter. Salt and pepper to taste.
Note: A variation on this recipe is to drain the sprouts well and add to butter melted in a hot skillet. Stir as butter browns and sprouts start to crisp around the edges. Season and enjoy!
---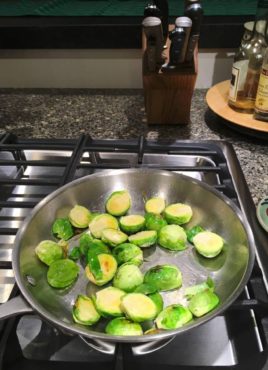 Pan Roasted Brussels Sprouts with Walnuts, Cranberries and Blue Cheese
Recipe by Barb Bourscheidt
Ingredients:
1 pound firm, green Brussels sprouts, washed, stemmed and cut in half
2 cloves garlic, chopped
2 tbsp olive oil
About 1/4 cup each chopped walnuts, crumbled blue cheese and dried cranberries
Salt and pepper to taste
Instructions:
Slowly heat oil and add sprouts. Stir over medium heat until the sprouts start to color, add a few drops of water and cover. Cook about 4 minutes until sprouts are tender. Add garlic and continue to cook until garlic is translucent.
Season with salt and freshly cracked black pepper; toss nuts, cheese and cranberries together with the sprouts. When cheese starts to soften, serve immediately!
---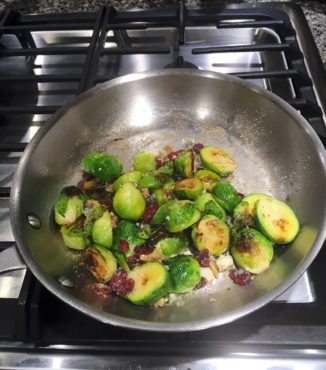 Sprouts Salad
Recipe by Barb Bourscheidt
Ingredients:
1 pound fresh, firm, green Brussels sprouts
4 tbsp extra virgin olive oil
2 tbsp fresh lemon juice
2 tbsp fresh-grated Parmesan cheese
2 tbsp roasted pine nuts or sunflower seeds
1/4 tsp salt
1 clove garlic, minced
Instructions:
Wash, stem and finely slice the Brussels sprouts. Whisk together the olive oil and the lemon juice. Toss sliced sprouts with lemon-oil mixture.
Sprinkle with Parmesan and pine nuts or sunflower seeds, salt, and minced garlic. Season to taste.