It's cold and wet; snow covers the deck and the sidewalks. Nothing warms the home and heart more than turning on the oven and baking something fragrant, spicy and tasty.
The holidays are coming and a traditional delight for me is mincemeat. No, not that horrible stuff you buy in the little box and reconstitute, or the nasty filling sandwiched between two layers of soggy crust from the freezer case.
Growing up, I always liked the idea of mincemeat. I liked the smell of it and I sort of liked the taste, but there was just too much of it! And then, in 1982 ,we moved to England.
Our first Christmas there, we were invited for a holiday drink to the home of some folks who over the years became close, dear friends. In a typically traditional English country Christmas way, they served us a beautiful tawny sherry and the most luscious little mincemeat tarts that melted in my mouth.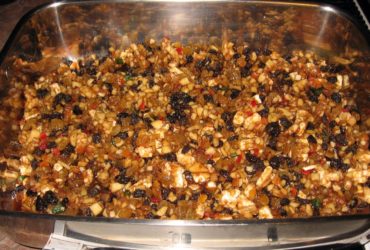 Eureka! Mincemeat isn't supposed to be served an inch thick in a 2- to 3-inch wedge! It is supposed to be served in little two to three bite tarts, nestled in buttery crust and sprinkled with sparkly sugar crystals!
My quest for the recipe began that very afternoon. Flipping on the "telly," I caught a cooking show presented by Delia Smith, an English version of the Barefoot Contessa. I promptly went to the bookstore, bought the companion book to her TV show, and lo and behold, found the recipe for "Old Fashioned Christmas Mincemeat."
From that day forth, mincemeat making happens around our home a few weeks before Christmas. People who dislike mincemeat find they can't eat "just one" of these little tarts; those who like mincemeat, devour them and usually ask for the recipe.
Early English recipes called for scrap meat of mutton, venison or ox mixed with fruit and spices, probably as a holiday treat. The addition of wines or vinegars added a bit of brightness to the palate.
Over the centuries, meats were slowly changed to suets, and nowadays, vegetable shortening is often used to supply the fat. Spirit liquors replaced the wines. I use butter for its richness and as a nod to "meat," and brandy for its mellow, warming flavor.
---
Christmas Mincemeat
(Recipe adapted by Barb Bourscheidt)
Makes about 5 pounds or enough for about 96 mini tarts
Ingredients:
1 pound cooking apples, peeled, cored and finely (1/4 inch) chopped
8 ounces butter
2 cups golden raisins
3 cups raisins
1 1/2 cups zante currants
1 1/2 cups soft brown sugar, packed
Grated rind and juice of 2 oranges
Grated rind and juice of 2 lemons
2 tsp ground cinnamon
1 tsp ground nutmeg
1/2 tsp ground cloves
1/2 tsp ground allspice
1/4 tsp ground ginger
1/2 cup brandy
Directions:
Mix all ingredients except brandy in a large bowl or nonreactive roasting pan. Cover with a cloth and let sit at room temperature for 12 hours. Place in a cool oven, 220 degrees for 3 hours. Allow to cool to room temperature, stir in brandy, and spoon into clean, dry jars with tight fitting lids. Mincemeat will store in a cool, dark, dry place for several months.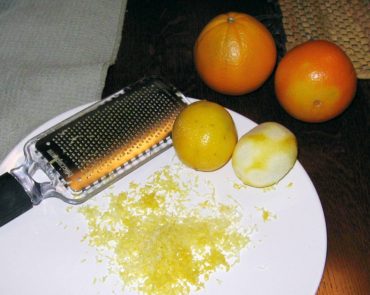 Notes:
4 teaspoons pumpkin pie spice plus 1 teaspoon cinnamon may be used instead of spices listed.
An economical way to purchase fresh spices is to buy small quantities from the bulk spice section of the grocery store.
To make Mini Mincemeat Tarts:
Cut rolled pie crust into 2-inch rounds and press into mini muffin tins. Place about 2 teaspoons mincemeat into each well. Top with a little cutout of crust, such as a leaf, or just a circle. Sprinkle tops with a little sugar.
Bake in 350-degree oven until crust is brown and filling is bubbly. Remove from tins when slightly cool but warm enough to the touch; the filling won't stick if it has run over a bit. Be prepared for these to disappear off the plate!