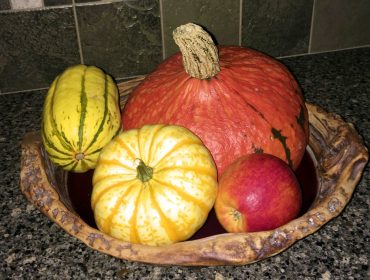 Blue Hubbard (shaped like a football), pleated dark-green acorn, delicate delicata and buttery-skinned butternut are just a few of the many varieties of beautiful winter squash available this autumn. Grocery stores and farmers markets are brimming with these thick-skinned and delicious, nutritious, meaty wonders that will store all winter if kept cool.
Many of our winter squash look like pumpkins and can be substituted for them, just as pumpkin may be used in place of squash in a recipe. Pumpkin is a member of the squash family — in fact, they are really all gourds. The word squash is used here to encompass the entire genre.
Most recipes such as breads, soups and pies call for cooked or pureed squash, and even the stuffed-squash recipes are more successful if the squash is cooked at least partially prior to stuffing.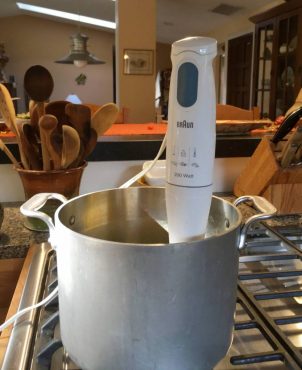 Pureed Squash
For puree, begin by cooking to soften, and whirring in a blender or food processor:
Cut the fruit into large pieces, arrange skin-side up in a large baking dish, add a 1/2 inch or so of water, and steam in the oven or microwave.
The oven temperature for baking should be about 400 degrees and depending on the thickness of the pulp, allow between 30 minutes and an hour. The squash is ready for processing when a fork easily pierces the skin and flesh.
If using the microwave, place the fruit skin-side down in a microwaveable glass dish, add _ inch water, cover loosely with waxed paper, and microwave on high for about 12 minutes.
Check for softness and reset microwave in 5-minute intervals, checking every 5 minutes until ready. Remove squash pieces from water and set aside until cool enough to handle. At this point, the lovely flesh is easily peeled with a paring knife and ready for mashing or blending into a puree.
Stuffed Squash
For stuffing, begin by cutting a small squash, such as a delicada, an acorn, in half lengthwise.
Remove the seeds, brush with a little olive oil and place flesh-side down on a baking sheet. Note: If using a round squash, such as a sweet dumpling or small carnival type, cut the top off about 1/2 inch below the stem, bake both pieces flesh-side down and reserve for serving.
Bake in a 400-degree oven 25-30 minutes or until tender.
---
Easy Squash Soup
Recipe by Barb Bourscheidt
Begin with a baked pureed orange or yellow fleshed squash or pumpkin. Canned pumpkin puree may be used (Not prepared Pumpkin Pie Filling).
Ingredients:
I medium onion, finely chopped
2 large cloves garlic, chopped
2 tablespoons olive oil
2 apples, any variety, peeled, cored and chopped
2 teaspoons garam masala (or other preferred curry powder)
1 teaspoon salt (or to taste)
4 cups chicken broth
4 cups squash, baked, skinned
Instructions:
Sauté onion and garlic in olive oil until soft and translucent. Sprinkle with curry powder and stir until spices begin to bloom with fragrance, about 2 minutes. Add chopped apple, salt chicken broth and squash. Bring to boil over medium heat, cover and simmer until apples are soft and fully cooked, about 15 minutes. Puree all contents in stockpot with stick blender. Thin with a little milk, or apple cider if dairy free is preferred.
Serve piping hot sprinkled with toasted candied or toasted salted pumpkin seeds. (Available in many bulk food sections of grocery stores)
---
Baked Stuffed Squash
Recipe by Barb Bourscheidt
1/2 Small squash per serving, baked according to directions above. This recipe will stuff 2 halves, or two small round squash such as sweet dumpling.
Ingredients:
2 strips bacon sliced crosswise into 1/2″ strips
1 large stalk celery, diced
1/2 cup shopped onion
1 apple, cored, chopped medium fine. No need to peel
1/2 cup raisins,
1/4 cup walnuts, chopped to about 1/4″
1/2 tsp dried thyme
Sea salt and Fresh ground pepper to taste
Directions:
Fry bacon until crisp and golden, remove to small dish. In about 1 tablespoon bacon fat, sauté onion and celery until soft. Add chopped apple and walnuts. Toss in raisins, thyme and salt and pepper. Top with bacon crumbles. May also be topped with grated Parmesan cheese if desired. Place in 350-degree oven for 15 minutes.
Note: Any browned ground meat or crumbled sausage could be added to this recipe for a heartier version.