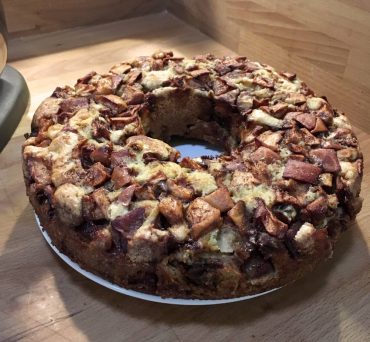 "As American as apple pie," the saying goes. "An apple a day keep's the doctor away" — maybe because an apple is full of fiber and vitamins and minerals? And then, stories abound about a guy name Johnny Appleseed who went across the country scattering apple seeds.
It turns out that John Chapman (1774-1845), a disciple of the New Swedish Church, did indeed travel about the country, and his mission was to plant those seeds and establish orchards and apple nurseries.
Chapman's first orchard, near Fort Pitt, Pennsylvania, was established by growing trees from the seeds of cider apples he scavenged from nearby cider mills. This eccentric nurseryman travelled barefoot, dressed in sackcloth. He avowed poverty and only wanted to preach the gospel and plant nurseries of trees.
He scouted the pathways he thought the pioneers headed west would likely follow, and planted apple seedlings on many sites along the way. As the pioneers moved west, he dug up seedlings and sold them or gave them away when the need arose.
Chapman did not believe in grafting, as the thought among botanists at that time was that the stock would be weakened and less likely to thrive. So although this charming story would lead one to think the pioneers would be fed by luscious, crunchy, sweet, healthful fruit, the truth is, these were cider apple trees, offering juice — which when stored turned to alcohol, or "hard cider." It is no wonder Johnny Appleseed is remembered with such favorable stories!
Most apple stock came from the Old World, and in the 1800s there were hundreds of cultivars being grown in the United States.
Slowly, as apple production became a serious agricultural industry, orchardists started cultivating the most hardy, pest-resistant, beautiful and tasty varieties. In the '40s and '50s, few varieties were found in grocery stores, mostly Red Delicious for eating and McIntosh for cooking or baking.
Actually, nearly all apples can be used for either eating or cooking, although some varieties are better suited for each application. Epicurious has an excellent apple chart on its website for identifying apples commonly found in our markets.
Today there is a resurgence in cultivating heirloom varieties of apples, and many interesting varieties are beginning to appear in specialty grocers and farmers markets. Apple growers and home gardeners are selecting varieties based on those best suited for taste, climate, soils, water requirements and pest resistance.
Commercially produced apples have long been one of the most heavily treated crops with pesticides, so pest resistance bred into a fruit is beneficial not only to the environment but to those who eat the fruit.
Plant breeding is not the same thing as genetically modifying a plant. Selective breeding comes either from grafting one cultivar onto another, resulting in gaining the best qualities of both; or from purposefully cross-pollinating one variety with another, sometimes resulting in a hybrid. Heirloom Orchards in Hood River, Oregon, specializes in organically grown heirloom varieties of apples and pears and has an excellent chart online (pdf).
Choosing the Best Variety
When choosing apples for a specific use, it is good to know which are best suited. Typically, most eating apples will cook down more quickly and become softer, while most cooking apples will remain firmer.
Well-known eating apples are varieties such as Red Delicious, which has descended from a variety purchased by Stark Nurseries in 1892. Chosen and widely grown for its iconic red skin, this delicious apple could be tough skinned, sometimes grainy and a little bitter. It has fallen out of favor recently, however, as production of Honeycrisp, Gala and Fuji apples has increased and their sweet crispiness was discovered by consumers.
Varieties traditionally thought of as cooking apples are Gravenstein, Granny Smith, McIntosh, Braeburn and Newton Pippin. Tart and sweet at the same time, cooking apples fall into two categories: baking and cooking.
Gravenstein and McIntosh make excellent apple sauce because they soften quickly, while Granny Smiths are better for pies because they stay firm, for example. Apples that are too juicy, as some eating apples, require the addition of an extra thickening agent such as flour or cornstarch when baking a pie.
In essence, apples are such a glorious fruit, eat whatever is the most pleasing, and use whatever is on hand for cooking and baking!
Since it October, the time of Oktoberfest, readers are encouraged to try some seasonal apple recipes such as Apple Strüdle, and excellent recipe found on the Pepperidge Farm puff pastry package.
Below are a couple of my favorite recipes.
---
Olde Apple Cake
(A traditional fall recipe found in many places, adapted by Barb Bourscheidt)
Set oven at 350 degrees. Grease and flour an angel food cake pan, or a 10- to 11-inch spring form with tube center.
Ingredients:
single crust for a 9″ pie

4-6 favorite apples
1 tbsp cinnamon
1 tsp ground nutmeg
1/2 tsp ground cardamom
1 tbsp per apple granulated sugar
2 3/4 cups all-purpose unbleached flour
1 tbsp baking powder
1 tsp table salt
1 cup olive oil (or melted butter, or melted coconut oil)
2 cups granulated sugar
1/4 cup orange juice or apple cider
1 tbsp vanilla extract
4 eggs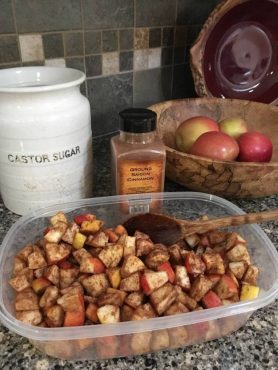 Instructions:
Wash apples, cut into quarters, core and chop into 1/2-inch cubes (no need to peel).
Toss apples with spices and sugar. Set aside.
Blend flour with baking powder and salt.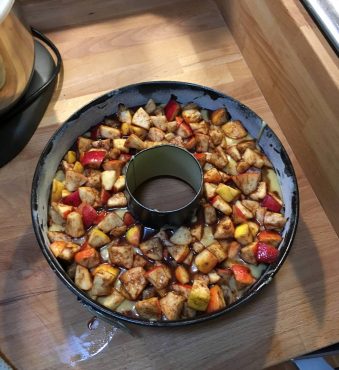 Whisk oil, sugar and juice together; add eggs and mix well; add vanilla. Add dry ingredients to wet ingredients, and mix well.
Pour 1/2 cake batter into prepared pan. Add 1/2 apple mixture. Cover apples with the last half of batter, and cover the batter with the last half of the apple mixture, drizzling any juice that has formed over the top.
Bake about 1 1/2 hours until tester comes out clean. If cake seems to be browning too quickly, cover top with aluminum foil and remove during the last 20 minutes or so of baking. Let cool about 1/2 hour, remove from pan and place on a cake plate.
This cake is best if baked the day before it is eaten. It is a moist, sweet, wonderful autumn dessert. It will store well at room temperature for two days, a week in the refrigerator or three months in the freezer.
---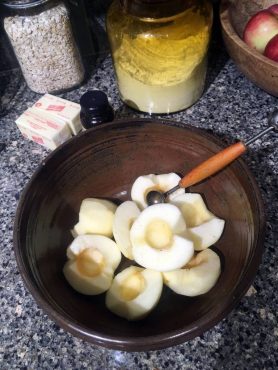 Rustic Apple Galette
Ingredients:
3-4 medium-sized apples
1 tbsp cinnamon
1/2 to 3/4 cup sugar, depending on sweetness of apples
1/3 cup flour
5 tbsp butter, cubed
Dash of salt
1/2 cup coarsely chopped nuts, raisins or blackberries, if desired
1 egg white, or a little milk
Coarse sugar
Instructions:
Peel, core and slice apples into 1/4-inch-thick slices. Sprinkle apples with sugar, flour, spice and salt. Toss together with cubed butter. If adding nuts raisins or berries, toss lightly.
Roll crust into a 10-inch circle on lined baking sheet lined with silicone or parchment paper. Pile apple mixture in center of crust, leaving about a 2-inch margin between apples and edge of crust.
Starting on one side, lift crust over apples, and pleat crust as you go around the apples.
Finished galette will have about a 3-inch open space in the center. Brush crust with egg white or milk, sprinkle with coarse sugar.
Bake 35 minutes at 350 degrees, checking apples for desired softness. Check every 10 minutes being careful not to over brown the crust.