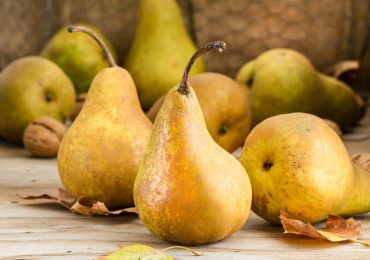 Of all the delicious fruits grown in the Northwest, pears may be the most versatile, succulent and satisfying of all. Pears transcend summer into fall, ripening late summer to early autumn, depending on variety and weather conditions.
This beautiful fruit lends itself to freezing and long-term storage, and is available nearly year-round. But it is never as luscious as when it is freshly harvested perfectly ripe.
The most common varieties in Washington are:
Anjou — green or red, mild and firm
Bartlett — the juiciest
Bosc — russet-skinned and good for cooking
Comice — rounded, fragrant
Concorde — tall, artfully elegant and good for poaching
Star Crimson — my favorite. It sports a beautiful, red, shiny, thin skin; is a good keeper and firm enough for poaching and baking but wonderfully juicy when eaten raw.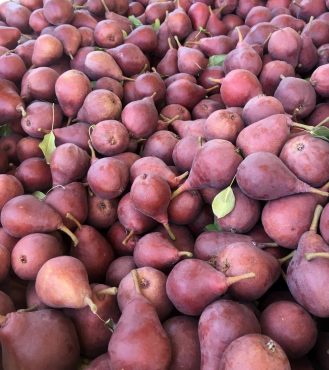 September is the perfect time to buy pears in bulk. They are generally on sale in the grocery stores, the farmers markets are well stocked with several varieties and roadside stands offer them at box rates.
Butler's Farm off Peacock Hill Road in Gig Harbor (3414 137th Street NW) is harvesting now.
Pears combine well with all sorts of lettuces for salads; flavors are spiked with the addition of gorgonzola or blue cheese. Blackberries and toasted, chopped hazelnuts also pair well with pears and add a contrasting texture.
The French are famous for pear tarte tatin, made with puff pastry and caramel sauce. Served warm and topped with a small scoop of ice cream or whipped cream, this dessert is hard to beat.
But for elegance and storing all winter in the freezer, wine poached pears are the hands-down winner.
---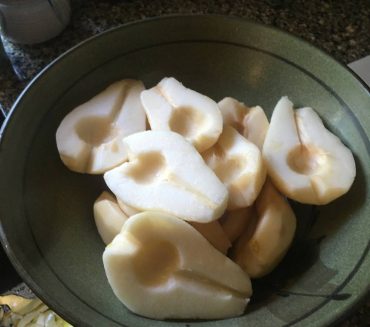 Pear Tarte Tatin
Ingredients:
1 puff pastry sheet (frozen)
3-4 medium slightly firm pears, peeled, cored and sliced about 1/2 thick
1/2 cup sugar
1 1/2 tbsp fresh lemon juice
1 1/2 tbsp water
zest of 1/2 lemon
1/2 tsp nutmeg
2 tbsp butter
Directions:
Preheat oven to 375 degrees.
Defrost pastry according to package directions. Roll into an 11-inch square, cut into an 11-inch circle and chill until ready to use.
In a 10-inch ovenproof skillet, combine sugar, water and lemon juice. Cook over medium heat until golden brown, about 10-12 minutes. Stir in butter.
When butter is melted and combined in syrup, arrange pear wedges in a circle along the edges. Cook over medium-low heat until pears are crisp-tender, about 6-8 minutes.
Place pastry over pears, tucking in edges. Place pot lid or aluminum foil over skillet and bake 15 minutes.
Remove lid and continue to bake until pastry is golden brown, about 15 minutes.
Remove from oven, let cool about 15 minutes and flip tarte onto a large plate, pear side up.
Serve warm with whipped cream or ice cream if desired.
---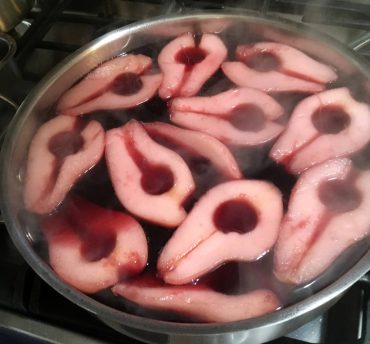 Wine Poached Pears
Ingredients:
6 firm pears such as Anjou or Bartlett, peeled, cut in half and cored
1 cup sugar
1 cup water
2 cups red wine such as cabernet sauvignon or merlot
Peel of one lemon
2 tbsp lemon juice
Directions:
Place all ingredients except pears in large saucepan and bring to a boil. Simmer about 5 minutes.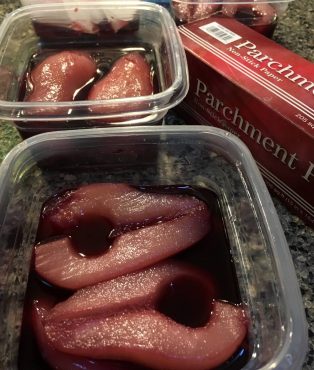 Gently place pear halves in wine mixture, simmer about 3-4 minutes, turn over and simmer until just fork tender. Be careful not to overcook.
Remove from heat and let pears steep in syrup until ready to serve.
Place 2 pear halves in each bowl and bring syrup to the boil. Reduce to about 1/2 cup.
Ladle syrup over pears, garnish with a small dollop of whipped cream or ice cream if desired.
Note: Wine poached pears store well in the freezer. Place 4-6 halves in a plastic freezer container and cover with syrup. When ready to serve, defrost at room temperature, remove pears from syrup and reduce as above.