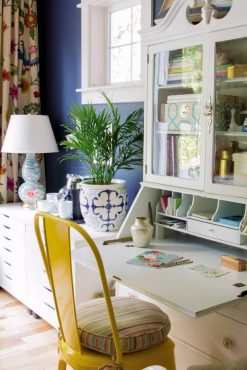 Editor's Note: This is an excerpt from "Make Room for What You Love," the latest book just released from Seattle author Melissa Michaels, the creator of the popular blog The Inspired Room.
1. Lidded boxes, baskets and small trunks
Keep an eye out for lidded boxes and small trunks at flea markets, garage sales or local shops. I have a small, patterned box with a hinged lid on my nightstand for phone cords, notepads and any other random things I need in my room; another one on my desk for my labeling machine, stapler and hole punch; and another on a bookshelf near the dining room for extra drinking glasses. Give your family a small trunk to stash all those game controllers and cords so your TV area stays neat and tidy!
2. Tall open baskets
Larger, tall, open baskets can be attractive for extra throw blankets or even to toss in extra bed or throw pillows when you are sitting or sleeping.
3. Small open baskets
Don't let your pantry look cluttered and feel disorganized. Small, open baskets are perfect for grouping pantry items to give you a streamlined and clutter-free pantry or cabinet while making it easier to find what you want at a glance.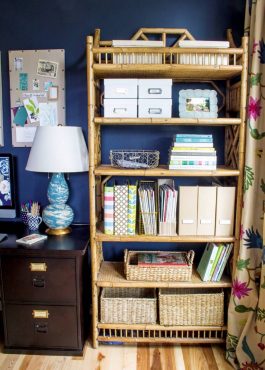 I have a baking basket in my pantry. When the urge to bake strikes, I can easily grab it and find all the little baking items I need, such as baking powder, baking soda, vanilla, almond extract, salt and measuring spoons.
4. Back-of-the-door organizer
Get organized without taking up additional space by adding door-organizing systems. Find space for giftwrap, office supplies, pantry goods, shoes, bathroom necessities, office supplies, craft items, paper, art supplies, cards and more.
5. Desk organizers, bulletin boards, file drawers
Use desk organizers to keep essentials organized and attractive. Hang a bulletin board to pin and contain important reminders, notes or inspirational images. Organize important papers with file folders in drawers or file boxes. Use drawers, cabinets and storage boxes to group office supplies.
6. Pegboard organizers
For keeping small, everyday tools such as screwdrivers, hammers and picture hangers organized, make your own pegboard organizer for the garage or other convenient location. You can find pegboard, hooks and organizers at home improvement stores.
7. Wire baskets
A wire basket is an attractive way to corral wayward items on an entry table (mail or school papers or things to return), as well as the perfect addition to a kitchen counter to hold your pretty hand towels.
8. Large baskets
Have a large basket in or near the entry to toss in shoes or for outside accessories, such as hats and scarves, or for pets, such as their raincoats (yes, our dogs have raincoats for rainy days), harnesses or flashlights for nighttime walks.
9. Under-the-sink storage
The space under the sink is often underutilized and disorganized. Utilize the vertical space by adding stackable drawers, shelf risers or adjustable units specifically made to fit around sink pipes. Fill the drawers or shelves with cleaning supplies under the kitchen or laundry sink, and cosmetics and toiletries under the bathroom sink.
The goal with storage solutions is for them to be functional and beautiful. You'll enjoy maintaining the organization much more, and you'll be much happier to see storage throughout your house if it is a part of your style rather than just unattractive plastic bins that gather clutter and dust.
What kinds of items tend to clutter up your house? After you pare down what you have, how could you solve organizational issues by finding a home for things?
In "Make Room for What You Love," Melissa Michaels shares her own experiences of embracing habits of clearing the clutter and organizing her life and her family's excess especially during the years of moving to different homes. With humor and easy DIY ideas, Michaels outlines steps to having an orderly home and break the cycle of accumulating clutter. For more information, go to theinspiredroom.net/make-room-for-what-you-love.