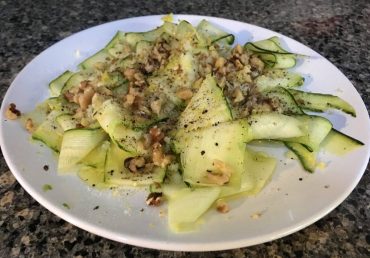 There is an urban legend that a New Jersey law makes it illegal to place zucchini in other people's cars or leave it on a neighbor's porch. The humor in this illustrates just how prolific this commonly grown vegetable plant can be, and how difficult it can be to dispose of excess produce. Recently, a picture of a hunter with a pile of zucchini at his feet was posted on Facebook. The caption read "Zucchini hunting season now open."
Zucchini, or Cucurbita pepo as it is known by its botanical name, is widely cultivated throughout the world and valued for its high yield and rapid growth. Archaeologists have traced the squash back to Mexico and South America, where it was an integral part of the diet as early as 5500 B.C.
Once the Europeans colonized the Americas, only about 50 years passed before it became a popular addition to the Italian table, where it is thought to have first been called zucchini. The green, straight variety are also called "courgette" in France and Great Britain.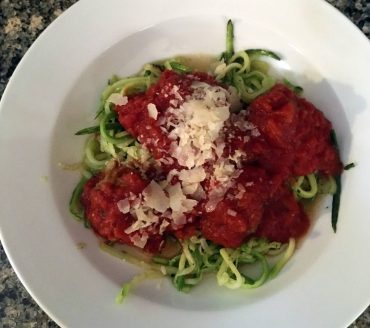 Low-calorie, versatile and nutritious, zucchini and its close cousins are a favorite staple of the summer table. Closely related to yellow crookneck and patti-pan squash, there are dozens of varieties of summer squash available. Many farmers grow them just for their lovely colors and interesting shapes.
When young, summer squash is tender and the seeds are small, lending the vegetable to recipes for steaming, grilling or slicing raw in salads.
Gardeners are sometimes amazed by how this fast-growing vegetable can suddenly produce a gargantuan specimen of 12 to 18 inches or more! When a zucchini reaches this size, it is referred to in England as a "marrow" and is used with apples and spices for chutney.
The latest culinary craze utilizing all sorts of vegetables, but particularly zucchini, is "zoodles" (a.k.a zucchini noodles). Using a new-fangled kitchen tool called a spiralizer, it is possible to make long, pasta-like strands that can be used raw or slightly sautéed, but still retaining an al dente texture. A julienne peeler is a suitable substitute for a spiralizer, as it is less expensive and takes up less storage space.
Included here are two recipes. One is a traditional standby summer salad "Carpaccio of Zucchini" and the other includes a couple of ways to use zoodles. Enjoy!
---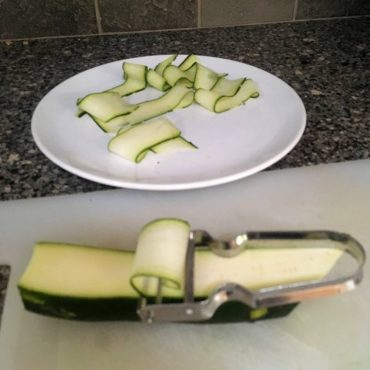 Carpaccio of Zucchini
Yields about 4 servings.
Ingredients:
1 nice, straight, long, green zucchini
1 clove garlic, finely minced
1 tbsp fresh lemon zest
2 tbsp fresh lemon juice
2 tbsp salted and roasted almonds, pine nuts, hazelnuts or pistachios, chopped
Good-quality extra-virgin olive oil
Salt and fresh ground pepper
Instructions:
Shave zucchini into long, thin ribbons using a vegetable peeler or mandolin. Arrange ribbons on a platter. Stir minced garlic into lemon juice and drizzle the mixture over squash ribbons.
Sprinkle with nuts and lemon zest and drizzle olive oil over all. Dust with salt and pepper to taste. Let sit about 15 minutes before serving.
This salad is best eaten within 15 to 20 minutes. Otherwise, the salt and lemon will begin to pull moisture from the squash and it will get watery.
---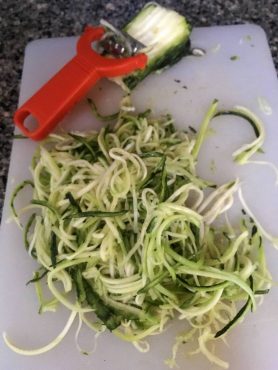 Zoodles
(Quantities are a matter of personal preference)
Ingredients:
1 medium zucchini per person
Olive oil
Sliced garlic powder to taste
Salt and pepper to taste
Instructions:
Using a spiralizer or julienne peeler, make about 1 cup of zoodles per person.
Saute zoodles in a small amount of olive oil over medium heat until heated through.
Season as desired with garlic and salt and pepper.
Use prepared zoodles as a "pasta" base.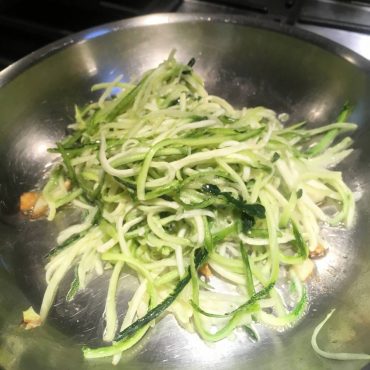 Serving suggestions:
1. Place 1 cup hot zoodles in a pasta dish, top with prepared sauce that is heated through. Grilled Italian sausages, cooked shrimp or hot meatballs make a nice addition. Top with shaved parmesan cheese.
2. Or: Saute 1 cup fresh mushrooms and thinly sliced onions per person in a small amount of olive oil. Add fresh herbs such as oregano, Italian parsley, chives and garlic. Add about 1 tablespoon chopped walnuts per person. Toss until heated through and tender.
Add a splash of white wine and mix over heat until bubbling. Grind fresh pepper and salt over mushrooms, spoon onto hot zoodles and garnish with Parmesan cheese and fresh chopped parsley.