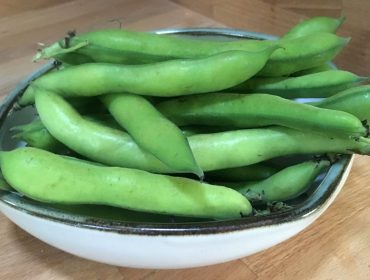 Just before summer warms soil temperatures to an intolerable level for cool weather legumes, fava beans are at their largest, sweetest stage. The long, bright-green pods hide a delicious ancient delicacy nestled inside their silken, white lining.
Favas are known throughout the Middle East and most of Europe. In England, they are called broad beans. They're sometimes confused with lima beans, which are a completely different variety of legume.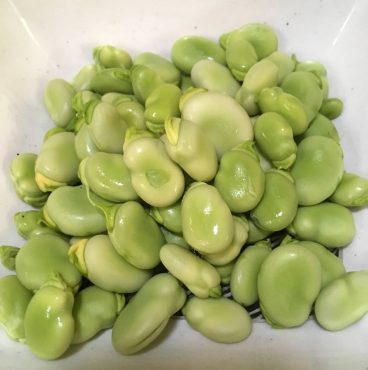 Although fava beans are a little time consuming to prepare, most who are familiar with them feel they are worth the trouble. The size and bulk of their pod belies the yield of the finished dish also, as 2 pounds of whole beans only yields about 2 cups of shelled ones.
The easiest way to remove the beans from the pods is by using a sharp knife to slit the pod from one end to the other, then unfold the pod to reveal the glistening, bright-green beans inside.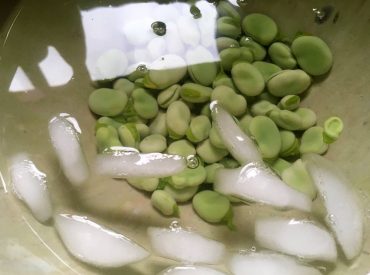 If the beans are fresh and young, they can be used as is, raw in a salad or sautéed with mushrooms, tomatoes, etc. Usually it is best to remove the tough protective skin form the bean by blanching.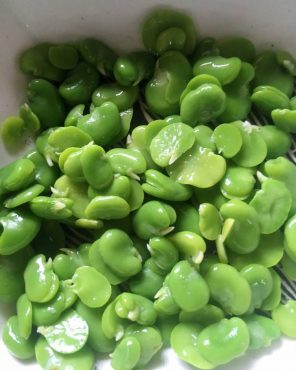 Drop the beans into a pot of well salted, boiling water, and blanch about 30 seconds. Remove from boiling water and immerse immediately into a bath of water with ice. This stops the cooking, so the beans won't be mushy, and also helps to separate the skin from the bean. When cool, drain well and pop the bean out of its tough, protective outer layer. Usually the bean will be easily removed, but occasionally it may be necessary to make a little slit in the skin with the tip of a paring knife.
Due to their fresh, sweet, meaty flavor and texture, favas pair well with spices, herbs and other foodstuffs from the Middle East and Mediterranean. Salads of tomatoes, fennel, feta or pecorino are refreshing and healthy. Soups or stews containing lamb and garlic combined with other spring vegetables such as leeks and fennel bulb are also pleasing to the palate.
---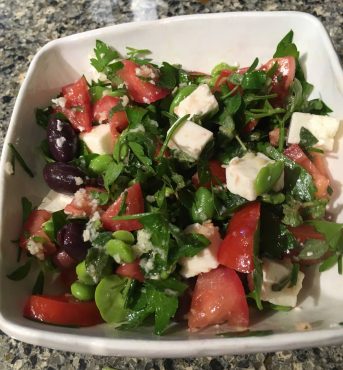 Mediterranean-Style Fava and Feta Salad
Ingredients:
Salad
2 cups fava beans removed from pod, and outer skins removed by blanching if tough
2 cups roma or San Marzano plum tomatoes, chopped
1 cup firm feta cheese (about 4 ounces), cubed
1/2 cup kalamata olives, pitted
1/4 cup mixed fresh garden herbs, such as oregano, mint, lemon balm, marjoram etc, coarsely chopped
1/2 cup Italian parsley leaves, very coarsely chopped
Dressing
1/4 cup good olive oil
2 tbsp fresh lemon juice
2-3 cloves garlic, crushed
1 tsp salt.
Directions:
Whisk lemon juice, salt and crushed garlic together. Add olive oil slowly while whisking until thick and well blended.
Place tomatoes, fava beans and herbs in shallow salad bowl, toss lightly, and drizzle dressing overall, toss lightly again.
Sprinkle olives and feta cheese over salad, toss again just before serving.
Makes about 4 1-cup servings