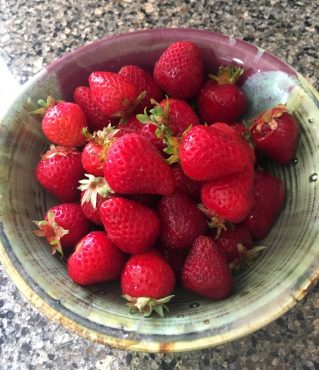 One of the benefits of eating local is being able to access produce at its very freshest, finest peak. Glistening like giant rubies and tasting like sweet bursts of fruity goodness, strawberries herald the season of summer fruits.
The earliest local fruit crop to find its way to our co-op this week, it is difficult to resist — I wanted to eat the whole basket on the way home. Strawberries are so versatile and power-packed with nutrients, they can be enjoyed in dozens of different ways at every meal.
Wild strawberries are found in most temperate climate zones around the world and have been known since ancient Roman times for their medicinal properties. In the early 18th century, the French were the first to seriously cultivate the fruit for table use.
According to a nutritional analysis table on Wikipedia.
this delightful, satisfying fruit offers a cornucopia of vitamins and minerals known to be beneficial for human health. But the best part about strawberries is how they taste!
For breakfast, sliced strawberries on cereal or strawberry jam on toast will stir many a childhood memory and brighten a modern breakfast menu today.
At lunch, fresh strawberries mixed with cottage, laced with a little salt and pepper can satisfy any dieters craving for a low-calorie, protein-packed meal.
Dinnertime strawberry spinach salad enhanced with a few slivered almonds offers a healthy alternative to a typical green salad.
And of course for dessert, the possibilities are endless: fresh strawberry pie, strawberry ice cream or sorbet, strawberry shortcake or ice cream with strawberry slices. And of course, the easiest, no-prep way — eating strawberries is just as they are.
Strawberries are best sourced from organic growers, as they now top the list of the Environmental Working Group (EWG) "Dirty Dozen." Because cultivated strawberries are highly susceptible to fungus, mold and various agricultural pests, a vast array of herbicides, fungicides, pesticides and chemical fertilizers are applied to conventionally grown fruit.
Consumers can seek out organically grown strawberries at local grocers, at farmers markets, farm stands and co-ops. In high season, organic berries are close to the same price as conventionally grown ones, so now is a good time to watch for sales and stock up.
Strawberries freeze well and can be stored frozen for later use in baking and other desserts, such as strawberry shortcake or gelatin based concoctions.
Recipes follow for a strawberry salad and a traditional French strawberry sorbet.
---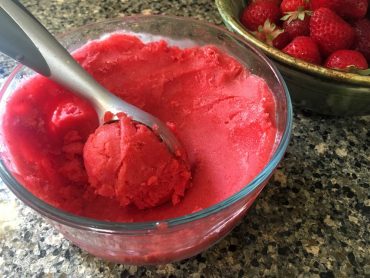 Traditional French Berry Sorbet
Makes about 10 1/2 cup servings
Ingredients:
1/2 cup sugar
1 cup water
4 cups frozen unsweetened berries (strawberries, blueberries, raspberries*)
2 tbsp fresh lemon juice
Herbs as desired (See note below)
Instructions:
Stir sugar into water and bring to a boil in a medium saucepan. Add herbs if desired, simmer 3 minutes. Let stand off heat for about 10 minutes.
Place frozen berries and lemon juice in blender or food processor.
Remove herbs, if used, and pour warm syrup over berries and process until the mixture becomes a smooth puree.
Pour puree through a strainer or sieve to remove seeds.
Place cold mixture in bowl of automatic ice cream maker, following manufacturer's instructions.
When frozen, scoop mixture into a plastic tub and place in freezer until ready to serve,
Notes:
*Blackberries may be used, but it is best to mix them into the hot syrup and push through a sieve before making the puree.
Herb-berry combinations that are particularly tasty include: basil with strawberry, mint with raspberry, oregano or thyme with blueberry. Try experimenting.
If an automatic ice cream maker is not available, freeze mixture in a covered container and stir every hour or so until it is firm. Leave undisturbed until ready to serve
Nearly all fruits can be used for making sorbet by this method; adjust the ratio of syrup to fruit according to taste.
---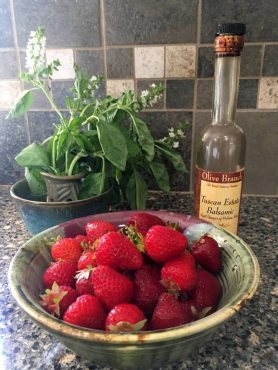 Strawberry Spinach Salad
Serves 10 as a side salad, 6 as a luncheon course
Ingredients:
2 cups fresh organic strawberries, washed, drained and cut into quarters
6-8 cups organic baby spinach leaves
1/2 cup sliced almonds
2 tbsp sugar
1/2 tsp red pepper flakes
Dressing:
2 tbsp balsamic vinegar
1 tbsp soy sauce
2 cloves garlic, minced
1 tbsp dijon mustard
1-2 tbsp honey (to taste)
1/2 cup good olive oil
Instructions:
Place almonds in a shallow skillet, sprinkle with sugar and heat over medium flame, tossing or stirring until sugar is melted and almonds are slightly coated.
Turn out onto a piece of waxed paper and sprinkle with red pepper flakes.
Set aside.
Combine minced garlic with honey and mustard. Whisk in vinegar and soy sauce, then add oil slowly while whisking to make a thick dressing.
Tear spinach into 2-inch pieces if larger leaves are used; add strawberries.
Drizzle dressing over salad, starting with 4 tablespoons and adding more if desired.
Sprinkle with glazed almonds.