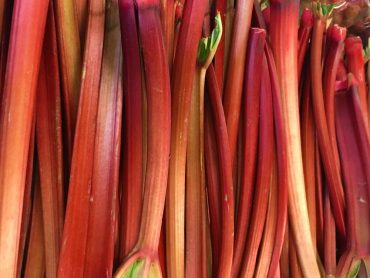 Unfurling its lush, ruffled leaves while strong stalks blush to a deep pink, rhubarb calls us to savor the strong, tart, acidic taste of a healthy spring tonic. Technically rhubarb is a vegetable, but because it is typically combined with sugar and eaten as a dessert in the United States, the USDA considers rhubarb a fruit. Avid cooks find it difficult to resist the beautiful, pinky-red stalks in the grocery this time of year and prices are always lowest when produce is in season, which is an added bonus.
A hardy perennial plant, rhubarb is a favorite in the Midwest, where homemade pies and cobblers are family favorites. As agricultural crops go, the demand for rhubarb is relatively small, so it is grown as a specialty item.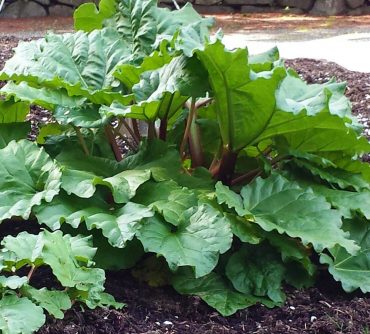 Washington State is the largest U.S. producer, with only about 275 acres dedicated to cultivation. Many people who enjoy rhubarb grow it themselves, and it is a popular item available in garden centers and nurseries.
A native of central Asia, Rheum rhabarbarum is very high in fiber and contains large quantities of vitamins C and K. Traditionally used in ancient Chinese and Arabic medicine, the plant only became popular as a foodstuff in the 19th century in Britain.
All parts of the plant except the stalks — or petioles — are toxic as they contain very high quantities of oxalic acid. The Chinese have dried the root and administered it as a laxative for about 5,000 years. Modern medical researchers at Emory University have discovered that an orange compound — parietin — that is found in rhubarb may be beneficial as an anticancer drug.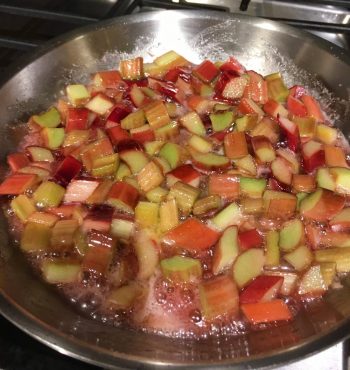 The temperate climate of the Pacific Northwest allows harvesting of rhubarb as early as April, and with regular feeding and watering, the stems may be harvested all summer long. The British force their rhubarb plants in order to harvest earlier in the spring than they normally would due to the cooler temperatures there.
Forcing is done by taking the rhizomes into a shed and growing in dark conditions, even harvesting by candlelight. It is said that forcing produces a more succulent stalk than growing outdoors.
Because rhubarb is about 95 percent water, it cooks down quickly, and about one pound of chopped stems only yields about a cup of fruit. To make a canner of 7 half pint jars of rhubarb jam takes about 10 pounds of stalks. Fortunately, pies and cobblers don't require so much and can be enjoyed as the quintessential springtime dessert.
It is important to not overwhelm the tart flavor by adding too much sweetness. Purists prefer to keep the sweetening as natural as the fruit by using honey, but sugar is used as well, and it is possible to use herbal or artificial sweeteners such as stevia or Equal in certain desserts.
Two basic cooking techniques are employed in preparing rhubarb. The first is to cook the chopped stems with a sweetener and sometimes spices and a thickener. The second is to use the chopped stems raw, as some recipes suggest.
The most simple preparation method is to cook the chopped stems with sugar, resulting in a sauce, which can be used over ice cream or custard, or as an accompaniment to meat such as roast pork or lamb. Recipes following here are for a rhubarb custard pie and an ice cream sauce.
---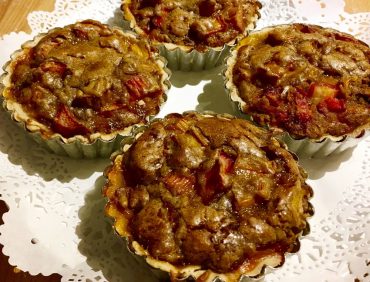 Rhubarb Custard Pie
(makes 1 9-inch pie or 7-8 individual tarts)
Single piecrust for 9-inch pie
Ingredients:
4 cups sliced rhubarb (about 3/8-inches thick)
1 stick butter (or vegetable margarine), melted
1 1/2 cups brown sugar
2 large eggs, beaten
1 heaping tsp cinnamon
1/2 cup flour
1 tsp vanilla
Directions:
Preheat oven to 375 degrees.
Combine brown sugar, flour and cinnamon. Melt butter and add to sugar mixture, then add eggs one at a time and beat until well blended. Add vanilla, blend well.
Pour mixture over rhubarb and mix well.
Spoon rhubarb mixture into prepared shell(s).
Bake about 45 minutes until set and rhubarb is tender.
---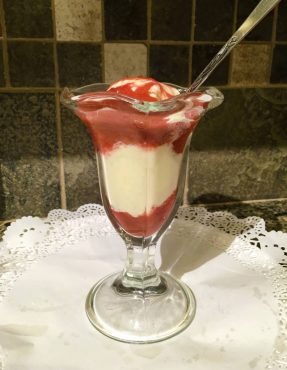 Rhubarb Sauce
(Use over ice cream or spread on toast)
Ingredients:
3 cups chopped rhubarb
3/4 cup granulated sugar
2 tbsp butter
2 tbsp strawberry jam
Directions:
Melt butter in shallow skillet. Add rhubarb and sugar, stir well. Continue to cook over medium heat, stirring often as sugar melts and rhubarb gives up its water, about 5 minutes. Add jam and keep stirring, mashing occasionally when needed, until sauce becomes a nice, smooth, thick syrup the consistency of fruit jam.
Spoon warm over vanilla ice cream. Store in covered dish in the refrigerator up to 1 week. Delicious on toasted English muffins.