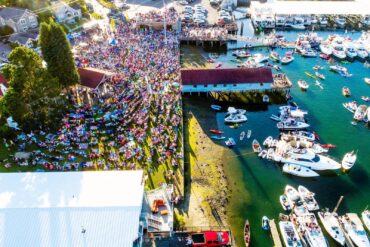 A longtime summer tradition, Summer Sounds at Skansie, is back to downtown Gig Harbor while an outdoor movies program has some exciting changes.
Summer Sounds at Skansie, Gig Harbor's beloved summer concert series, takes on the waterfront at Skansie Brothers Park, in the shadow of Mount Rainer. This year, 10 concerts span a variety of music and film genres that are sure to appeal to all audiences, each Tuesday 6-8 p.m. through August 30.
New this year: Movies in the Park occur every Friday evening through the month of July, and will be hosted at Sehmel Homestead Park, with activities prior to the film and refreshments available for purchase. Both events are sponsored by Virginia Mason Franciscan Health.
Summer Sounds at Skansie
The City of Gig Harbor brings a festive atmosphere to the downtown waterfront outdoor concert venue at Skansie Brothers Park, where guests can arrive by land or by sea. The concerts feature a variety of music genres, from classic rock to 1920s speakeasy sounds to country favorites, along with bites from Gig Harbor favorites and complimentary water from Windermere's Team Aro.
The concerts kicked off June 28. The remaining lineup is as follows:
July 12: ABBAGraphs recreates the pop magic of ABBA's chart-topping, classic pop hits of the '70s and early '80s, plus top hits of the disco era.
July 19: The Profits, a popular Gig Harbor-based cover band, plays danceable hits from across several genres.
July 26: The Paperboys bring a variety of music, from a freewheeling blend of influences from Celtic and bluegrass, Mexican Son Jarocho and brass bands, called everything from Cajun slamgrass to worldbeat.
Aug. 2: Mark Hurwitz and Gin Creek is a two-time nominee for Best Band by the Washington Blues Society that has a style that includes blues, roots rock, New Orleans funk and soul.
Aug. 9: The Beatniks is a beloved favorite, Gig Harbor's own band that performs '60s, '70s and '80s music with unparalleled energy and passion.
Aug. 16: Abney Park plays a mix of gypsy rock, EDM, electro swing, industrial dance and Western music.
Aug. 23: Nate Botsford is a country recording artist who, along with his band, brings the party with recognizable hits that span genres and original songs.
Aug. 30: Sounds Like Dolores is a quintessential party band that plays a diverse song list of energetic rock, pop and country dance music from the '80s, '90s and 2000s.
Attendees can set up chairs any time the day of the concert but are asked to be respectful and neighborly. Roping off seats and chairs/blankets on the Jerisich Dock Viewing Platform is not permitted. No tents or canopies are allowed, but small umbrellas can be used. Please note that all Gig Harbor parks are smoke, vape and alcohol-free.
Friday Night Movies in the Park
The Friday Night Movie Series presents well-loved favorites for all ages. Events start at 8:30 p.m., with films screened at dusk. Kitsap Bank provides complimentary popcorn at Sehmel Homestead Park, presented in partnership with PenMet Parks.
The series began on July 1, with the remaining schedule as follows:
July 8: "The Muppet Movie" — the origin story of the Muppets, as Kermit the Frog embarks on a cross-country trip to Los Angeles, encountering several of the Muppets — who all share the same ambition of finding success in Hollywood. Rated G, 1 hour, 38 minutes.
July 15: "The Little Mermaid" — A young mermaid strikes a deal with a sea witch to become human, even though her father has forbidden her to swim to the surface. Rated G, 1 hour, 23 minutes.
July 22: "Homeward Bound" — The perfect film for animal lovers, this is a live-action, heartwarming tale about three house pets who accidentally embark on a wilderness adventure. Rated G, 1 hour, 25 minutes.
July 29: "Ferris Bueller's Day Off" — This ultra-classic about cutting class, being young and having fun is suited to all ages. Rated PG-13, 1 hour, 43 minutes.
For more information, visit: www.visitgigharborwa.com.